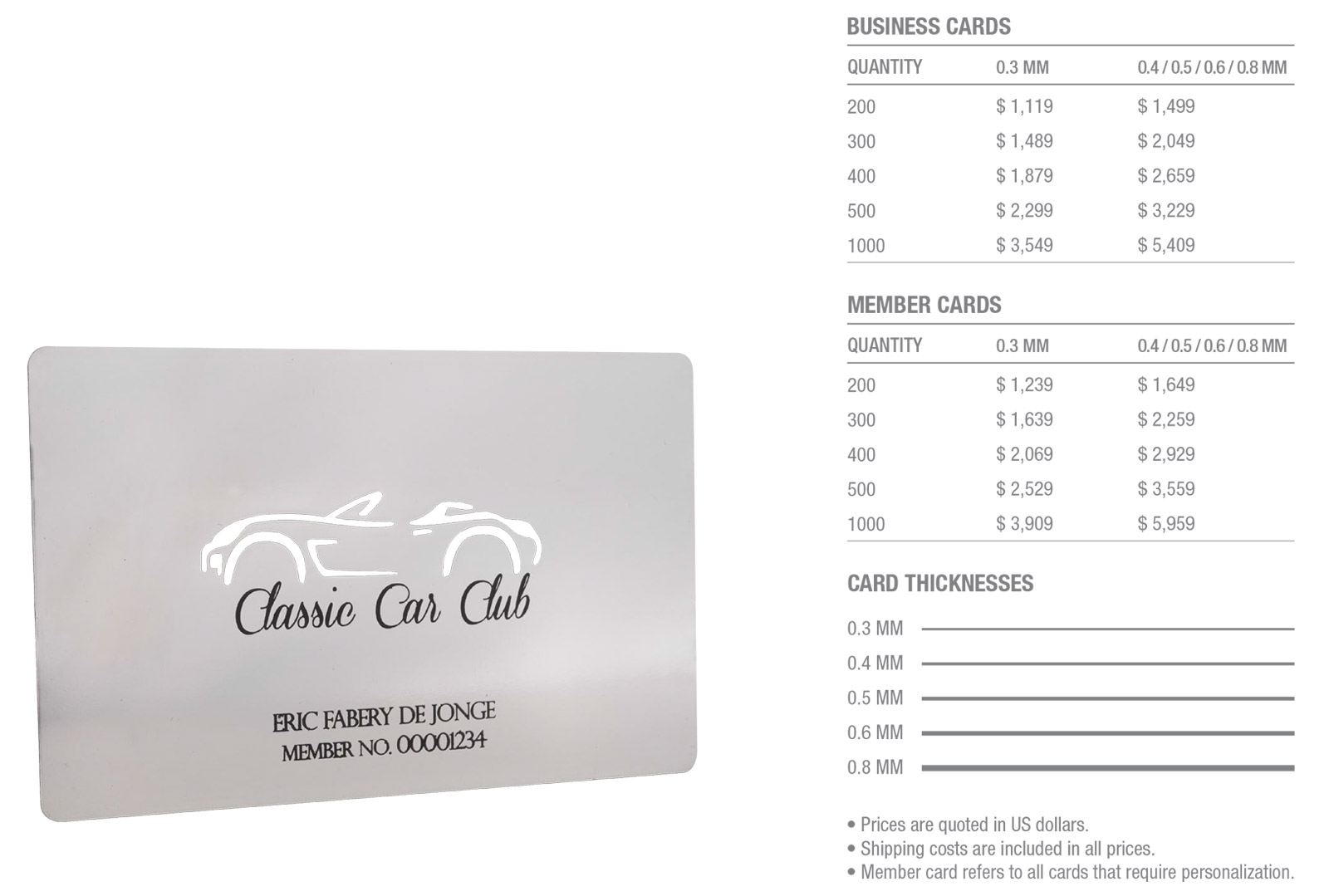 Silver plated business cards are as much as a statement as they are an introduction. The qualities of silver are unmistakable. When this fine metal is crafted into business cards it immediately illuminates the bearer in a special light. These stainless steel cards are plated with a thin (0.003 microns), almost microscopic coating of silver. Our cards are made from high-grade stainless steel that will not tarnish over time.Pure Metal Cards can also help you to design and create truly individualized silver-plated metal business cards.
For sterling silver cards visit our precious metals section.
Your cards are shipped in a premium quality high gloss black wood presentation case with a separate cardboard storage box. Each metal card is also individually wrapped in a transparent plastic sleeve.
Overview
Metal: Stainless steel
Finish: Silver plated
Business card dimensions: 85.0mm x 54.0mm (3.35" x 2.13"), 89.0mm × 51.0mm (3.5″ x 2.0″) or customizable
Thickness:
0.3mm, 300 micron (0.012")
0.4mm, 400 micron (0.0157")
0.5mm, 500 micron (0.0197")
0.6mm, 600 micron (0.0236")
0.8mm, 800 micron (0.0315")
Effects
1 to 4 colors for text
1 color (full side)
Full color (offset printing)
Laser etch (no color)
Etch only (no color)
Etch with 1 color
Debossed text
Cut thru
Corner radius: customizable
Personalization
Photo
Swarovski crystal
Smartchip
Magnetic stripe
Barcode
QR Code
Unique name, number, date etc.
Packaging
Each card is individually wrapped in a transparent plastic sleeve
An optional matt black contoured card sleeve in 300 gsm paper is also available
Cards are shipped in a black wood presentation case with cardboard protective packaging.
Design tips:
Your silver plated stainless steel business cards are very distinctive.   To really stand out we can also add a Swarovski crystal or diamond as well. We can also provide your with individual black wood presentation cases to share these special cards.