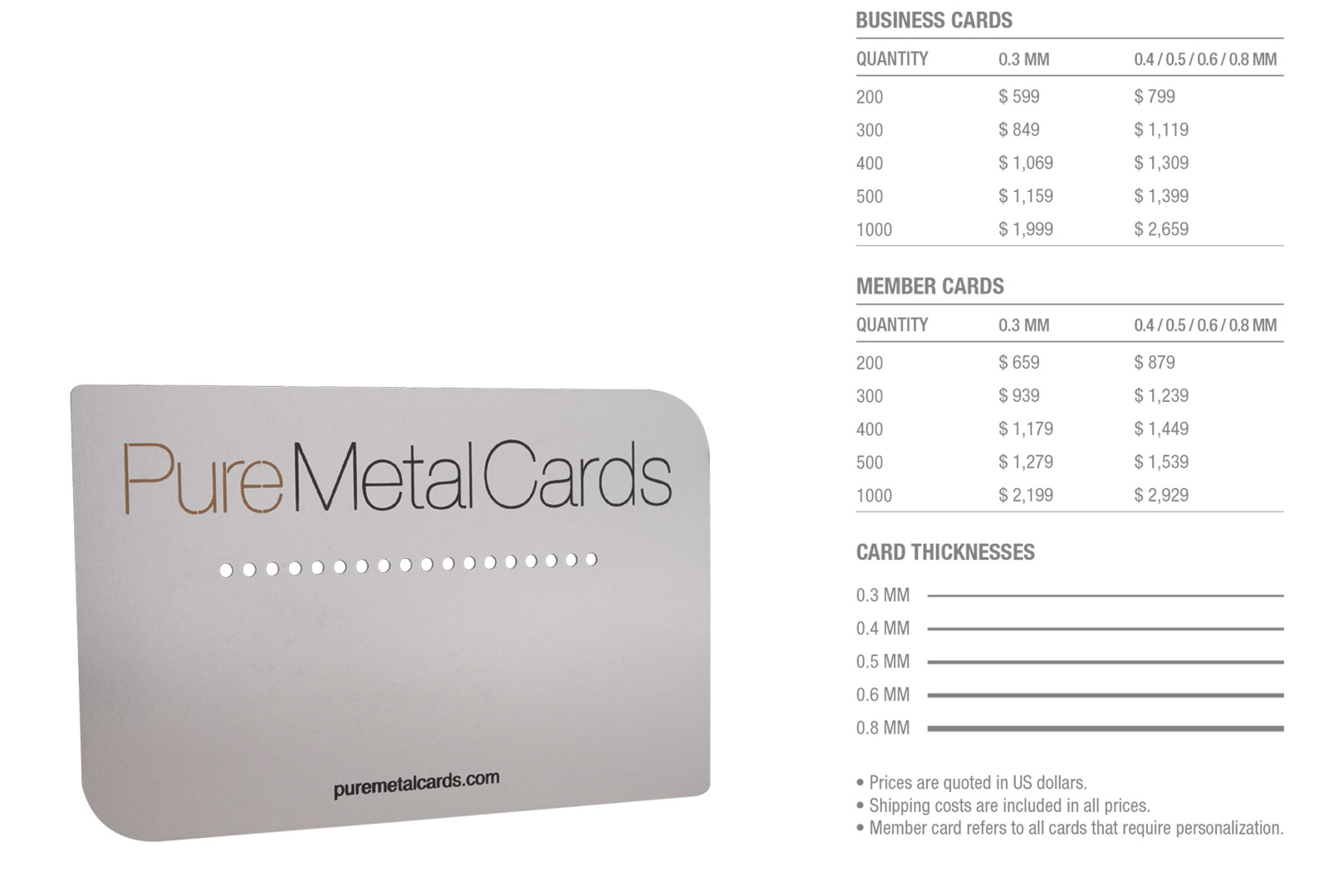 Overview
Pure Metal Cards standard stainless steel cards are the way for your business cards present your brand as being strong, energetic and contemporary. They make an impression no paper card ever could. A metal business card is a great way to introduce yourself and your business to another person. You can reap great benefits if you make the right impression with a potential client. One way to impress people is to present a well designed business card that is not just visually appealing but also helpful to the recipient of your card. Our cards are made from high-grade stainless steel that will not tarnish over time.
We can make cards in any size you prefer. There are country standard business card sizing. We also recommend using a credit card sized card 3.37″ x 2.13″ (85.6mm x 54.0mm). You do want your cards to fit within a cardholders purse or wallet.
In addition, by adding a unique code or number to each metal card, your metal business card can become a valuable tool to help you track back your marketing activity. Adding a special offer or discount code onto the business card could also help you monitor how effective your metal cards are as part of your marketing communications.
Metal business cards is a great way to make a generally normal marketing tool very exciting and different. It has numerous applications for business professionals and marketers in addition to being a simply unique name card. Pure Metal Cards can also help you to design and create truly individualized stainless steel cards as either business cards or member cards.
We offer a wide range of stainless steel cards which are also available in these finishes:-
Your cards are shipped in a premium quality high gloss black wood presentation case with a separate cardboard storage box. Each metal card is also individually wrapped in a transparent plastic sleeve.
Our clients have been incredible with their feedback on our cards:-
"It is rare in this day and age to find an on-line provider that is exceptional. I am writing to share that my recent experience with Pure Metal Cards has been OUTSTANDING. The professional and personal attention I received was wonderful. And, most importantly, when my Pure Metal Cards arrived as promised, they EXCEEDED my every expectation. The response I have received is simply remarkable – I am delighted and extremely proud to hand out such quality and WOW-Factor cards. I would recommend Pure Metal Cards to anyone who wants to make an extremely positive, professional, and memorable impression with business associates and customers!"
Craig S. Castro – Chief Executive Officer, Clovis Community Medical Center – California, USA Clovis Community Medical Center
More comments and testimonials can be found here.
Metal: Stainless steel
Finish: Standard
Business card dimensions: 85.0mm x 54.0mm (3.35" x 2.13"), 89.0mm × 51.0mm (3.5″ x 2.0″) or customizable
Thickness:
0.3mm, 300 micron (0.012")
0.4mm, 400 micron (0.0157")
0.5mm, 500 micron (0.0197")
0.6mm, 600 micron (0.0236")
0.8mm, 800 micron (0.0315")
Effects:
1 to 4 colors for text
1 color (full side)
Full color (offset printing)
Laser etch (no color)
Etch only (no color)
Etch with 1 colour
Debossed text
Cut thru
Corner radius: customizable
Personalization:
Unique name, number, date etc.
Signature strip
QR Code
Barcode
Magnetic stripe
Smartchip
NFC/RFID chip
Swarovski crystal
Photo
Packaging:
Each card is individually wrapped in a transparent plastic sleeve.
An optional matt black contoured card sleeve in 300 gsm paper is also available.
Business cards are shipped in a black wood presentation case with cardboard protective packaging.
Design Tips
Designs can be cut through the metal and/or etched into the card with laser accuracy that accommodates the most complex and evolved designs. The best designs are usually those that rely on the unique look, feel and properties of the metal to add further value. We can also create metal business cards in designs to be used as tools, templates or even as mirrors!