Iridescent Steel Cards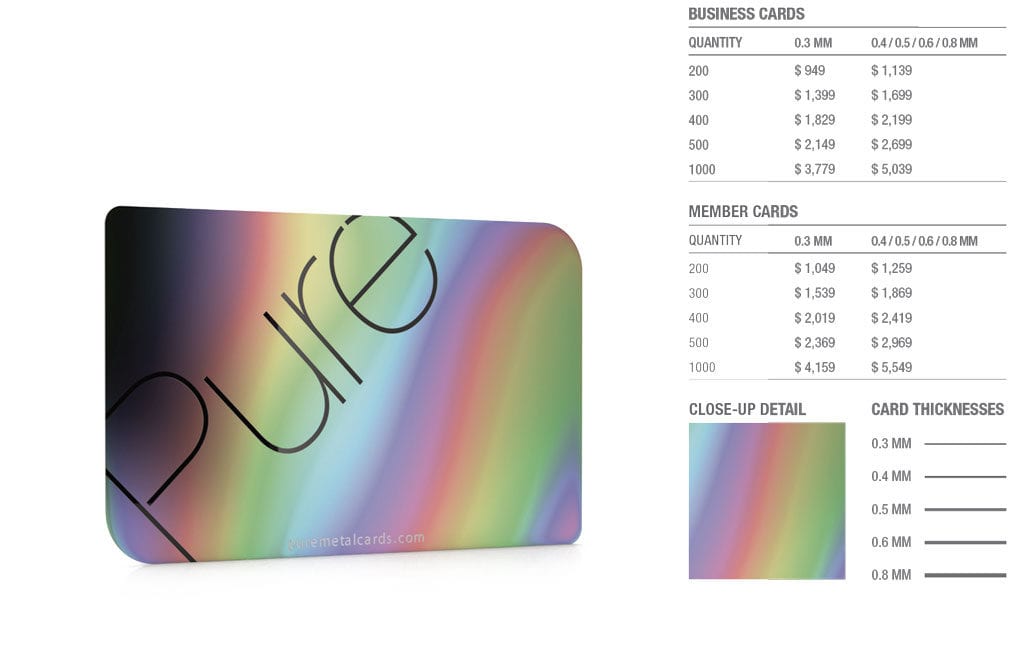 Iridescence is the phenomenon of certain surfaces that appear to gradually change colour as the angle of view or the angle of illumination changes. Examples of iridescence include soap bubbles, butterfly wings and now metal cards. Our iridescent metal business cards are simply unique.
Our cards are made from high-grade standard stainless steel that will not tarnish over time. Each card is plated to give a completely unique, one of a kind pattern. No two cards will be the same as our card images demonstrate.
As member cards, we can add personalized details to your card to make them more distinctive like a qr code or a unique code or number to each card.
Our cards are available from 0.3mm/0.012" to credit card thickness 0.8mm/0.0315". Your cards are shipped in a premium quality high gloss black wood presentation case with a separate cardboard storage box. Each metal card is also individually wrapped in a transparent plastic sleeve. We offer a luxury card sleeve as an optional choice to present your metal cards.
Please note that each card will have a different pattern. Due to the plating procedure the card edges may show slight marks due to electro-plating.
Overview
Metal: Stainless Steel
Finish: Iridescent
Business card dimensions: 85.6mm x 54.0mm (3.37" x 2.13"), 89.0mm × 51.0mm (3.5″ x 2.0″) or customizable
Thickness:
3mm, 300 micron (0.012")
4mm, 400 micron (0.0157")
5mm, 500 micron (0.0197")
6mm, 600 micron (0.0236")
8mm, 800 micron (0.0315")
Effects
Laser etch (no color)
Corner radius: customizable
Personalization
Unique name, number, date etc.
QR Code
Barcode
Photo
Packaging
Each card is individually wrapped in a transparent plastic sleeve
An optional matt black contoured card sleeve in 300 gsm paper is also available
Cards are shipped in a black wood presentation case with cardboard protective packaging.