Most business cards are instantly ignored or dismissed by the recipient. Handing out business cards should be a conversation starter, something to interest the receiver and be acted on. Don't let your business card let you down. Shine with the help of Pure Metal Cards. We can create metal silver cards that will make you unforgettable!
Handing out your business cards is often the very first impression someone will get of you or your business, so you need to get it right. If you are new to metal cards we have created an artwork guidelines brochure to help you create your ideal metal business card. Please contact us for a copy or for help designing your silver cards.

Our metal business cards and membership cards can be made into any size. The standard card sizes are:
85mm x 54mm (3.3" x 2.2") – credit card size
89mm × 51mm (3.5" x 2.0")
 – USA and Canada size
We suggest to make your card slightly smaller than a credit card 85.60mm × 53.98mm (3.37" × 2.13") to enable it to be easily inserted or removed from a wallet or purse. We can create a card in any shape or size. Do consider though, how the receiver of your card will be able to store or carry the card it if the card is not a standard size. Use a different size corner radius to stand out. We don't make cards with square corners, as they will be sharp and potentially harmful.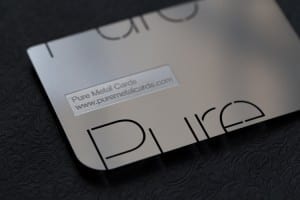 Standard stainless steel card
Our least costly card looks simply stunning with a simple design. The image shown has letters debossed into the standard stainless steel card finish , cut into the card to make the lettering appear embossed.
Silver prism stainless steel card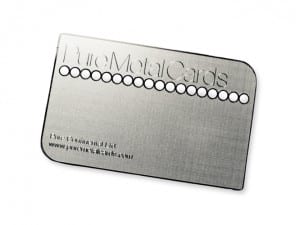 Our silver prism stainless steel card is a special finish we developed to mask fingerprints. As you move the card the etching of the finishes changes rather like a prism.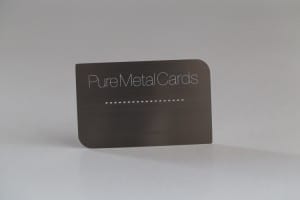 Brushed stainless steel card
These silver cards look amazing and are very distinctive. Our cards are etched then the brushed finish is applied for a truly unique metal card.
Mirror stainless steel card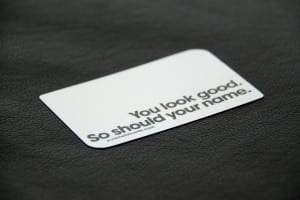 Our mirror cards are mirror like. These highly polished metal cards are popular as member cards or loyalty cards, especially for a feminine audience.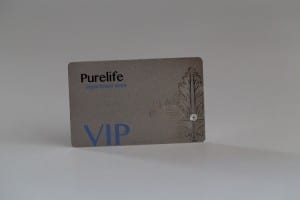 Silver frosted stainless steel card
Our newest finish is silver frosted. This example has an embedded Swarovski crystal within the card. Please contact us for further details.
Silver-plated stainless steel
For silver cards that stand out, our silver-plated stainless steel is very special. Cards are only for the most important of owners.
Our metal business cards are available in a range of card thicknesses from 0.008" (0.2mm) to 0.0315" (0.8mm) also credit card thickness. We can also create thicker cards if required. Thicker cards are naturally heavier, something to consider when your carrying many for an event or a function! Cards can be printed on both sided at no extra cost. Our pricing is simplified to give an all-inclusive cost for business cards or for membership cards. Prices include express shipping by DHL or FedEx.
One issue that is more noticeable on metal cards is fingerprints, especially on our mirror and silver-plated finishes. We offer prism, brushed and frosted finishes, which are better suited to masking fingerprints.
Cutting thru (die cut) the metal is another way to make your card truly distinctive. We can help you with changing your existing design to work on metal. We can deboss lettering into the card but cannot emboss to make raised characters or numbers because steel is too strong and not supple.
Black metal business cards
If you prefer a black card, please review our wide choice of matt black metal cards in this article.
Card packaging
Your cards are shipped in a premium quality high gloss black wood presentation case with a separate cardboard storage box. Each metal card is also individually wrapped in a transparent plastic sleeve. Luxurious black contour card sleeves are also available as an alternative card case.
A metal business card is a great way to make a generally normal marketing tool very exciting and different. It has numerous applications for business professionals and marketers in addition to being a simply unique name card. Our stainless steel silver cards are available in a number of different card thicknesses and can be made into member cards as well. Pure Metal Cards can also help you to design and create truly individualized metal business cards or membership cards. Be unique.