Matt Black Brass Cards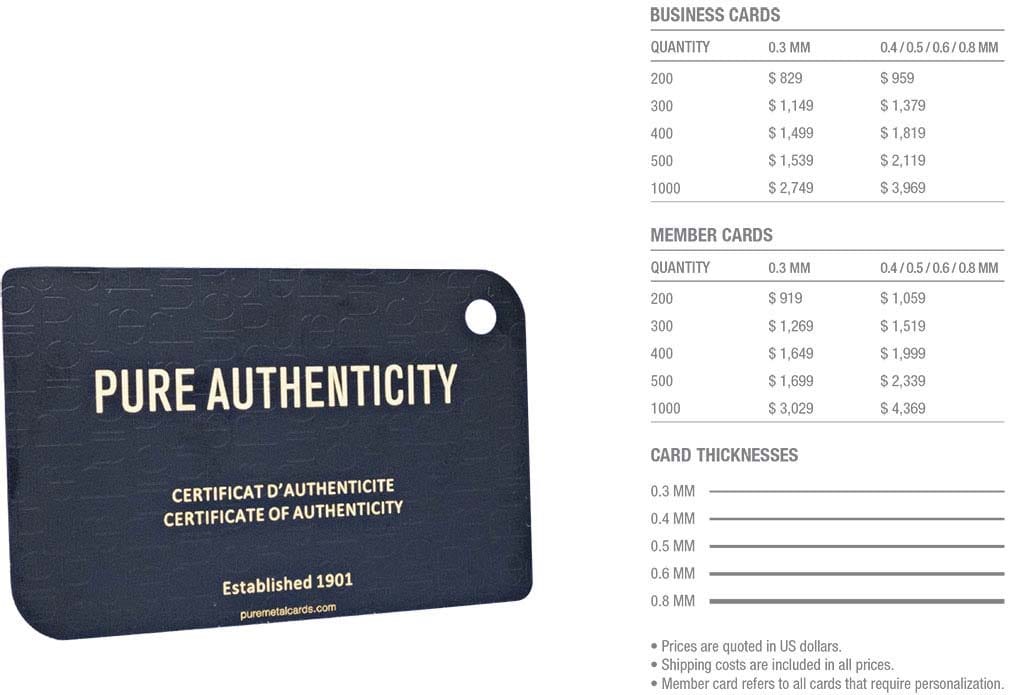 To complement our range of brass cards we offer this matt black brass card finish. The most popular finish for our metal cards is matt black. The matt black brass card with gold detailing enables you to present your brand as being cutting edge and powerful.  When we laser etch details to this card it reveals the brass metal. These are popular for VIP cards especially when made in a thicker metal. Our cards are made from 100% brass (not plated stainless steel) that will not tarnish over time.
We also offer four other matt black metal card choices too:-
Pure Metal Cards can also help you to design and create truly individualized metal business cards. Our graphic design team can help you create your ideal card. Be unique.
Overview
Metal: Brass
Finish: Matt black
Business card dimensions: 85.0mm x 54.0mm (3.35" x 2.13"), 89.0mm × 51.0mm (3.5″ x 2.0″) or customizable
Thickness:
3mm, 300 micron (0.012")
4mm, 400 micron (0.0157")
5mm, 500 micron (0.0197")
6mm, 600 micron (0.0236")
8mm, 800 micron (0.0315")
Effects
1 to 4 colors for text
1 color (full side)
Full color (offset printing)
Laser etch (no color)
Etch only (no color)
Etch with 1 color
Debossed text
Cut thru
Corner radius: customizable
Personalization
Unique name, number, date etc.
QR Code
Barcode
Signature strip
Magnetic stripe
Smartchip
RFID/NFC
Swarovski crystal
Photo
Packaging
Each card is individually wrapped in a transparent plastic sleeve
An optional matt black contoured card sleeve in 300 gsm paper is also available.
Cards are shipped in a black wood presentation case with cardboard protective packaging.
A metal business card is a great way to make a generally normal marketing tool very exciting and different. It has numerous applications for business professionals and marketers in addition to being a simply unique name card.
Your matt black brass cards are shipped in a premium quality high gloss black wood presentation case with a separate cardboard storage box. Each metal card is also individually wrapped in a transparent plastic sleeve.
Design tips
Fingerprints will be noticeable on this black card finish. If you are creating metal member cards we would recommend using a frosted, prism, contour or brushed finish. These finishes can be seen on our matt black steel cards.
In black, these brass cards look great with a cut thru or die cut type or logo. In dim or dark light the lettering may be harder to see and be read so we recommend the use of a color on logo and lettering detail. The example card shown above has the "pure' lettering etched without color into the card body.