Matt black Tungsten Cards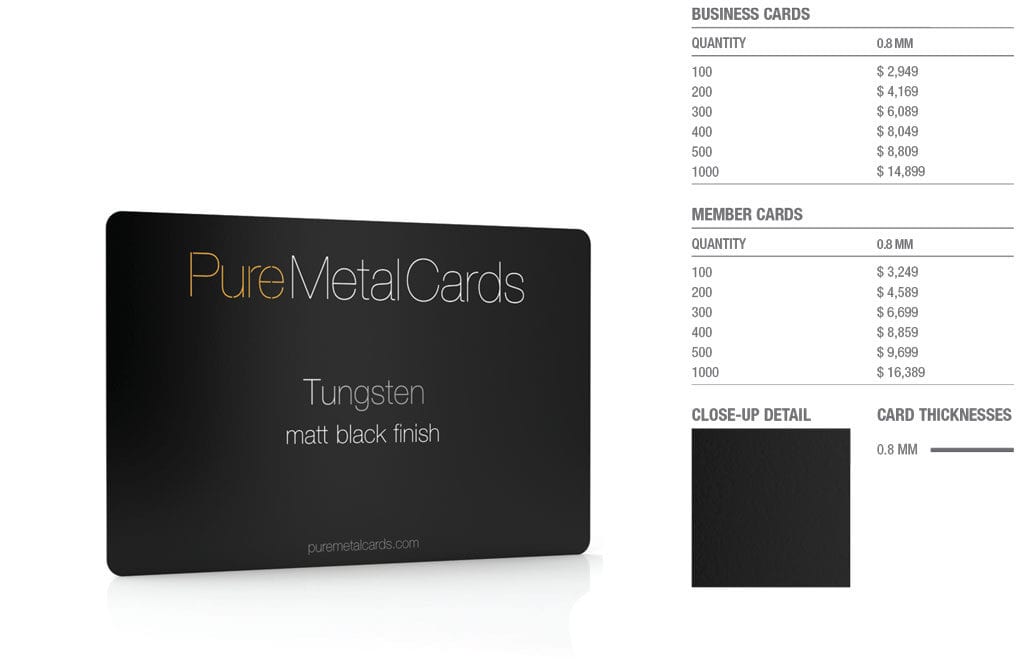 If you need the heaviest, blackest metal cards available on the market, look no further. The Pure Metal Cards matt black tungsten card will make you instantly unforgettable. Its density, similar to that of gold, which allows tungsten to be used in jewelry as an alternative to gold or platinum. Tungsten is 1.7 times more dense than lead and non-toxic.   Tungsten is also 2.4 times denser than stainless steel. Our matt black tungsten finish will really create a reaction from the card recipient.
Our cards are made from high-grade corrosion-resistant tungsten that will not tarnish over time. We laser etch the design onto each card which will reveal the metal itself underneath.  To make your card more distinctive we can incorporate a qr code or a unique code or number to each card.
Our cards are of credit card thickness (0.8mm/0.0315"). Your cards are shipped in a premium quality high gloss black wood presentation case with a separate cardboard storage box. Each metal card is also individually wrapped in a transparent plastic sleeve. We offer a luxury card sleeve as an optional choice to present your metal cards.
Out tungsten metal business cards are the heaviest cards we offer. Our tungsten cards are also available in a brushed finish.  Pure Metal Cards can also help you to design and create truly individualized metal business cards.  Be unique.
 Overview
Metal: Tungsten
Finish: Matt black
Business card dimensions: 85.6mm x 54.0mm (3.37" x 2.13"), 89.0mm × 51.0mm (3.5″ x 2.0″) or customizable
Thickness:
8mm, 800 micron (0.0315")
Effects
Laser etch (no color)
Full color (offset printing)
Corner radius: customizable
Personalization
Unique name, number, date etc.
QR Code
Barcode
Photo
Packaging
Each card is individually wrapped in a transparent plastic sleeve
An optional matt black contoured card sleeve in 300 gsm paper is also available
Cards are shipped in a black wood presentation case with cardboard protective packaging.