The black metal card remains one of the ultimate marks of exclusivity and prestige. Black metal business cards, member cards and VIP cards are one of the powerful ways to create a powerful brand statement for your business, establishment or club. Pure Metal Cards offers the widest range of black metal finishes to make your card be unforgettable and treasured.
The matt black finish is a very popular choice for metal cards. At Pure Metal Cards we offer the industry leading selection of five black finishes to suit your needs. We can print detail with or without color, but we do recommend using color otherwise the content on the card may be hard to read in dim or dark lighting. Be unique with the black metal card!
Our standard matt black stainless steel finish is one of the most widely selected card finishes and offers great value for money. The example below included at etched grid pattern with colored lettering.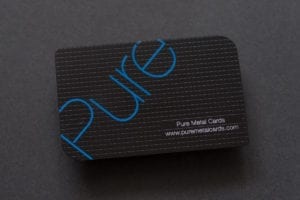 The matt black prism stainless steel card has a microscopic ball bearing like surface, which gives cards a unique finish like a prism. This card is popular for member cards and fingerprints are less noticeable than on the matt black finish. The example shown includes a checker effect on the card surface.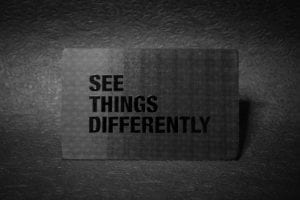 The matt black frosted stainless steel finish also has an uneven surface and is regularly used for metal luggage tags, hang tags, price tags or labels. The building icons are printed with a black gloss color in the metal luggage tags shown below:-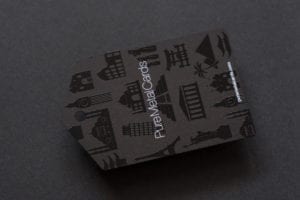 Our matt black contour stainless steel finish has microscopic lines or contours and is our best option to disguise or guard against fingerprints being noticeable on these black metal cards. In the example show the graphic is cut thru the metal with white color lettering.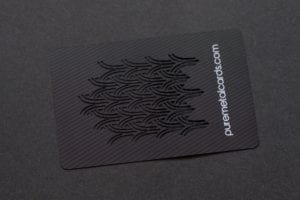 The matt black brushed stainless steel finish is rather exquisite and features a brushed then blackened card. We laser etch member details to cards. This example has all lettering laser etched to reveal the steel itself. This looks much more distinctive than using white color.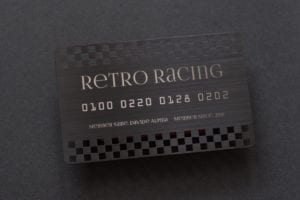 In addition to matt black stainless steel cards, we can also offer these finishes in our other metals too; brass, copper and titanium. To summarize, the main finishes we offer are:-
matt black
matt black pixel
matt black prism
matt black frosted
matt black brushed
matt black contour
We can also offer a slightly lighter color of gun metal grey, which is about 70% black. Below is our brushed gun metal gray stainless steel finish.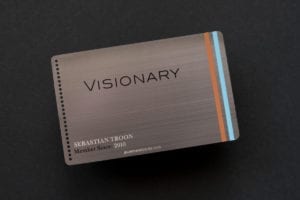 Cards can be made in a wide variety of thicknesses, ranging from 0.3mm (0.012") to 0.8mm (0.032"). Thicker metals are available upon request.
Pure Metal Cards can help you design your business card, member card, VIP card, hang tags or custom shaped cards in metal. We can include individual names, numbers, signature strip, QR code, barcode, magnetic strip and many other features. For more information visit personalize your metal cards.
Choose your black metal card to impress your most valuable clients or members. With our range of outstanding finishes your metal card is sure to make a lasting impression both for the card holder and recipient. Be unique with Pure Metal Cards.