Pure Metal Cards specializes in personalizing membership cards to ensure the exclusivity you require. Adding your member's name to your metal membership card is the ultimate statement of luxury. This little touch makes your metal membership cards extra special and ensures the recipient is a proud ambassador of your brand or establishment.
To guide you through the various ways we can personalize your metal membership cards this article provides our best advice. It also explains in detail various design elements that need to be considered when creating your metal membership cards. We can also create a card design for you or recommend how to modify your existing design to make the most when transferred to Pure Metal Cards.
NAME, NUMBER & DATE PERSONALIZATION
We personalize each card by taking your cardholder information from an Excel (.xls) file that you would provide to us. We laser etch the details to each card exactly as shown in the xls file. This gives a very distinctive effect that reflects the metal used. We can also make this detail in black if preferred but only on the standard and brushed stainless steel finishes.
In the metal card example below member details have been laser etched with the card number, name of the member and date:-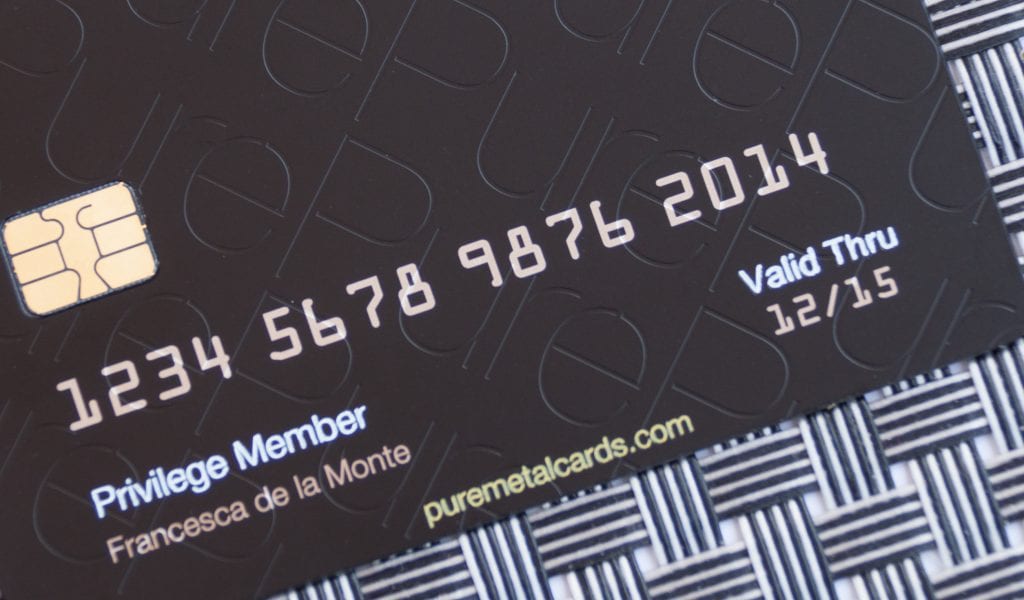 When numbering cards we suggest you use zero's for smaller numbers, for example, 001, 002 etc. Similarly, think about your future needs and use 0001 or 00001 for larger memberships and ordering future membership cards.
When designing the layout of your membership we recommend using the longest possible member name for the proof. This ensures that there is enough space for members with very long names and that the right font size can be used for all names, to ensure consistency. Please provide the font(s) used for names and numbers too with your artwork files.
CARD SIZE
We can produce your metal membership cards in any size required for your custom business cards or member cards. Do consider how your member will store the card though. We generally recommend you use the standard card sizes:-
85mm x 54mm (3.3" x 2.2") – credit card size*
89mm × 51mm (3.5" x 2.0")
- USA and Canada size
*We suggest that we make your card slightly smaller than a credit card 85.60mm × 53.98mm (3.37" × 2.13") to enable it to be easily inserted or removed from a wallet or purse.
Please use this link to check the standard business card sizes for your country.
CARD THICKNESS
Our metal membership cards are available in a wide range of card thicknesses from 0.3mm to 0.8mm (0.012" to 0.0315"). We can also create thicker member cards if required. Thicker cards are naturally heavier, something to consider from your member's perspective.
CORNER RADIUS
We can create a card in any shape or size you require. To differentiate your design we can change the corner radius. We don't recommend using a traditional paper card square corner, as this can be quite sharp and potentially dangerous to the cardholder.

If you include a magnetic strip (more details are shown below) on the rear side of your card we do need to adhere to international credit card size standards. Please use this link to download our artwork guidelines to assist with your card design. Typical corner radius dimensions are shown here:-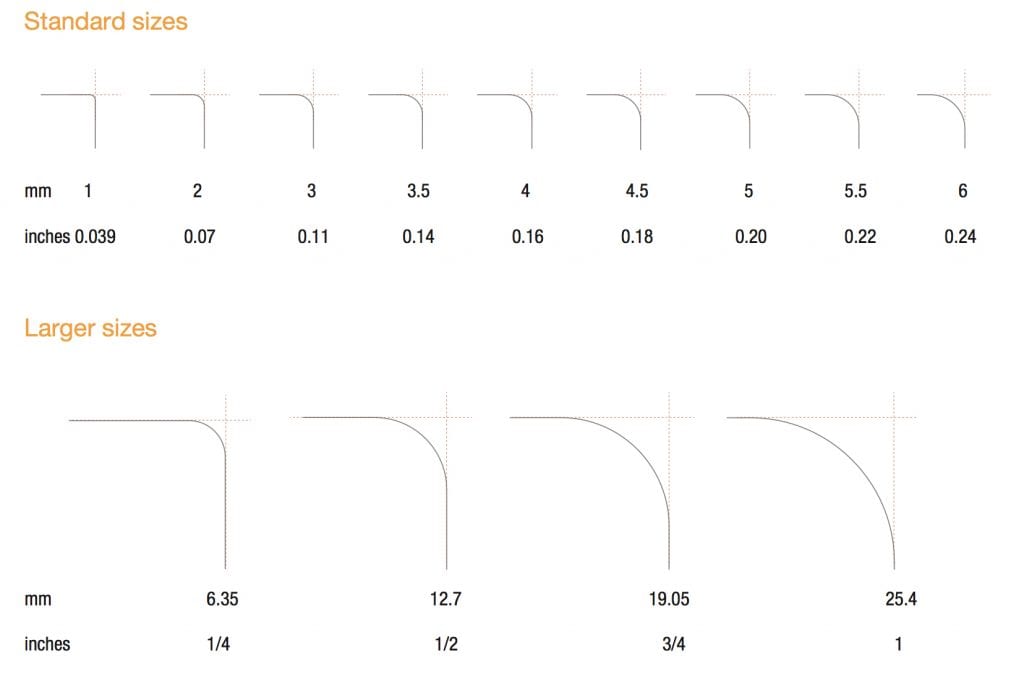 Do consider how the recipient of your card will be able to store or carry the card it if the card is not a standard size. Use a different size corner radius to stand out.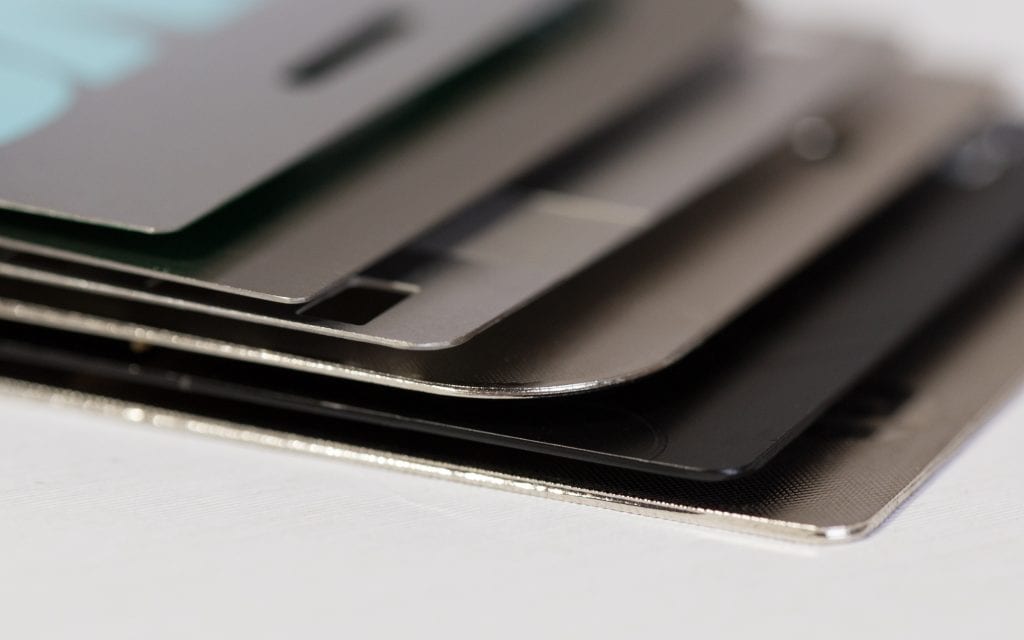 We can cut thru (die cut) any detail on your cards. There is no additional charge for this feature. The minimum cut out size is 0.12mm. The distance between the two cut out places should be more than 0.5mm.

Cutting thru (die cut) the metal is another way to make your card truly distinctive. We can help with changing your existing design work on metal. We can deboss lettering into the card but cannot emboss to make raised characters or numbers.
SUPPORT STRUTS
We can cut thru most designs or logo's but may need to make some minor modifications. For example, with our Pure logo we added a support strut to the 'P' and 'e' as shown in this metal card design:-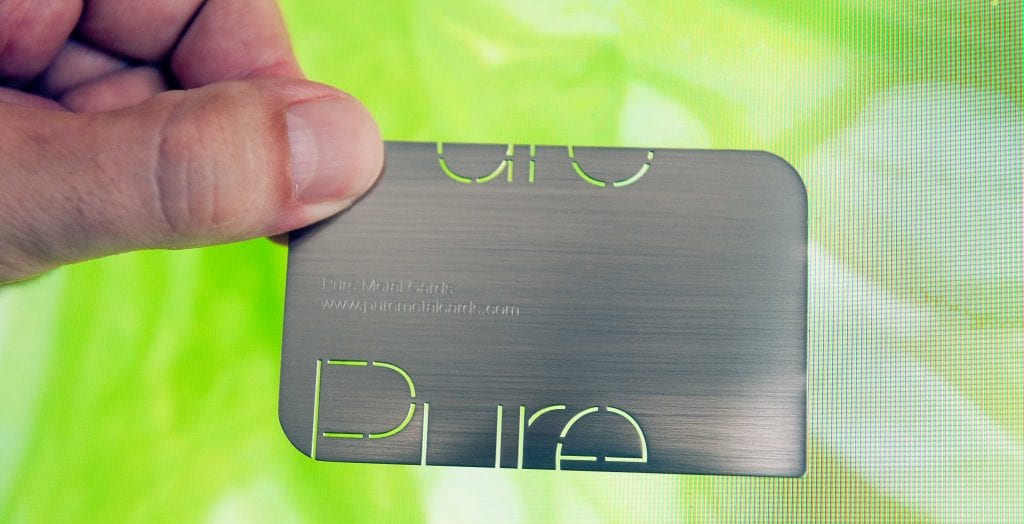 Please remember than when we cut thru the card the detail on the rear side will be reversed.
TYPES OF PRINTING
We recommend that we etch your design to each side of the card and then add color (if required). We don't like to print directly to the card for two reasons. Firstly, the detail is silk screen printed onto the metal and may not give a clean and crisp finish, as compared to etch and printing. Secondly, the detail is more likely to rub off over time due to wear and tear.
Metal cards are unique and different from paper or plastic (PVC) cards. We also suggest you try to use fewer colors than on a paper card to show off the actual card finish or use just a single color. Cards can be printed on both sided at no extra cost. If you have a complex design we offset fill color print this to each side of the card. Our pricing is simplified to give just one cost for your metal membership cards.
SIZE OF TEXT AND NUMBERS
We can create your design using any font required and at any size required. We do suggest however that you use a point size of 6 or above for readability of the cardholder details and content on your member cards.
We can also provide offset full-color printing to your cards. We do require the Pantone color code(s) for your colors.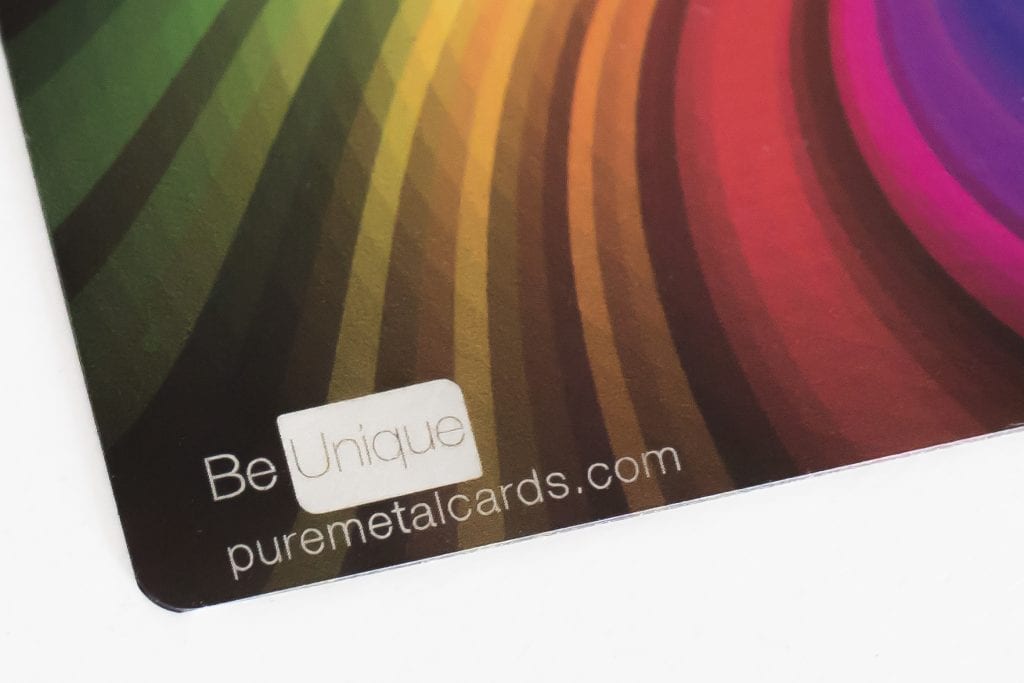 Please note that the actual color may appear slightly duller on a metal card compared to a paper business card. For an extra special card we can also gold-plate or silver-plate your membership cards!
Summary of printing options
etch with color
etch no color
laser etch no color or black color
silkscreen print
full-color offset print
gold or silver plate
RFID/NFC CHIPS
Pure Metal Cards offers a range of RFID/NFC chips with our metal membership cards. These cards enable your cardholder to get connected. Each chip is embedded into the metal card with either a protective PVC/plastic rear side or as an NFC sticker. We can disguise the chip by incorporating your logo or a brand message above the circuitry of the chip. We typically use an NTAG216 or MiFare 1K chip with our metal contactless cards.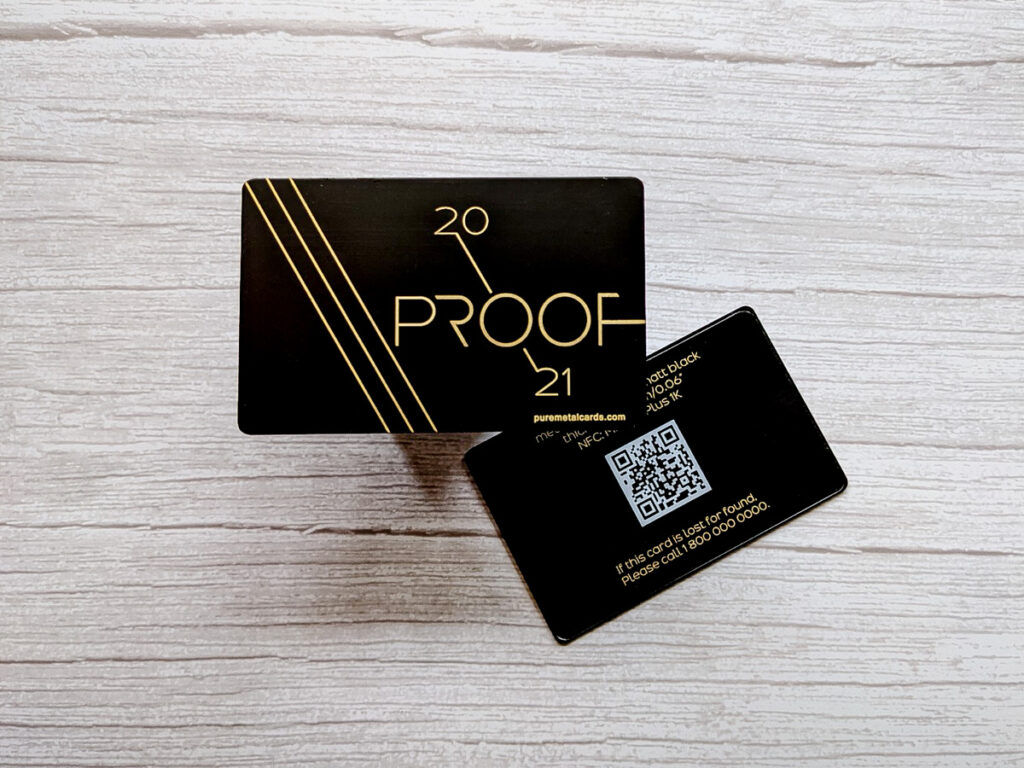 For further information please visit here.

QR CODES & BARCODES
A more cost-effective alternative to a smart chip and RFID/NFC chip is to use a QR code or barcode. These can be personalized on each card to match your membership number. Barcodes are printed onto the card but QR codes can be either laser etched or printed onto the card.
QR codes are rapidly replacing magnetic strips as the modern data technology for cards. QR stands for "Quick Response." These are two-dimensional barcodes that can point you to an online destination such as a website, a download link or cryptocurrency address. Further details on qr codes is shown here.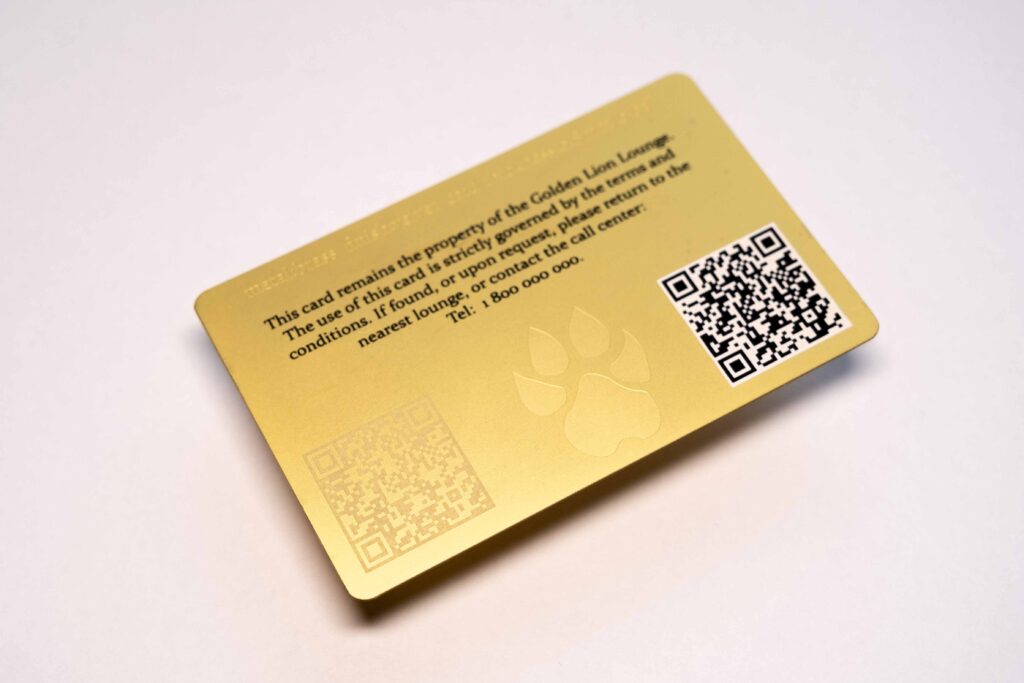 There are many types of barcodes—and each brings unique opportunities and limitations. We usually recommend using type 39 or 128 codes.
CODE 39
Code 39 barcodes (or Code 3 of 9) are used to label goods across many industries and are often found in the automotive industry and the U.S. Department of Defense. It enables the use of both digits and characters, and its name originates in the fact that it could only encode 39 characters—though in its most recent version, the character set has been increased to 43. It's similar to, but not as compact as, the Code 128 barcode.
One limitation of Code 39 is its relatively low data density. Code 39 remains a popular and versatile choice, namely because it eliminates the need to generate a check digit—and can be decoded by almost any barcode reader.
CODE 128
Code 128 barcodes are compact, high-density codes used in logistics and transportation industries for ordering and distribution. They're geared toward non-POS products, like when supply chain applications label units with serial shipping container codes (SSCC). Because they support any character of the ASCII 128 character set, Code 128 barcodes can store highly diversified information.
The greatest advantage of Code 128 is its high data density. These barcodes can store large amounts of linear data in compact form, making them ideally suited for identifying shipped or packaged containers and items. These strengths make Code 128 barcodes a natural choice for shipping and supply chain operations.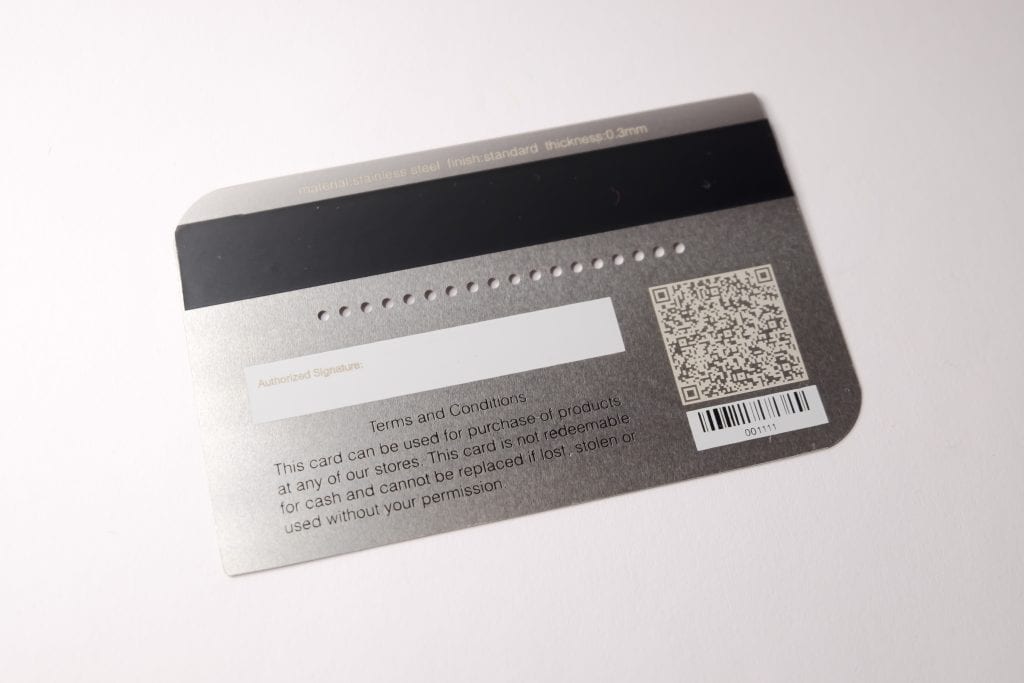 SIGNATURE STRIP
A signature strip can be added to the rear of your member card. We can also overprint your logo or design as an added security element to the card. The cardholder's signature can be written directly onto the strip with a ballpoint pen.
MAGNETIC STRIP
We can incorporate a magnetic strip to our member cards. Magnetic strips come in two main varieties: high-coercivity (HiCo) and low-coercivity (LoCo). High-coercivity magnetic strips require a higher amount of magnetic energy to encode and therefore are harder to erase. HiCo stripes are appropriate for cards that are frequently used, such as a credit card. There are up to three tracks on magnetic cards known as tracks 1, 2, and 3. Track 3 is virtually unused by the major USA networks and often isn't even physically present on the card by virtue of a narrower magnetic stripe.
The magnetic stripe, sometimes called swipe card or magstripe, is read by swiping the card past a magnetic reading machine. As data is stored by magnetizing tiny iron-based magnetic particles on a band of magnetic material on the card, it may require two or three swipes to be read correctly. Metal cards are not as easy to use this way compared to plastic cards.
SMARTCHIPS
IBM invented the magnetic strip in 1969. Today, it is a technology that is being made redundant by bar codes, QR codes, and smart chips. After October 2015 all US credit cards switched to incorporate a smart chip for authentication. We recommend using alternatives to ensure the usefulness of your membership tracking system. You can read more about this transition to smart chips in this Wall Street Journal article.
We hot stamp our smart chip into each metal membership card. Our cards are produced to international credit card standards. We currently are only able to offer a gold-colored SLE4442 chip. We hope to offer a silver version soon.

HOLOGRAM
For additional uniqueness, we can add a hologram to the rear side of your metal member card. Our holograms are built into the card itself with all our prism card finishes.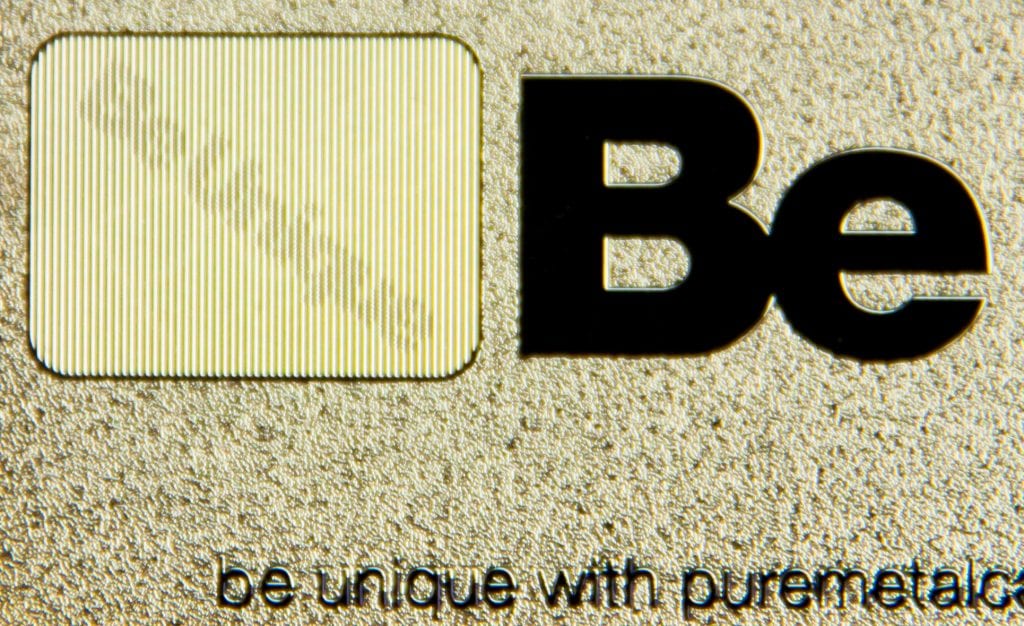 SECURITY PIN NUMBER
We can add a security code to your member card. The code information is laser etched onto the card then a silkscreen printed cover placed over to mask the details. The security panel can be removed with a coin.
AN EXTRA SPARKLE
 For a truly special card we can also embed a Swarovski® crystal into the card. If your budget allows we can embed a genuine diamond or other precious jewels.

In addition to metal membership cards, we can create truly amazing metal business cards, gift cards, loyalty cards, and invitation cards. For more articles and information about metal business cards and our other products are available on our blog.
FINGERPRINTS
Finally, one further important point to bring to your attention. Metal membership cards are irresistible to touch! One issue that is more noticeable on metal cards is fingerprints, especially on our standard and mirror finishes on stainless steel, brass, and copper. Pure Metal Cards is the only card provider to offer an extensive range of alternative finishes in brushed, frosted, contour and prism that are better at masking fingerprints.
Why Choose Pure Metal Cards?
Speed – Pure Metal Cards offers the fastest turnaround time in the market today for custom-made metal membership cards. Cards typically take 7-9 business days to produce and 2++ days to ship to you.
Pricing – We lead the industry by offering simple, all-inclusive pricing. The price quoted on our website is the price you pay.
Range of Card Finishes – We offer the widest range of metals and card finishes available anywhere. For example, we have 22 different finishes for our stainless steel cards.
Customization and Personalization – To customize your metal cards we offer a range of options to make each of your cardholders feel extra special.
Client List – Pure Metal Cards works with a wide range of clients ranging from globally renowned brands to start-ups and fledgling businesses across all industries and continents. We send our personalized metal member cards out every day to clients.
Switch to Metal Today
With over 2 million metal cards shipped to-date we lead the industry in card innovation and options to make your name or brand stand out from the rest. Pure Metal Cards can help you develop your existing business card or membership card to become an unforgettable metal card your clients or members will enjoy receiving. For more information please contact us today. Be unique.