QR codes are rapidly replacing magnetic strips as the modern data technology for cards. QR stands for "Quick Response." These are two-dimensional barcodes that can point you to an online destination such as a website, a download link or cryptocurrency address. Pure Metal Cards offers a range of ways to print a qr code to make your business or member card more contemporary.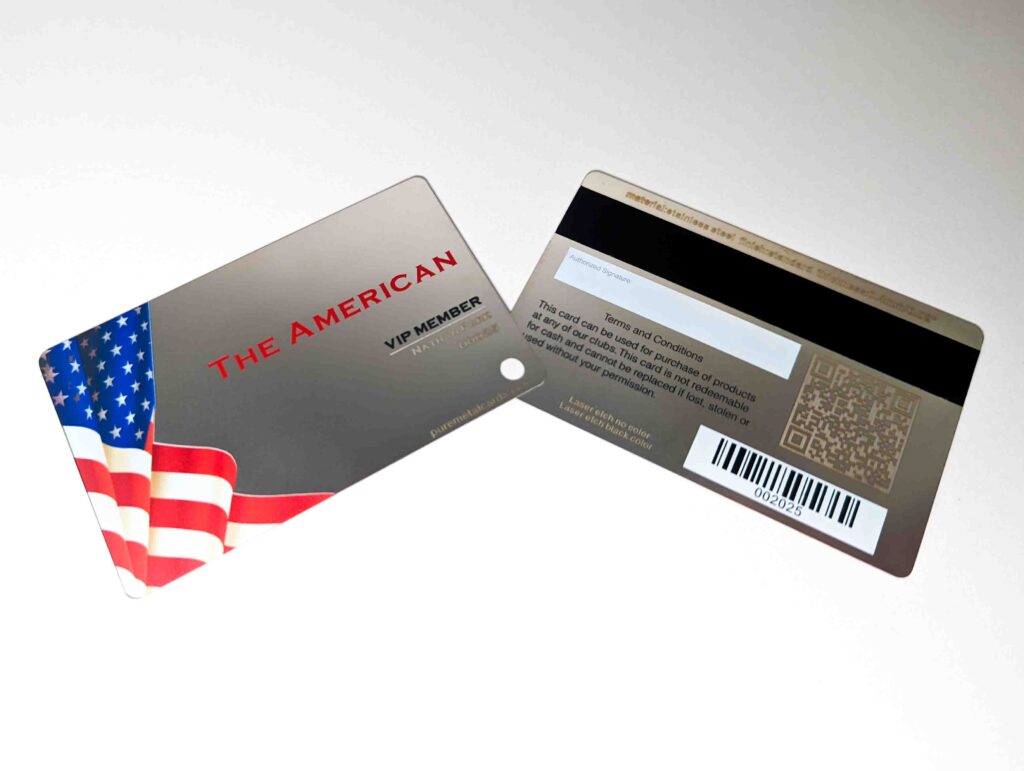 You may have seen them before on advertisements, magazines, websites, or even book covers. QR codes look like weird barcodes but are actually a type of read-only code. They're used to provide users with an easy way to get access to additional information about a product or a brand. In this blog post, we will talk about the benefits of QR codes for businesses and how they can help your brand. What Are QR Codes? You may not know it, but you've probably seen QR codes before — maybe even more than once. A QR (short for "quick response") code is almost like a hybrid between a traditional barcode and a word puzzle. They are squares made up of black and white dots that can store data in the form of text. In this case, the code represents letters using virtual red lettering inside blue boxes. Instagram is now allowing users to share anyone's posts or Reels through a QR code. Even athletes are using them. Check out this example from Wikipedia: here
QR codes, first invented in 1994, store information using black and white squares which can be "read" by smartphones. The technology was developed in Japan for use in the automotive industry. Often, using a QR code is quicker than manually typing in something like a long web address into a smartphone or up to 4,000 characters of text.
To interact with a QR code, you point your mobile phone camera at the shape so your device can act as a scanner. A message with a clickable link will pop up on your mobile. This article explains how to scan via your cell phone. Anybody can create and share a QR code using a mobile app or website. For example, scan this QR code above and your smartphone or tablet will point you towards our homepage.

We can either print your qr code or laser etch it to each metal card. It's important to ensure the size of the qr code can be scanned and readable. Older smartphone have poorer auto-focussing. To be sure that your QR codes are readable, do not print them in less than 3cm square (1.2 inches).

How do you generate a code?
You can easily generate a QR code using sites like:-
https://www.qrcode-monkey.com/
https://www.the-qrcode-generator.com/

How Can I scan a QR code?
On an iPhone, support for scanning QR codes is built into the default camera app. Once you open the Camera app, select the rear-facing camera and hold your device in front of a QR code. Your smartphone will automatically recognise what it's staring at and generate a notification. Tapping that alert will send you to the website the QR code is linked to.
Most modern Android smartphones will have a QR scanner built into the operating system. If not, you can easily download a QR scanner from the Google Play Store – there are thousands of options to choose from. But crucially, if you're downloading a QR app, make sure it's backed by positive user reviews. It's also a good idea to try and pick an app from a brand or developer you recognise.
The best apps to scan QR codes
There are numerous scanning tools on the app stores of Apple iOS and Google Android devices. Most are free, but many contain ads, and sometimes this can make it difficult to choose the correct link from results after you scan a code. Here are two options from reputable antivirus companies that shouldn't disappoint. Try these two apps by clicking on the relevant link for your smartphone:-
Trend Micro QR Scanner
https://play.google.com/store/apps/details?id=com.trendmicro.qrscan&hl=en
https://apps.apple.com/us/app/trend-micro-mobile-security/id630442428
Kaspersky QR Scanner
https://www.kaspersky.com/qr-scanner
https://apps.apple.com/us/app/kaspersky-qr-scanner/id948297363
Mobile phone users should only scan codes that come from a trusted source or sender.
If you scan a QR code on a business card, the app will let you store contact details straight to your smartphone with the 'create contact' option.

How could you benefit from using a QR code?
The first benefit of QR codes is that they're interactive. This means that your customers can get more out of your advertisements by scanning the code with their smartphones. This means that they get access to additional information such as special coupons, links to product reviews, or even a full web page where they can purchase the product. The second benefit is that they're easy to scan. With the help of modern smartphones, anyone can scan a QR code and get access to all that extra information — no internet connection required. The third benefit is that they're easy to create. With the help of online tools such as QR code generators, you can create a code in just a few minutes. The fourth benefit is that they are efficient. You can expect your customers to scan the QR code in just a few seconds, even with older smartphones. Finally, they are cost-effective. You can create a QR code for free with most online generators. QR codes are also very versatile — you can attach them to your products, advertisements, business cards, or website.
Add them to any print advertising, flyers, posters, invites, TV ads etc containing:
Contact details
Product details
Send and receive payment information
Offer details
Activity or event details
Competition details
A coupon
Twitter, Facebook, Instagram, TikTok or Snap ID's
A link to your YouTube video
You can also watch this BBC Click interview on YouTube.
Help Starting Out
In this blog post, we talked about the benefits of QR codes and how they can help your business or brand.  If you're still not sure how QR codes can benefit your brand, we recommend that you try it out and see for yourself!
To help you start out we offer a metal cards sampler pack that includes a selection of all our metals, card thickness, and card finishes. The sample pack* costs US$14.99 to cover postage and admin. We only send our own card designs, not customer cards as samples.
Upgrade to metal business cards or membership cards. At Pure Metal Cards, we have the resources required to help you used qr codes for your business or personal needs. We are excited to help you create custom metal business card designs that will help your business or brand stand out in the crowd. Taking advantage by clicking on the link below.
QR Code is a registered trademark of Denso Wave Incorporated.