Pure Metal Cards leads the industry in developing innovate and unique metal cards. Our metal RFID/NFC cards with enhanced security features enable your metal contactless cards to add functionality. Pure Metal Cards are available in any of our metals and card finishes to create simply stunning contactless cards.
During this challenging time, most consumers are skittish of direct contact. That attitude can discourage them from taking your business cards or member cards. However, what if you could give people all of the information your business provides without physically giving them the card? With contactless cards, you can! Contactless cards transmit your information straight to someone's phone. Simply hold your contactless business card or member card to the desired phone, and you can send them your contact information, website, social media, and more! It's that easy. Plus, with your information loaded into your customer or client's phone, you don't need to worry about them losing your card.
Traditional Smart Cards
A smart card is typically a type of chip card, is a plastic card that contains an embedded computer chip–either a memory or microprocessor type–that stores and transacts data. This data is usually associated with either value, information, or both and is stored and processed within the card's chip. The card data is transacted via a reader that is part of a computing system. Systems that are enhanced with smart cards are in use today throughout several key applications, including banking, entertainment, hospitality, healthcare, and transportation. All applications can benefit from the added features and security that smart cards provide.
In the last 20 years or so, many industries, for example, hotels and hospitality have turned to Radio Frequency Identification (RFID) keycards that come with a smart chip embedded in a plastic card and it works by simply tapping the card on the door lock to open the door. This technology eliminates the demagnetization problem of magstripe key cards and they were a lot more secure and convenient for both hotels and guests.
Empowering a Contactless Card
To make the contactless card or digital business card function you will need the cardholder to pass their phone over the card. The chip location can cause the user to sometimes need to swipe once or twice before the chip is read.
To enable functionality once the cardholder scans the card you will need to link the chip to a website, app, social media, coupon, event, or contact details. A number of different providers offer such services, for example, Scanova.
Most modern smartphones are now NFC enabled. Apple phones from iPhone 7 are also enabled. For the latest list of smartphones that are NFC enabled, please visit here. In fact, more than half of Americans now use contactless payments, according to a MasterCard poll.
To encode the NFC/RFID chip on your card you will need to use a tag writer app. These are available for both Apple IOS and Google Android versions.
Types of Contactless Chips
There are a number of different types of chips available. The NTAG, MIFARE Classic 1K, and Ultralight are among the most common smart chips.
NTAG213 – NTAG216 – Suitable for smartphones & tablets
The two chips are both NTAG®, so compatibility is universal with NFC smartphones and tablets. They are both equipped with 7-byte UIDs and support NTAG21x functions (such as password lock and scan counter). The substantial difference between the two chips is the available memory: the NTAG213 has 144 bytes available, while the NTAG216 has 888 bytes. For this reason, the NTAG216 chip is privileged to contain contacts in V-Card format, with many fields, or when it is required that the chip contain more information. For the same reason, the NTAG216 chip is more expensive. If you have no particular needs regarding memory, the NTAG213 chip is fine. Details about the chip specifications are available here.
Password lock
By default, the memory of the NFC chips is rewritable, but can be set in the "read-only" mode. In this case, the Tag is also called "locked" and can no longer be overwritten. Some Chips also support password lock. This means that a Tag locked with a password can only be reprogrammed by someone who knows the password. This is a very useful function if you plan to leave the Tags in public places frequented by many people (that could rewrite them), but you plan to reuse them in the future with different encoded data.
The Chips that support password lock features are those of the NTAG21x family (NTAG213, NTAG215, NTAG216).
MIFARE Classic 1K and 4K
Developed by NXP Semiconductors, the MIFARE Classic 1K started the contactless revolution by paving the way for numerous applications in public transport, access management, employee cards, and hospitality.
This could be considered the entry-level for the contactless smart card products among the MIFARE family, due mainly to its affordability. They are also known to be the most widely used contactless smart cards in the market where RFID applications are deployed.
MIFARE Classic EV1 represents the highest evolution of the MIFARE Classic product family and succeeds in all previous versions. It is available in a 1K and in a 4K memory version, serving different application needs.
Features
Contactless transmission of data and energy supply
1K, or 4K bytes EEPROM
Operating frequency of 13.56MHz
ISO/IEC 14443 Type-A compliant
Size 85 x 54mm x 0.84mm (thickness)
Material: PVC
For customers who wish to use blank cards, you have the option to choose from totally blank, or printed with UID. Different formats of UID, (whether in Hex or Decimal) are available upon request.
MIFARE DESFire
MIFARE DESFire is, by far, the most sophisticated of the MIFARE® cards available, and it's perfectly suited for storing sensitive information and making secure transactions. It has more hardware and software security features than the standard MIFARE chips and the DESFire operating system offers a solid platform with encryption which makes it a perfect choice for applications where security is of utmost importance.
Features
Fully ISO/IEC 14443 A 1-4 compliant
Memory size available at 2/4/8 kB EEPROM with fast programming
High data rates according to ISO/IEC 14443-4:
up to 848 Kbit/s
Choice of open DES/2K3DES/3KDES/AES encryption
Privacy protection
Unique 7-byte serial number (ISO Cascade Level 2)
MIFARE Ultralight
Embedded with a smaller memory capacity than the Classic and DESFire, MIFARE Ultralight cards are an ideal option for low‐cost, high-volume applications such as public transport, loyalty cards, and event ticketing.
In terms of industry utility, they are most suitable for disposable ticketing. Sporting events, entry to exhibitions, public transport tickets and etc. They were also being widely used by Vingcard for their hotel key cards which come with their customized encryption.
MIFARE Plus
The MIFARE Plus has been developed as a sort of replacement for MIFARE Classic which security has somewhat been compromised. It offers a higher level of security that incorporates AES and DES/Triple-DES encryption standards, as well as an older proprietary encryption algorithm. This is best suited for application that requires more stringent security, such as stored value payment solutions, access control.
Available in 3 versions users have the choice among MIFARE Plus X, MIFARE Plus S, and MIFARE Plus SE.
Card Construction
Almost all chip cards are built from layers of differing materials, or substrates, that when brought together properly give the card a specific life and functionality. The typical card today is made from polyvinyl chloride (PVC), polyester, or polycarbonate. The card layers are printed first and then laminated in a large press. The next step in construction is the blanking or die-cutting. This is followed by embedding a chip and then adding data to the card. In all, there may be up to 30 steps in constructing a card. The total components, including software and plastics, maybe as many as 12 separate items; all this in a unified package that appears to the user as a simple device.
To add functionality to your hybrid metal contactless card we incorporate an NFC/RFID chip into the metal card body by using a PVC chip card. The NFC chip can be programmed using a smartphone or a dedicated card reader/writer. The chip itself is hidden within the PVC card. The chip can only be read from the PVC side, so the top metal card acts like a shield.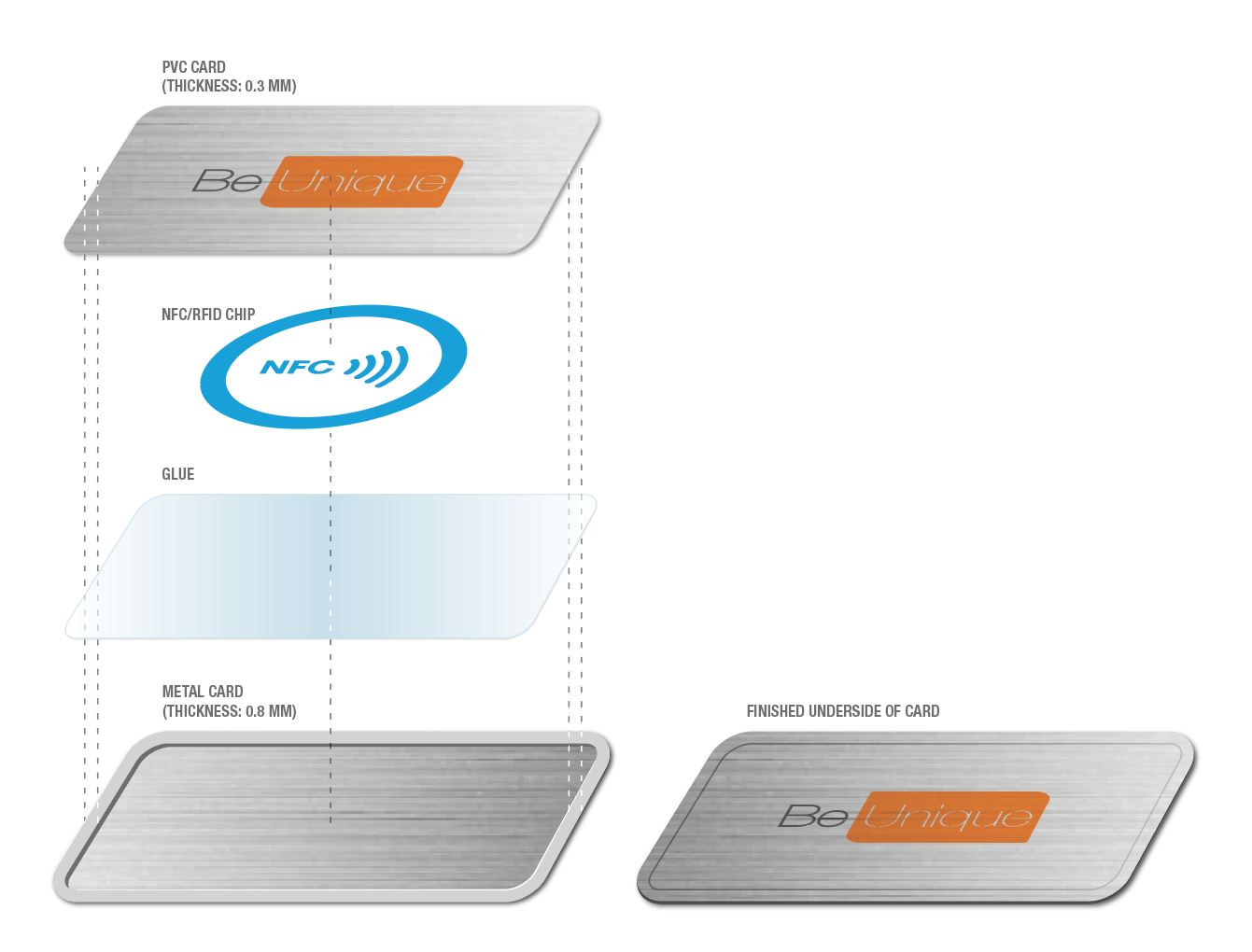 By adding an NFC chip to your metal hybrid cards you can set up digital trigger actions when the card is in near contact with other NFC-enabled devices. You can program the card to link to contact information like your website or for other promotional activities or access security features like a door or room access. Most modern smartphones are NFC enabled.
Pure Metal Cards provides premium quality PVC cards available in either a gloss or matt finish.  We can also add textures to the PVC card. These cards are in 0.5mm (0.02") card thickness. These can be added to our metal cards in 0.3mm (0.012") card thickness, which is available in stainless steel, brass, or copper.
Help Starting Out
To help you start out we offer a metal cards sampler pack that includes a selection of all our metals, card thickness, and card finishes. The sample pack* costs US$14.99 to cover postage and admin. We only send our own card designs, not customer cards as samples. If you are trying to imagine what our products are like and feel like when you actually get your hands on them, now, you don't have to. We can deliver a variety of samples right to your door. Find out more today.
Details about our metal ID cards can be found here.
To better understand what contactless payment is, how it works, as well as the advantages and disadvantages of this method, check out this well-crafted infographic about contactless payment by Milkwhale. Additional details about the move to metal payment cards can be found here.
Contactless cards and digital business cards are the future of business cards and member cards and can change the way you spread the word about your business forever. Show prospects and customers you care about their safety and that you have an innovative business with contactless metal business cards.
Why Pure Metal Cards is the best place to buy
Satisfaction Guaranteed – We want you to be completely amazed by your purchase. We replace cards if they do not meet your satisfaction.
Speed – Pure Metal Cards offers the fastest turnaround time in the market today for custom-made metal business cards. Cards typically take 7-9 business days to produce and 1-2 days to ship to you.
Pricing – We lead the industry by offering simple, all-inclusive pricing. The price quoted on our website is the price you pay.
Range of Card Finishes – We offer the widest range of metals and card finishes available anywhere. For example, we have 12 different finishes for our matt black metal cards.
Free Delivery – We offer free delivery on everything. And once your order ships, we'll email a tracking number so you can follow your order.
Switch to Pure Metal Cards Today
With over 2 million metal cards shipped to over 70 countries around the world to date, we lead the industry in card innovation and options to make your name or brand stand out from the rest. Pure Metal Cards can help you develop your existing business card or membership card to become an unforgettable metal card your clients or members will enjoy receiving.
* We do redesign and change our sample cards from time to time so not all card designs shown on our website may be included in your sampler pack. We differentiate ourselves by only providing our own designs, not sending your card to prospective customers.