Pure Metal Cards hand polished mirror metal cards let you reflect in your success. Handing out business cards should be a conversation starter, something to initiate interest from the recipient and be acted upon. Don't let your business card let you down. Shine with the help of Pure Metal Cards. Our mirror metal cards will make you simply unforgettable.
Handing out your business cards is often the very first impression someone will get of you or your business, so you need to get it right. If you are new to metal cards we have created a design to help you create your ideal mirror metal cards.
Our metal business cards and metal membership cards can be made into any size. The standard card sizes are:
85mm x 54mm (3.3" x 2.2") – credit card size
89mm × 51mm (3.5" x 2.0")
- USA and Canada size
We suggest to make your card slightly smaller than a credit card 85.60mm × 53.98mm (3.37" × 2.13") to enable it to be easily inserted or removed from a wallet or purse. We can create a card in any shape or size. Do consider though, how the receiver of your card will be able to store or carry the card it if the card is not a standard size. Use a different size corner radius to stand out. We don't make cards with square corners, as they will be sharp and potentially harmful.
Gold (brass) Mirror cards
Step into the limelight with our highly polished gold brass cards made of genuine brass. We do not offer plated cards, these are real brass.
Stainless Steel Mirror Cards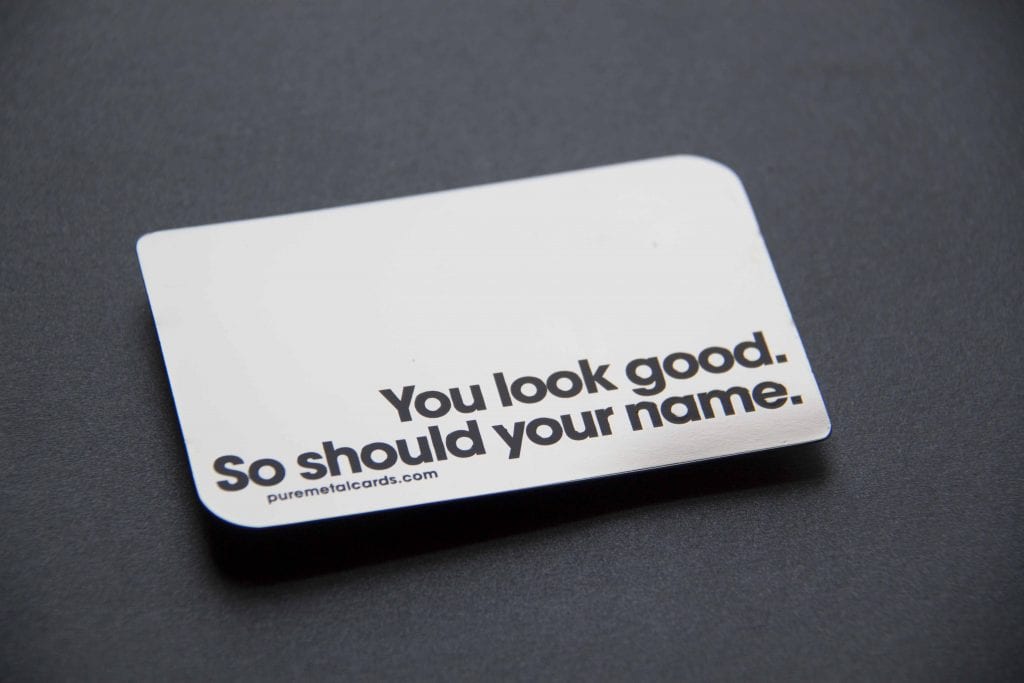 Our mirror cards are mirror like. These highly polished steel metal cards are popular as member cards and loyalty cards, especially for a feminine audience.
Copper Mirror Cards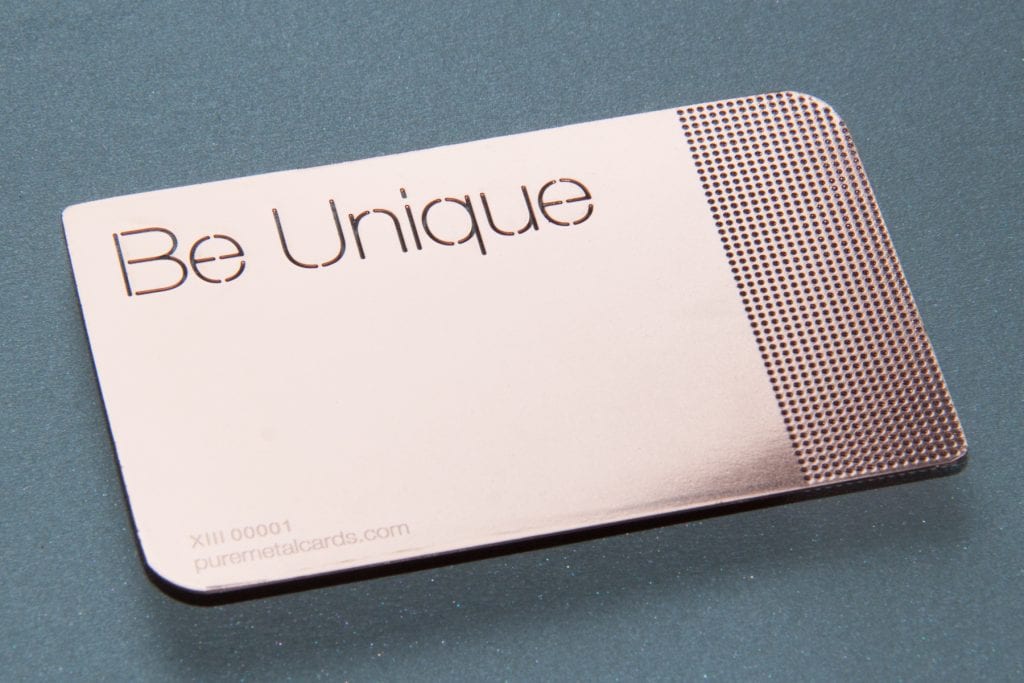 Business cards cut or etched in real copper cards create a natural old-world appeal of the metal, with contemporary values. These cards have a hand polished mirror finish on each side of the card.
One issue that is more noticeable on metal mirror cards compared to other cards is fingerprints. We offer prism, brushed, contour and frosted finishes which are better suited to masking fingerprints.
Compliment your Cards with Luxury Card Packaging
Your metal business cards are shipped in a premium quality high gloss black oak presentation case with a separate cardboard storage box. Each metal card is also individually wrapped in a transparent plastic sleeve. We can provide a luxurious black contour card sleeves or envelops to compliment your cards.
Why Choose Pure Metal Cards?
Speed – Cards typically take 7-9 business days to produce and 1-2 days to ship to you.
Pricing – Simple, all-inclusive pricing.
Range of Card Finishes – The widest range of metals and card finishes available anywhere.
Customization and Personalization – To customize your metal cards we offer a range of options to make each card traceable.
Client List – Pure Metal Cards works with a wide range of clients ranging from globally renowned brands to start-ups and fledgling businesses across all industries and continents.
Switch to Metal Cards Today
A metal business card or member card is a great way to convert a normal marketing tool into something very exciting and different. Our mirror metal cards are available in a number of metals and card thicknesses and can be made into member cards as well. With over 1.5 million metal cards shipped to date we lead the industry in card innovation and options to make your name or brand stand out from the rest. Pure Metal Cards can help you develop your existing business card or membership card to become an unforgettable metal card your clients or members will enjoy receiving. For more information please contact us today.