Pure Metal Cards mirror metal cards are a great way to promote yourself or your brand. Handing out business cards should be a conversation starter, something to initiate interest from the receiver and be acted upon. Don't let your business card let you down. Reflect on your Success with mirror metal cards. Our mirror metal cards will make you the talk of the town.

Handing out your business cards is often the very first impression someone will get of you or your business, so you need to get it right. If you are new to metal cards we have created a design to help you create your ideal metal business card. Our mirror metal cards are the card to make an impact.
Our mirror finish is highly reflective, just like a mirror. This polished look is available on our stainless steel, brass (gold) and copper metals. We can either etch or laser etch into the card surface which provides a matt effect against the shiny finish of the mirror surface.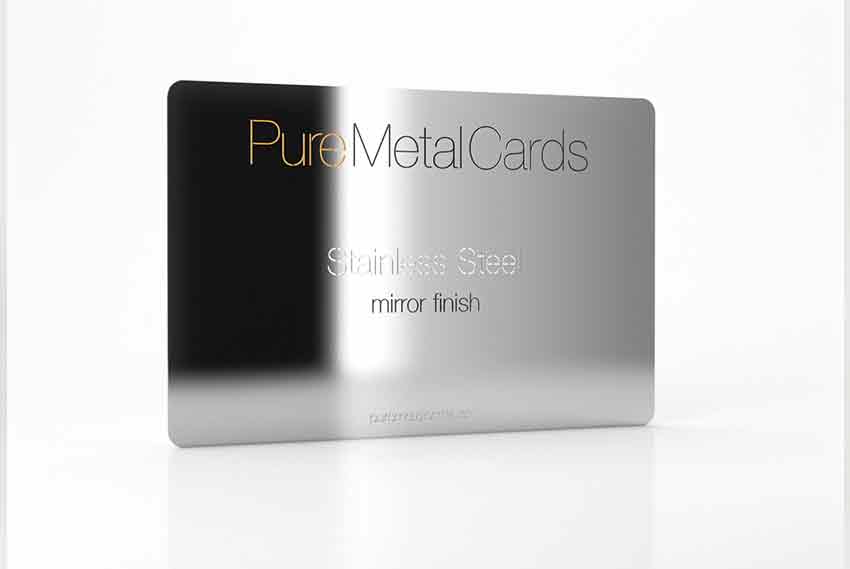 Our stainless steel mirror cards are completely mirror-like. These highly polished mirror metal cards are popular as member cards and loyalty cards, especially for a feminine audience.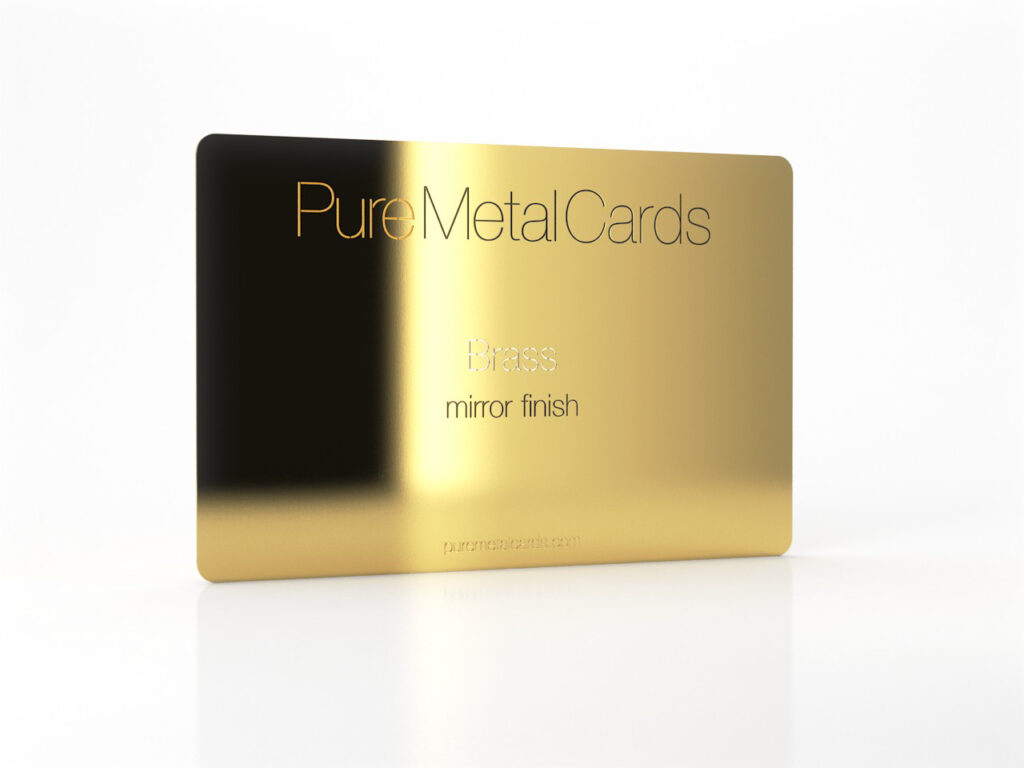 Step into the limelight with our highly polished gold mirror cards made from genuine brass. We do not offer plated cards, these are real brass.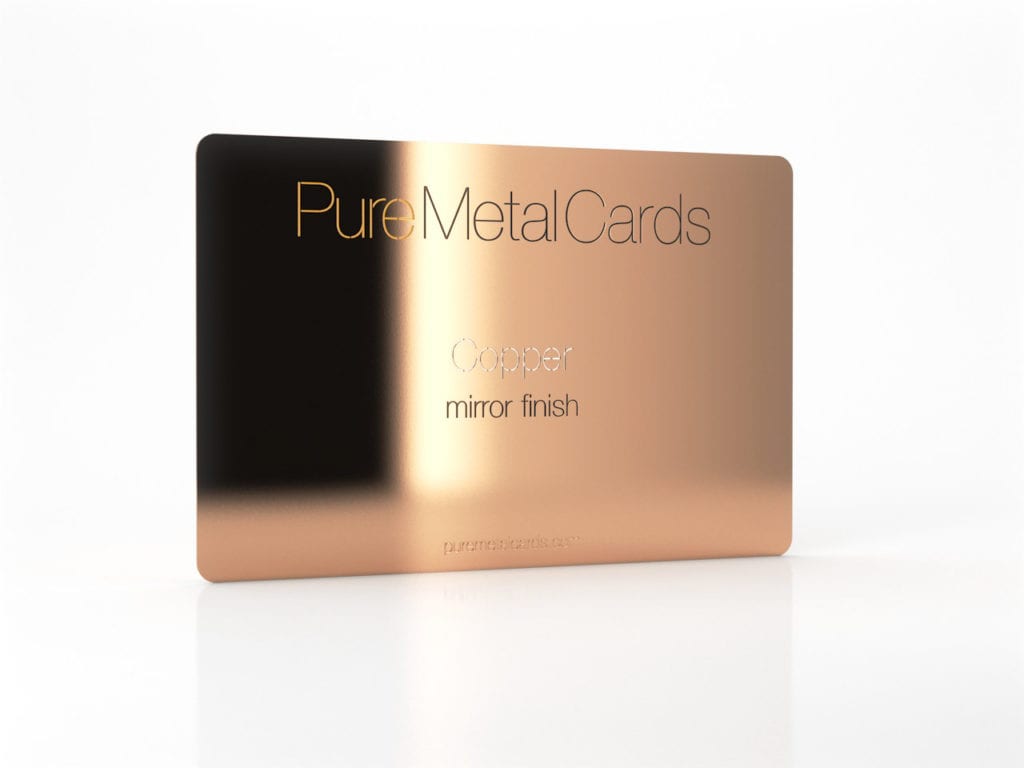 Business cards cut or etched in real copper create a natural old-world appeal of the metal, with contemporary values. These cards have a hand polished copper mirror finish on each side of the card.
Our metal business cards and metal membership cards can be made into any size you require. The standard international card sizes are:
85mm x 54mm (3.3" x 2.2") – credit card size
89mm × 51mm (3.5" x 2.0")
- USA and Canada size
We suggest making your card slightly smaller than a credit card 85.60mm × 53.98mm (3.37" × 2.13") to enable it to be easily inserted or removed from a wallet or purse. We can create a card in any shape or size. Do consider though, how the receiver of your card will be able to store or carry the card it if the card is not a standard size. Use a different size corner radius to stand out. We don't make cards with square corners, as they will be sharp and potentially harmful.
Why Choose Pure Metal Cards?
100% Satisfaction Guaranteed – We want you to be completely amazed by your purchase. We replace cards if they do not meet your satisfaction.
Speed – Pure Metal Cards offers the fastest turnaround time in the market today for custom-made metal business cards. Cards typically take 7-9 business days to produce and 1-2 days to ship to you.
Pricing – We lead the industry by offering simple, all-inclusive pricing. The price quoted on our website is the price you pay.
Range of Card Finishes – We offer the widest range of metals and card finishes available anywhere. For example, we have 12 different finishes for our matt black metal cards.
Switch to Pure Metal Cards Today
With over 2 million metal cards shipped to date, we lead the industry in card innovation and options to make your name or brand stand out from the rest. Pure Metal Cards can help you develop your existing business card or membership card to become an unforgettable metal card your clients or members will enjoy receiving. A Pure Metal Cards mirror metal card will ensure your name will be unforgettable. For more information please contact us today.