Handing out a solid gold business card is an introductory statement like no other. Whatever the circumstances, and whomever the individual you're presenting yourself to, a gold card is sure to make a mark. Join the elite few. The cloistered cadre of gold card bearers. Pure Metal Cards is the leading provider of gold business cards.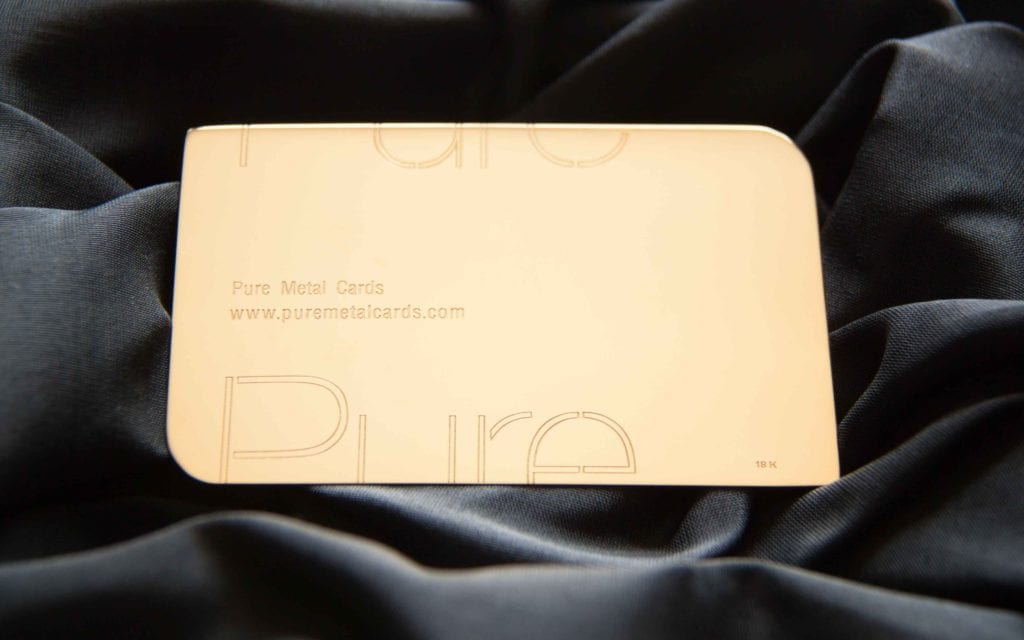 Pure Metal Cards can construct a card that will win over your prospective clients or customers. Imagine the amazement of the recipient when you hand your card when they realize they are receiving the ultimate precious metal. When you give someone a business card, you are demonstrating your value as a business professional. What better way is there to show that value than making your business card something a person will be sure never to lose? Gold business cards grab attention.
We offer four qualities of gold. A karat (kt) or carat (ct) is a unit of measurement for the fineness of gold, equal to 1/24 part. Pure gold is 24 karat. Gold that is 50 percent pure is 12 karat. The gold cards we offer are 0.5mm/0.02" in card thickness and weights are summaries below:-
9kt – 26 grams/0.057 lbs
14kt – 31 grams/0.068 lbs
18kt – 35 grams/0.077 lbs
22kt – 39 grams/0.086 lbs
The weight may vary due to the effects of engraving the design detailing to the card.
We use traditional methods to produce your cards. Our craftsmen hand make each individual card. Your design will be laser engraved or diamond milled into the precious metal of each card without any color fill. You can choose from a rainbow of colors for your text or design. It is also possible to apply multiple colors to each side of your card.
Please Note: To apply the color process to your design requires engraving to a depth of 0.2mm/0.008" to hold the color, therefore the following minimum card thicknesses need to be used:
1 sided card design: 0. 5mm/0.02"
2 sided card design: 0. 8mm/0.03"
For further details and pricing for our gold card please visit here.
Our precious metal cards also include sterling silver, titanium and platinum cards. If you are seeking gold business cards that are less expensive, our range of eight brass metal cards may be more suitable.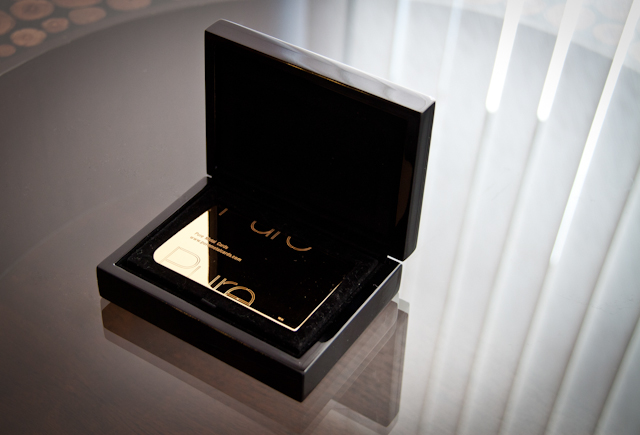 Why Choose Pure Metal Cards?
Speed – Pure Metal Cards offers the fastest turnaround time on the market today for custom-made metal business cards. Cards typically take 7-9 business days to produce and 1-2 days to ship to you.
Pricing – We lead the industry by offering simple, all-inclusive pricing. The price quoted on our website is the price you pay.
Range of Card Finishes – We offer the widest range of metals and card finishes available anywhere. For example, we have 21 different finishes for our stainless steel cards.
Customization and Personalization – To customize your metal cards we offer a range of options to make each card traceable.
Client List – Pure Metal Cards works with a wide range of clients ranging from globally renowned brands to start-ups and fledgling businesses across all industries and continents.
Satisfaction Guaranteed – We want you to be completely amazed by your card purchase. We replace cards if they do not meet your satisfaction.
Switch to Pure Metal Cards Today
With over 2 million metal cards shipped to over 70 countries around the world to date, we lead the industry in card innovation and options to make your name or brand stand out from the rest. Pure Metal Cards can help you develop your existing business card or membership card to become an unforgettable metal card your clients or members will enjoy receiving. Gold business cards from Pure Metal Cards will ensure your name will be unforgettable.
For more information please contact us today.