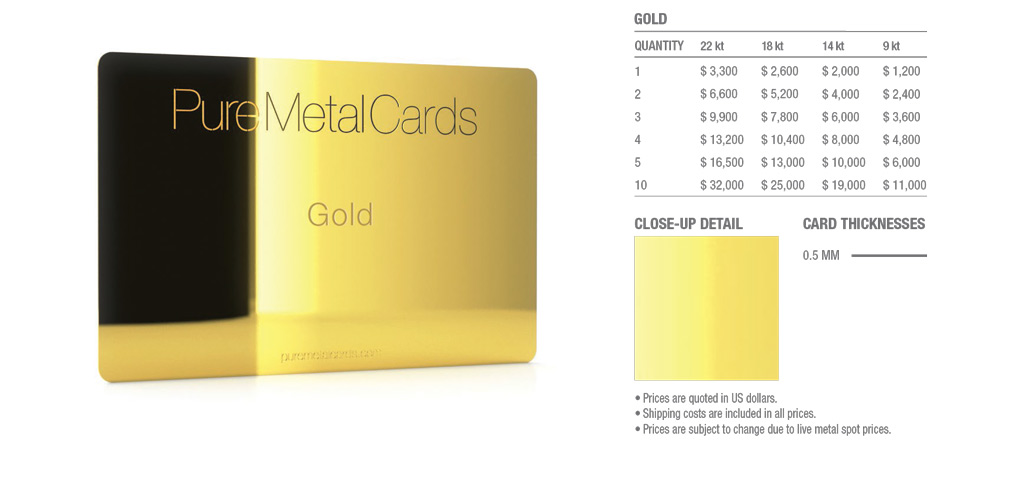 Handing out a solid gold business card is an introductory statement like no other. Whatever the
circumstances, and whomever the individual you're presenting yourself to, a gold card is sure to make
a mark. Join the elite few. The cloistered cadre of gold card bearers. Our real gold card is the card that will grab major attention.
Your design will be laser engraved or diamond milled into the precious metal of each card without any color fill. You can choose from a rainbow of colors for your text or design. If you require a color fill to be added to the text or logo there will be additional charges. It is possible to apply multiple colors to each side of the card.
The weight of your gold card with a card thickness of 0.5mm is shown below:
9kt – 26 grams/0.057 lbs
14kt – 31 grams/0.068 lbs
18kt – 35 grams/0.077 lbs
22kt – 39 grams/0.086 lbs
The weight may vary due to the effects of engraving the design detailing to the card.
Please Note:
To apply the color process to your design requires engraving to a depth of 0.2mm/0.008" to hold the color, therefore the following minimum card thicknesses need to be used:
1 sided card design: 0. 5mm/0.02"
2 sided card design: 0. 8mm/0.03"
Pricing for our thicker 0.8mm gold cards is provided on application. Please contact us for further information.
We can also provide platinum and palladium precious metal cards.
Due to fluctuations in the price of gold, our gold card prices may change based on the current market price.