Business cards cut or etched in real copper create a natural old-world appeal of the metal, with contemporary values. Choosing the copper finish for your business cards creates a path to the past. A metal business card is a great way to make a generally normal marketing tool very exciting and different. It has numerous applications for business professionals and marketers in addition to being a simply unique name card. Pure Metal Cards can also help you to design and create truly individualized metal business and member cards. Choose the copper metal card and be unique.
Copper is one of the few metals that occur in nature in directly usable metallic form (native metals) as opposed to needing extraction from an ore. This led to very early human use, from c. 8000 BC. Copper is used mostly as a pure metal, but when greater hardness is required, it is put into such alloys as brass and bronze (5% of total use). Pure Metal Cards uses genuine 99.999% copper to create unique metal cards. We do not plate stainless steel cards to replicate the color. A copper metal card is sure to impress the recipient. Our extensive range of copper cards is shown below.
Mirror Copper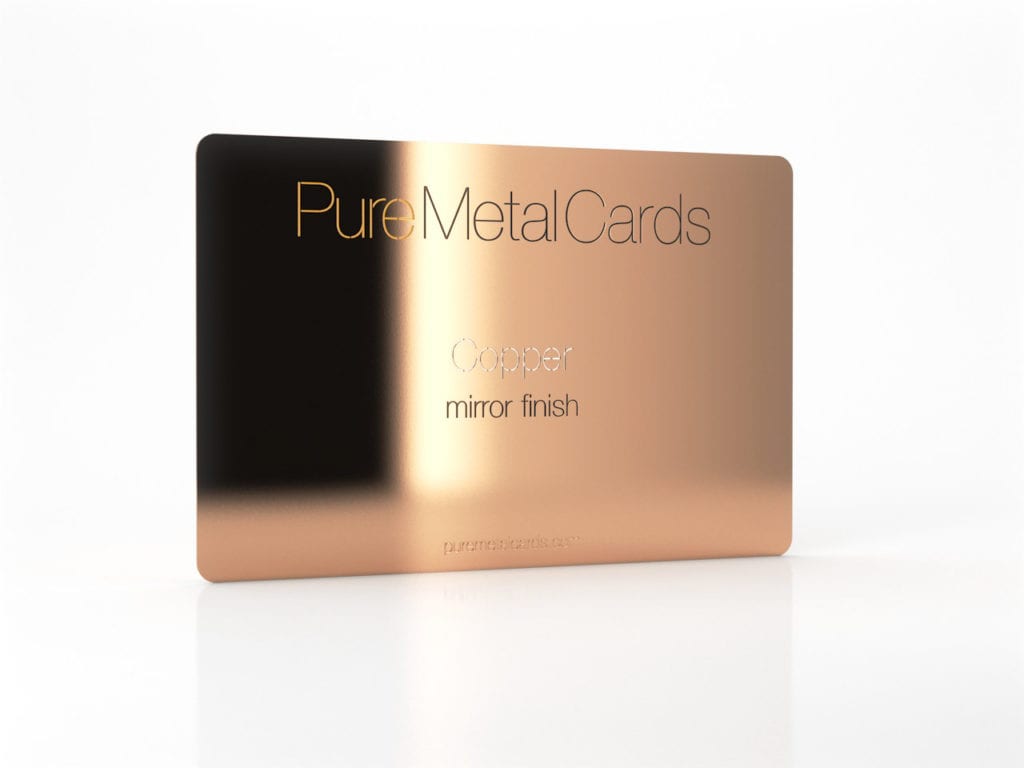 These cards have a highly polished copper mirror finish on each side of the copper card. They make for exquisite metal business cards.
Prism Copper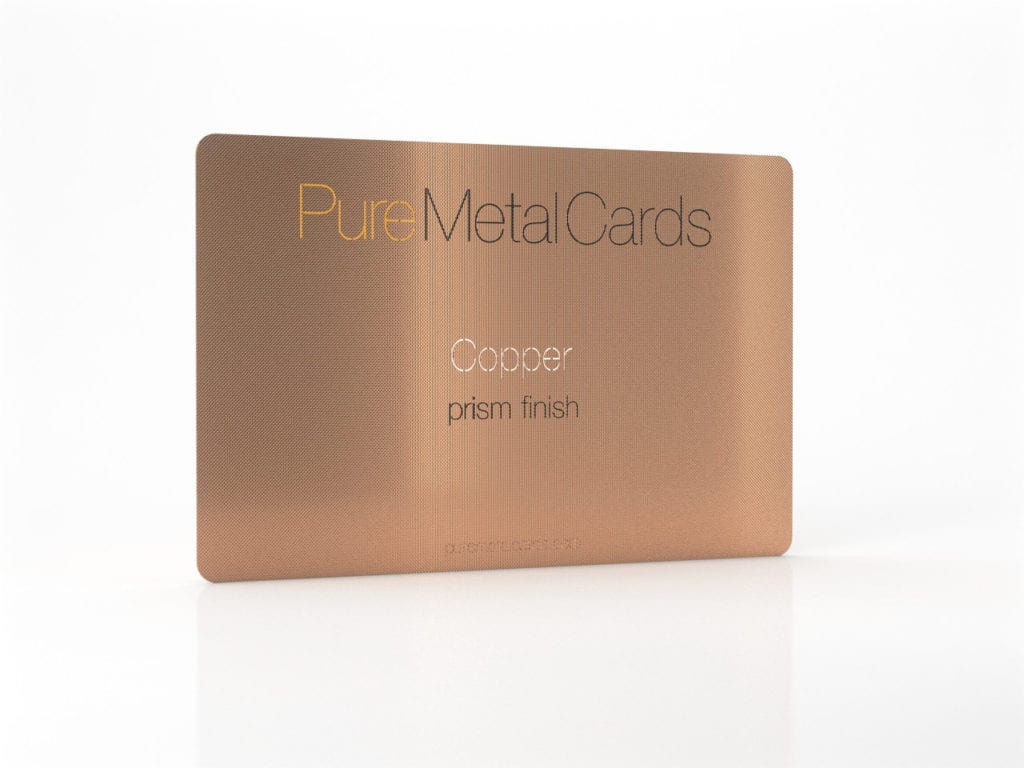 Our copper prism cards have a unique textured finish on each side of the card. Choosing the copper finish for your business cards creates a path to the past.
Frosted Copper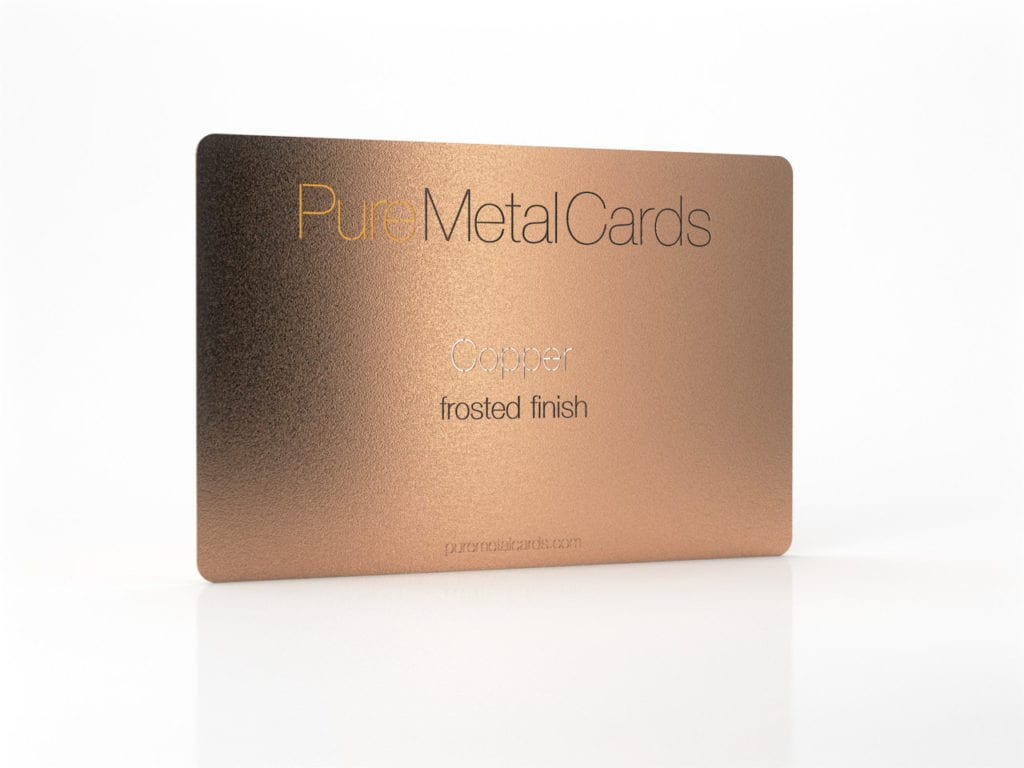 Our copper frosted cards have a textured finish which is non-reflective. This surface and the prism finish are great to reduce the noticeability of fingerprints on metal cards.
Brushed Copper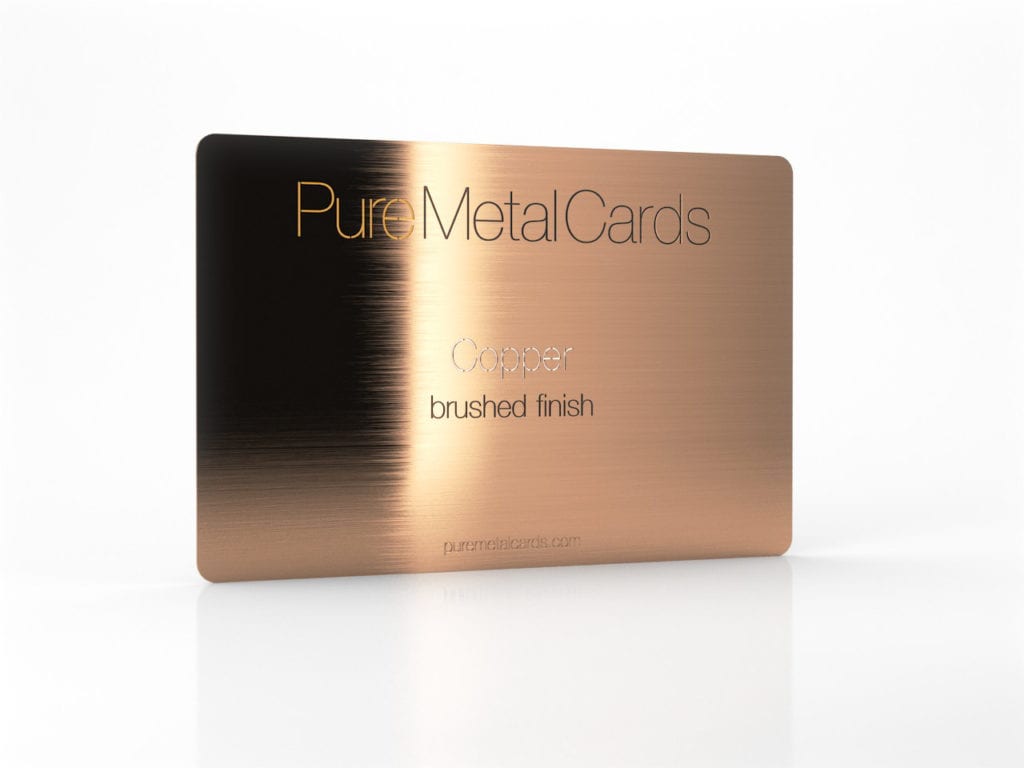 Copper cards with a brushed finish have an amazing appeal and are a popular choice for this metal card
Contour Copper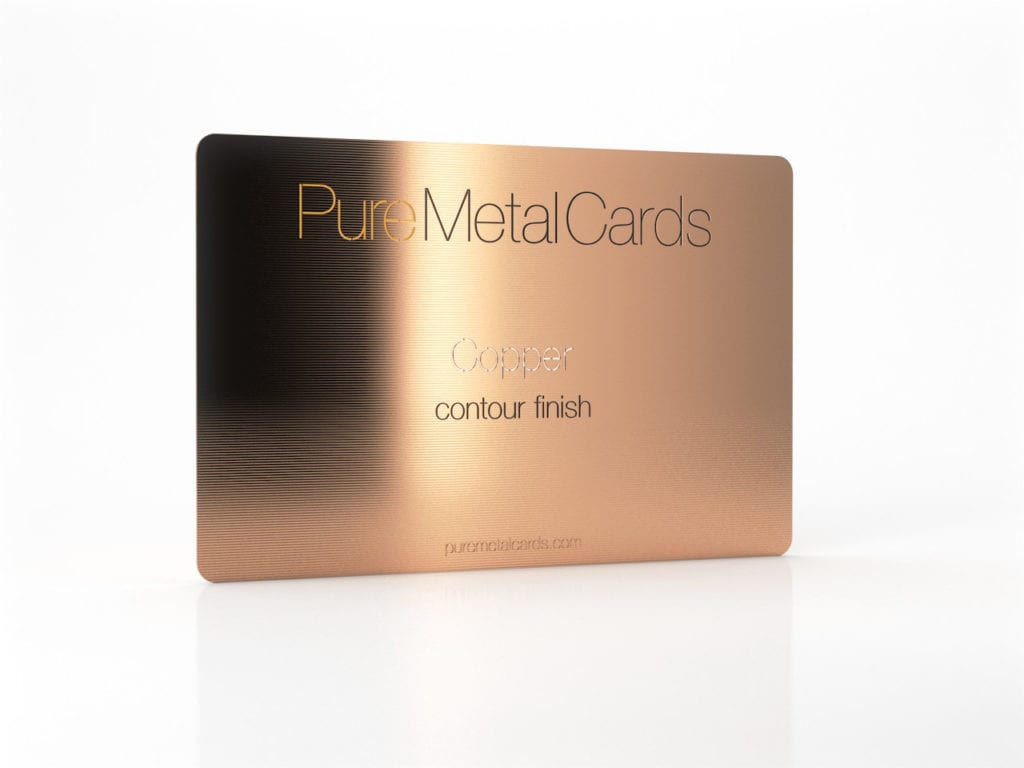 Our copper contour cards have a distinctive grooved finish that is quite unique.
Black Copper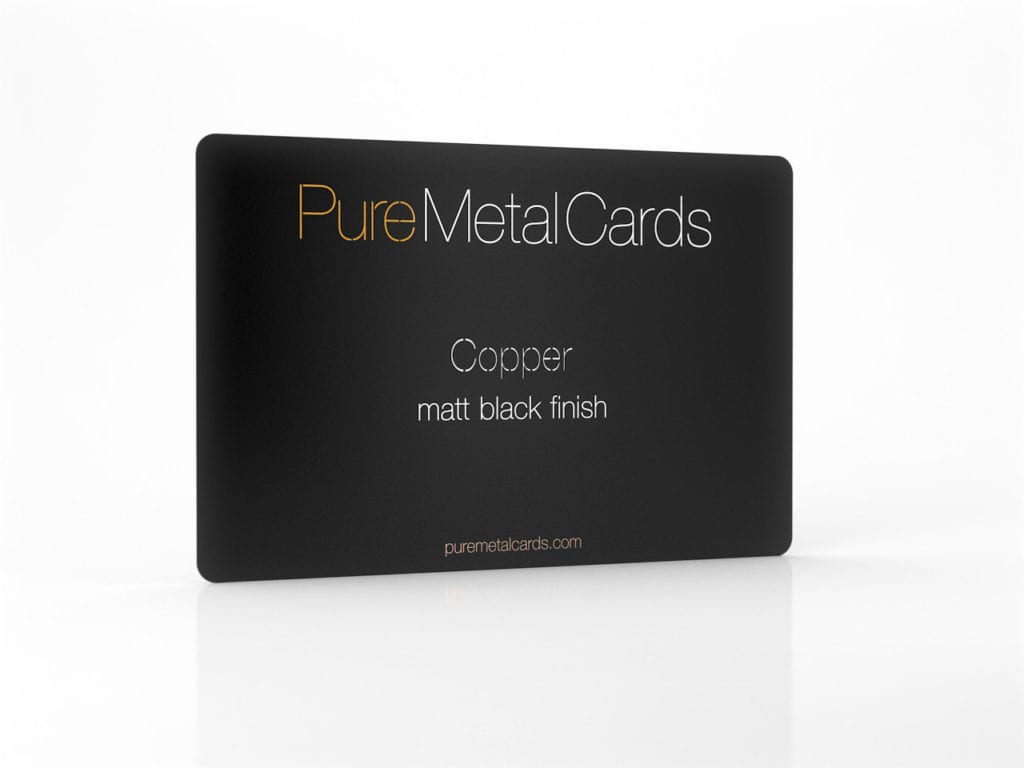 Our matt black copper metal cards look great when laser etched detailing of your design on this unique metal card to show the copper itself. Our matt black copper card is anodized so the whole card has a matt finish.
Matt Black Contour Copper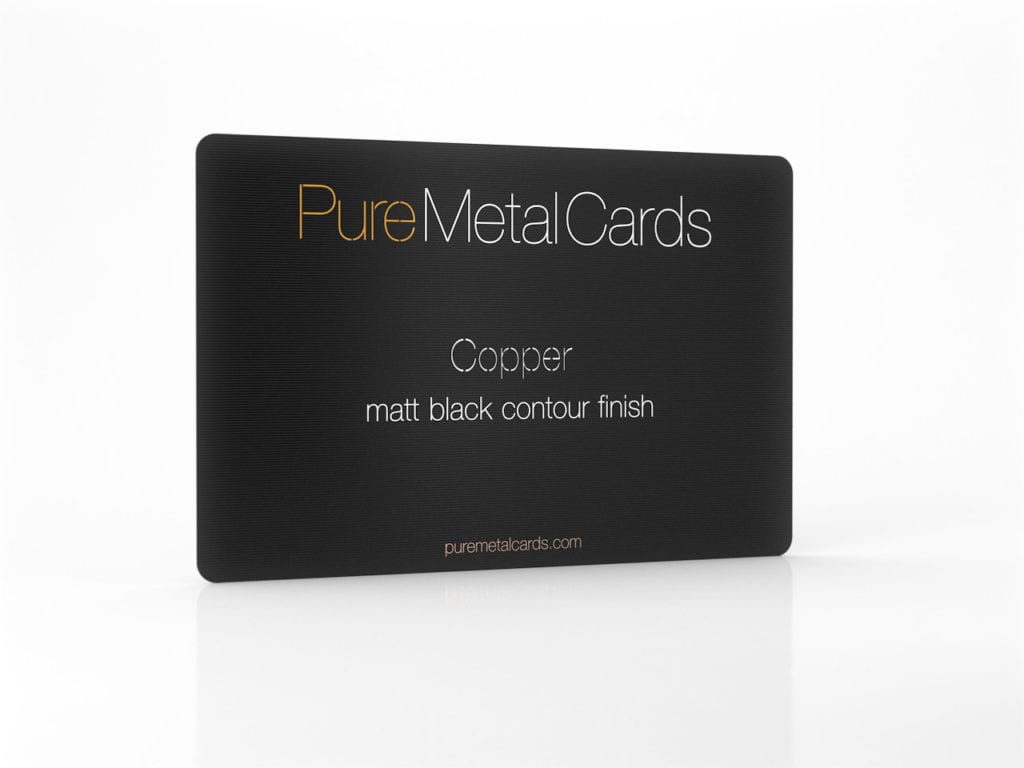 The contour or microscopic grove within the surface of the copper metal cards makes these a memorable business card. The contour effect is not as noticeable on this matt black copper card finish as can be seen on our brushed stainless steel cards. The contour copper effect is a great way to mask fingerprint markets on metal cards.
Why Choose Pure Metal Cards?
Speed – Pure Metal Cards offers the faster turnaround time on the market today for custom-made metal business cards. Cards typically take 7-9 business days to produce and 1-2 days to ship to you.
Pricing – We lead the industry by offering simple, all-inclusive pricing. The price quoted on our website is the price you pay.
Range of Card Finishes – We offer the widest range of metals and card finishes available anywhere. For example, we have 15 different finishes for our stainless steel cards.
Customization and Personalization – To customize your metal cards we offer a range of options to make each card traceable.
Client List – Pure Metal Cards works with a wide range of clients ranging from globally renowned brands to start-ups and fledgling businesses across all industries and continents.
Satisfaction Guaranteed – We want you to be completely amazed by your purchase. We replace cards if they do not meet your satisfaction.
Switch to Metal Today
With over 2 million metal cards shipped to date, we lead the industry in card innovation and options to make your name or brand stand out from the rest. Pure Metal Cards can help you develop your existing business card or membership card to become an unforgettable metal card your clients or members will enjoy receiving. A Pure Metal Cards copper metal card will ensure your name will be unforgettable. For more information please contact us today.