Our carbon fiber luggage tags as rugged and hard-wearing. These 1.2mm/0.047″ card thickness cards are available with either a leather strap or a wire mesh strap (additional charges apply). Cards can be silkscreen printed on one or both sides. The white panels offer areas to write your contact details with a ballpoint pen or marker pen. We offer either a gloss or matte lacquer finish. These exquisite cards take 2 weeks to manufacture.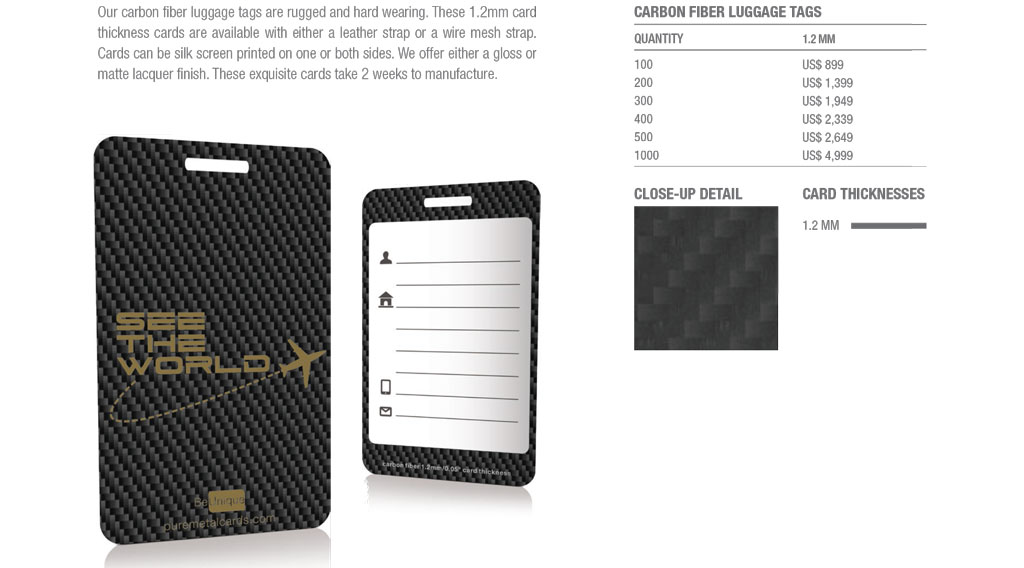 Carbon fiber is exactly what the name suggests extremely thin strong fibers. Our carbon fiber luggage tags are made from genuine carbon fiber with a premium 3K-twill weave. Carbon fiber is most notably used to reinforce composite materials, particularly the class of materials known as carbon fiber or graphite-reinforced polymers. The material consists of extremely thin fibers ranging from 0.005mm-0.010mm (0.0002"-0.0004") in diameter. To form the yarn thousands of carbon fibers are twisted together, like how a rope is formed. It's kind of is an engineer's dream come true. A material that's lighter than aluminum and is pound for pound stronger than steel.
We also offer a range of luxury metal luggage tags. Further details can be found here.