Pure Metal Cards stylish luxury metal luggage tags (or baggage tags) really set you apart. They compliment your luggage and offer a very distinctive way to mark your possessions.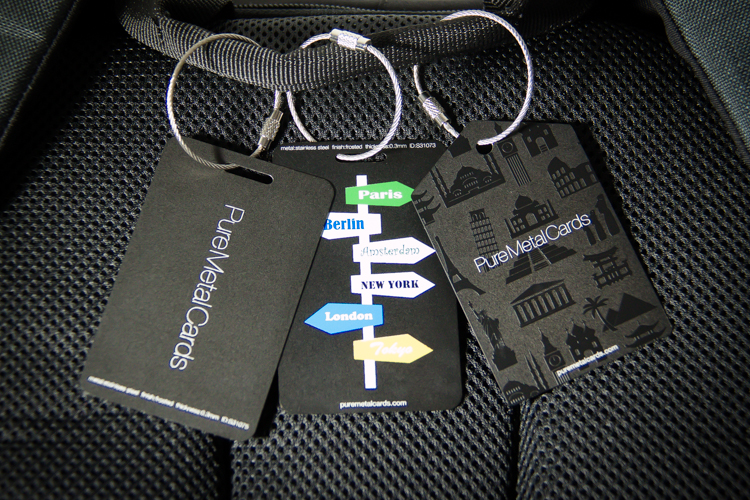 Our metal luggage tags can either be hand written with a ball point pen or marker pen or be laser engraved with your contact details, brand or logo. These robust tags are ideal for quality luggage, handbags, laptop bags, sports and music cases. Metal luggage tags not only provide you with a place for your personal information but they also allow you to easily identify your luggage from a distance! For frequent flyers a consistent problem with paper and plastic luggage tags can be that they quickly become tatty, torn or simply get ripped off, especially on longer journeys. Pure Metal Cards metal luggage tags are tough and durable. They are ideal for the frequent traveler or as a corporate gift.
Metal luggage tags are perfect from a presentation standpoint because they are sleek and have that executive look that makes your name on the front look professional. We can create metal luggage tags in any shape or size you require. Our tags are available in stainless steel, brass , copper and carbon fiber and in all the different finishes shown on our website. Pure Metal Cards can also help you to design and create truly individualized metal luggage tags.
Straps for Metal Luggage Tags
We can provide a range of strap options to compliment your custom metal tags. These are available in real leather in your color of choice, with a stainless steel wire mesh strap (also available in black or gold colors) or with a silk strap. These are priced separately.
Please contact us with your requirements and a quotation or email us at info@puremetalcards.com
Why Choose Pure Metal Cards?
Speed – Pure Metal Cards offers the faster turnaround time in the market today for custom-made metal business cards. Cards typically take 7-9 business days to produce and 1-2 days to ship to you.
Pricing – We lead the industry by offering simple, all-inclusive pricing. The price quoted on our web site is the price you pay.
Range of Card Finishes – We offer the widest range of metals and card finishes available anywhere. For example, we have 19 different finishes for our stainless steel cards.
Customization and Personalization – To customize your metal cards we offer a range of options to make each card traceable.
Client List – Pure Metal Cards works with a wide range of clients ranging from globally renowned brands to start-ups and fledgling businesses across all industries and continents.
Switch to Metal Today
With over 1.5 million metal cards shipped to date we lead the industry in card innovation and options to make your name or brand stand out from the rest. Pure Metal Cards can help you develop your existing business card or membership card to become an unforgettable metal card your clients or members will enjoy receiving. For more information please contact us today.