We're all familiar with the typical business card. They're rectangular, typically around the same size as a bank card, and made from paper. And for the most part, they're also forgettable. At best, most end up being filed away, while others end up in the bin. Today, there's a huge emphasis on online marketing and business. It's perhaps no surprise then, that business cards aren't as common as they used to be. In fact, that's exactly why they make such an impact. Let Pure Metal Cards help you create a simply unique card no one will ever forget.
Metal business and membership cards go a step further. They exude a quality and exclusivity that paper can't. And, contrary to what many people assume, they're every bit as customizable as paper – there's no need to stick to standard shapes and sizes. Card sizes can whatever you desire though!
What are the standard business card sizes?
While there is no one global standard size for business cards, different countries do have their own standards, either official or unofficial. In the US, most business cards measure 3.5" by 2.0" (89.9mm x 51.0mm), making for an aspect ratio of 1.75. This makes them slightly longer and narrower than a bank card, which is convenient for storage.
Banking cards are, unsurprisingly, strictly standardized. The global standard credit card size is referred to as CR80 and is used by all banks and financial cards around the world. It measures 3.37" by 2.13" (85.6mm x 54.0mm).  For a guide to business card size for your country, please review here.

Which shapes are available for metal business cards?
Of course, most business (and membership) cards are rectangular, but there's no reason you have to conform to the common standard. In fact, choosing a customized shape is a great way to make an impact and give your business cards a unique branding. Custom-shaped cards help you stand out, and they can even offer a practical function – such as a bottle opener.
Unlike paper cards, metal business cards often have rounded rather than square corners for the sake of comfort and safety. They might have cut-outs (called die-cut or cut-thru) to provide a unique look or feel. Other popular designs include hang tags and price tags. For those who want something truly unique, it's even possible to get metal cards made with precision engineering. In other words, you can create almost anything you want in metal in any shape, size, thickness, and design.
The following examples are typical sizing we recommend for round cards, mini business cards, and square business cards. We can make any size you prefer though! For more ideas and suggestions on business card sizes use this link.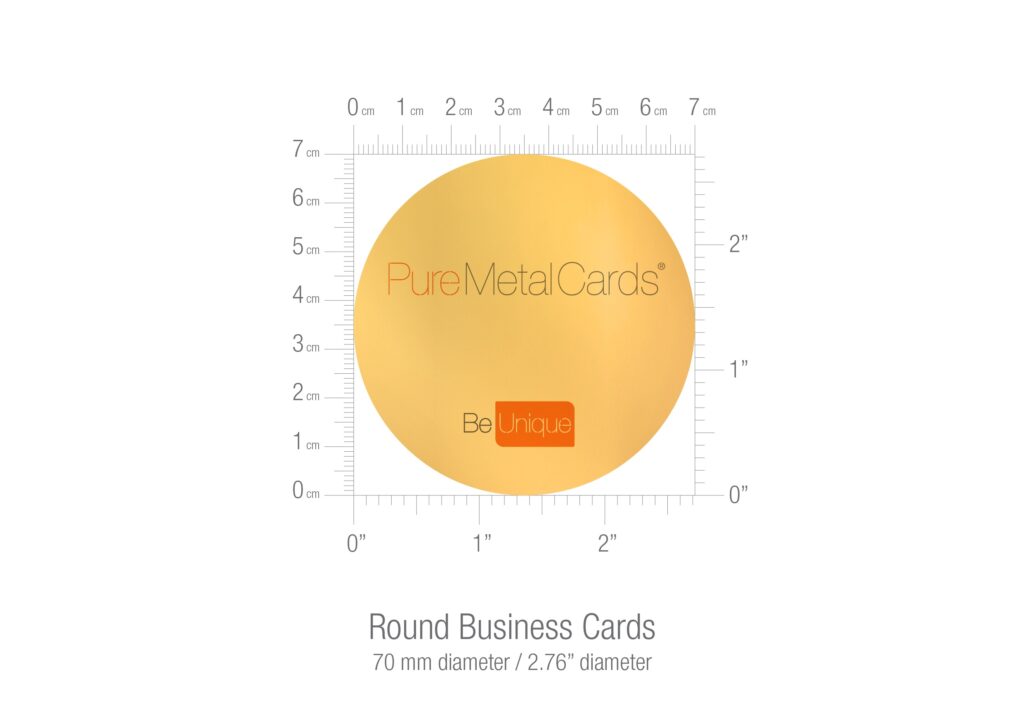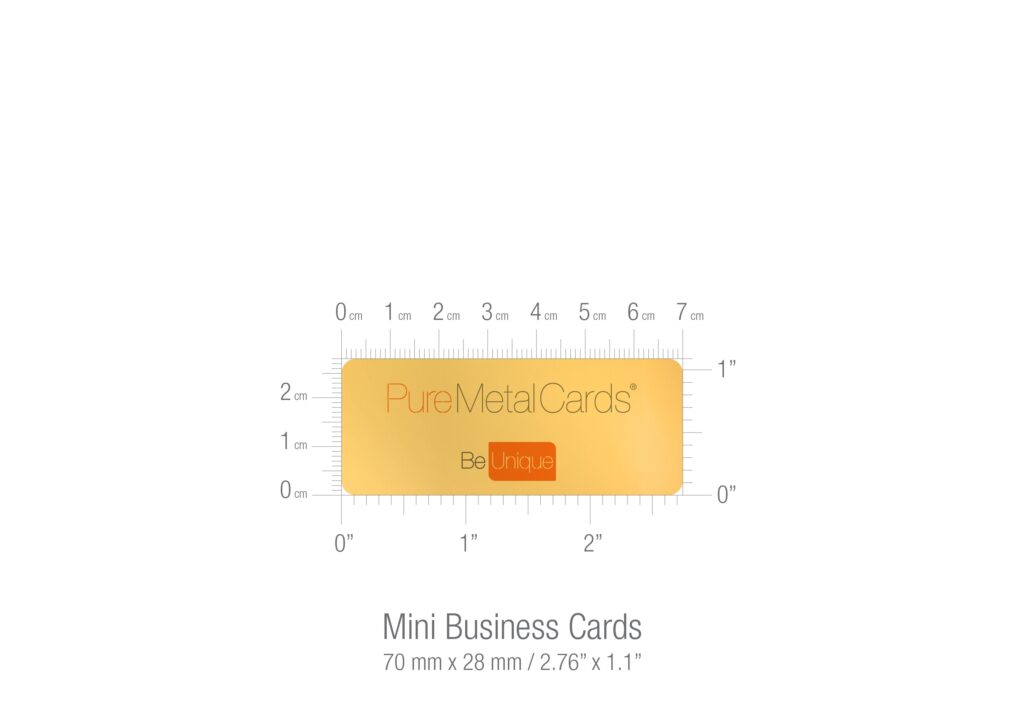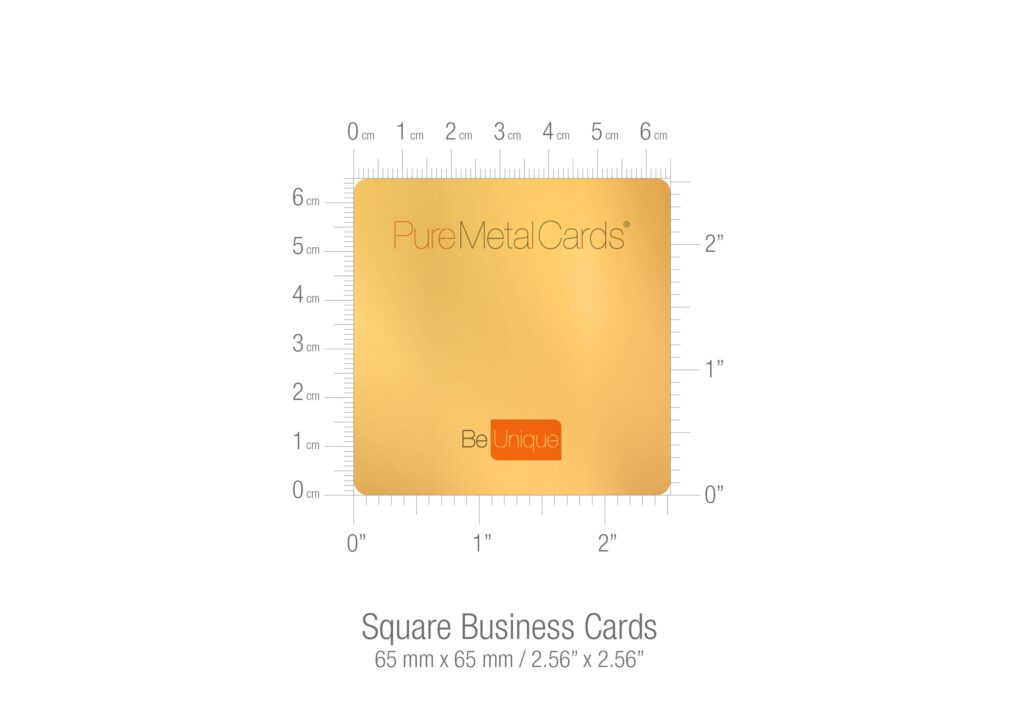 What are some important things to think about when choosing a design?
Although it might be tempting to go for something as unique as possible, it's important to think about the practical consequences too. Most people store business and membership cards in their wallet or purse, which are designed to accommodate the CR80 bank card size. That's why most business cards will slide into bank card slots as well, although it can be a tight squeeze due to their being a little bit longer in length.
Whether your card will comfortably fit into a standard wallet is the most important thing to think about when choosing the right shape and size. Odd shapes might look great, but some might snag when putting them in a wallet, and others might prove difficult to file away. That's why we suggest starting with a standard CR80 or 3.5" x 2.13" profile with rounded edges and working from there. We also recommend using a typical US business card size for business cards, but for membership cards, the CR80 credit card size tends to work best.
Portrait or landscape?
Have you thought about rotating your card design? Rather than being the traditional 'landscape' format, you might switch to a 'portrait' mode to be more unique. To some extent, it's just down to personal preference, but there is an association between landscape business cards and more traditional businesses like banks, law firms, and professional services providers. The portrait format is becoming increasingly popular among businesses of all kinds, but it's most often associated with companies whose brand identity is about being fresh, new, and distinctive, such as startups, design firms, or other creative sectors.

What is a good thickness for metal business cards?
It may not affect your design decisions as much as size, but you may be interested to know that Pure Metal Cards business cards also come in the widest range of card thicknesses available. We typically recommend 0.01"/0.3mm for metal business cards. This is because they can be quite heavy if you are carrying ten or more to a meeting, function, or networking event. If you really want to make an impact the 0.02"/0.5mm or 0.03/0.8mm (credit) card thicknesses may be more suitable.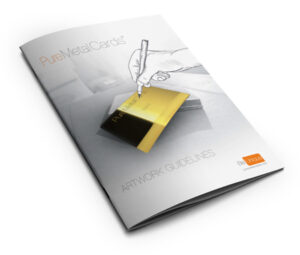 You can download our design template and artwork guidelines here.
Our sampler pack is a great way to get your hands-on metal cards and compare the various metals, card finishes, and card thicknesses that we offer.
Pure Metal Cards makes metal business cards, membership cards, and invitations in any shape and size you desire. We lead the market in providing simple, all-inclusive pricing including shipping. The cost of your order, whether US business card or CR80 credit-card-sized card is the same. Metal cards offer you the opportunity to be even more creative than with old fashioned paper business cards. However, whichever shape or size you choose, it is important to consider if the size might fit comfortably in a wallet or purse. Contact us today to find out more or email us at info@puremetalcards.com to get started.