Choosing the card thickness for your metal business is equally as important as your choice of metal, card finish and the actual card design itself. When you hand out metal business cards you immediately make an impact. Owning a metal business card will make you the focus of attention. With the help of Pure Metal Cards, we can create a metal card that will make you unforgettable.
Business Card Thicknesses
Handing out a business card is often the very first impression someone will get of you or your business, so you need to get it right. To meet your needs, we offer a range of metal card thicknesses.
We offer a wide range of card thicknesses from 0.3mm to credit card thickness 0.8mm as shown below:
0.3mm – 0.012″, 0.4mm – 0.016″, 0.5mm – 0.020″, 0.6mm – 0.024″ and 0.8mm – 0.032″

Our titanium cards are 0.8mm card thickness only.
The 0.3mm card thickness allows the most flexibility for your design if you require cut thru (die-cut) details. We usually recommend 0.5mm card thickness for luggage tags. The thicker 0.8mm (credit) card thickness is popular as a member card.
We also offer a range of thicker cards that are more suitable for unique cards such as a bottle opener, launch event invitation card or for a custom-designed engineered design item. We are able to offer all our metal card finishes in stainless steel, brass (gold) and copper in these card thicknesses. Metal card thickness offered include:-
1.0mm – 0.039″
1.5mm – 0.059″
2.0mm – 0.079″
Our carbon fiber cards are offered in three card thicknesses:
0.3mm – 0.012″ (flexible)
0.6mm – 0.024″ (rigid)
1.2mm – 0.047" (very rigid)
Consider the Card Weight
Our 0.3mm card thickness is the recommended metal card thickness to use for business cards. It is distinctive and unique, yet light. If you choose a thicker card, please bear in mind the additional weight you will endure to carry these cards around with you. Cards of 0.5mm (0.020″) or thicker are quite heavy and bulky, especially if you have ten or more in your wallet or purse. Card weights per card are shown below:-
0.3mm – 10.8 grams/0.38 ounces
0.4mm – 11.9 grams/0.42 ounces
0.5mm – 17.2 grams/0.61 ounces
0.6mm – 17.7 grams/0.62 ounces
0.8mm – 1.03 grams/0.94 ounces
Note: weights are approximate as card design and cut thru elements can change the actual weight of the metal card.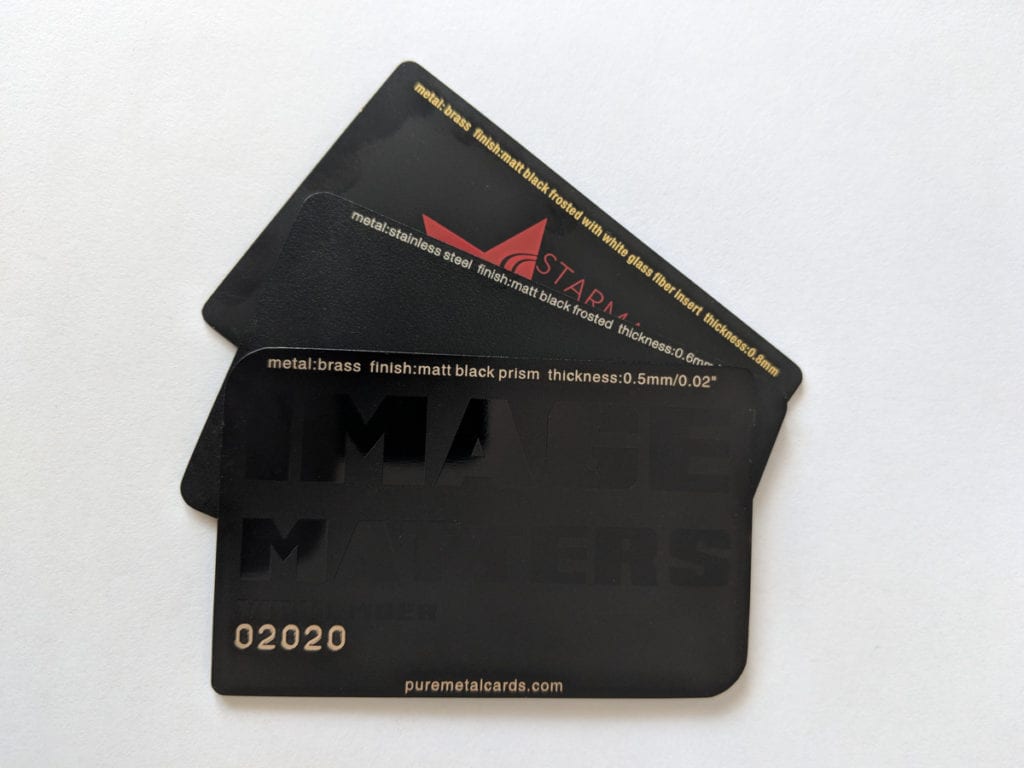 Our innovative metal card samples can help you feel the weight differences between the card thickness options as well as review our variety of card finishes and metals. We do not send out customer designs as samples. We are unique in creating designs in-house. Each metal sample card includes details of the metal, card thickness and card finish as shown above. Please contact us for a sample pack.
Card Sizing
Our metal business cards and metal membership cards can be made into any size you require. The standard metal card sizes are:
85mm x 54mm (3.3" x 2.2") – credit card size
89mm × 51mm (3.5" x 2.0")
 – USA and Canada business card size
Our pricing is simplified to give one cost for cards for the standard 0.3mm metal card thickness and a slightly higher cost for 0.4mm thru to 0.8mm card thicknesses. Our prices are inclusive of shipping by DHL or FedEx. Pricing includes printing on both sides of the card.
Why Choose Pure Metal Cards?
Satisfaction Guaranteed – We want you to be completely amazed by your purchase. We replace cards if they do not meet your satisfaction.
Speed – Pure Metal Cards offers the faster turnaround time in the market today for custom-made metal business cards. Cards typically take 7-9 business days to produce and 1-2 days to ship to you.
Pricing – We lead the industry by offering simple, all-inclusive pricing. The price quoted on our website is the price you pay.
The Range of Card Finishes – We offer the widest range of metals and card finishes available anywhere. For example, we have 12 different finishes for our matt black metal cards.
Switch to Pure Metal Cards Today
With over 2 million metal cards shipped to date, we lead the industry in card innovation and options to make your name or brand stand out from the rest. Pure Metal Cards can help you develop your existing business card or membership card to become an unforgettable metal card your clients or members will enjoy receiving. Pure Metal Cards metal business cards will ensure your name will be unforgettable. For more information please contact us today.