Being unique means not following the normal conventions or standards. Having a gold card has always been a mark of status. It's a great way to set the standard for others to follow. A metal business card or member card by Pure Metal Cards is truly unique and different. Set the gold standard with our extensive range of gold cards.
Our gold cards are available in a variety of materials ranging from brass to 22 carat gold and glass fiber. We offer a wide range of card finishes to make your business or member card stand out. You can find more details on our brass card range here and on YouTube.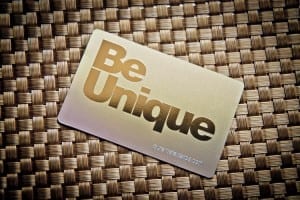 Brass (Gold) Prism Cards
The brass prism effect on these cards makes your metal finish change and reflect light as you move the angle you look at the card.
Brass (gold) Brushed Cards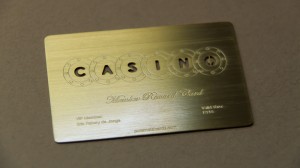 The brass brushed finish adds a strong look to these distinctive cards. The example shown has 'casino' as cut thru (die-cut) lettering.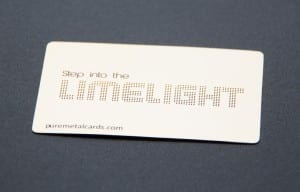 Brass (Gold) Mirror Cards
One of our most popular brass finishes is the mirror gold card. These metal cards look almost like a real gold card and have a reflective coating just like a mirror.
The brass frosted finish is another design that helps mask fingerprints, which can be noticeable on some metal business cards.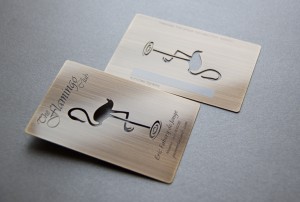 Brass (Gold) Antique Cards
The antique brass finish we add to these cards gives an old world look and feel to these metal cards. They are popular for member card.
Gold Plated Cards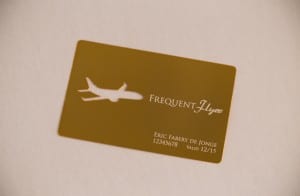 For your most treasured members or clients offer a gold plated business card or member card.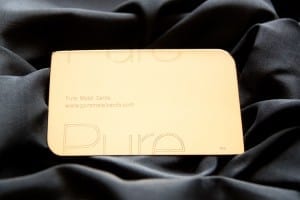 Gold Cards
For that very special person or client our real gold cards are just incredibly special. We offer gold in 9kt, 14kt, 18kt and 22kt. Each card is shipped in a luxurious piano black oak presentation case.
Gold Fiber Glass Cards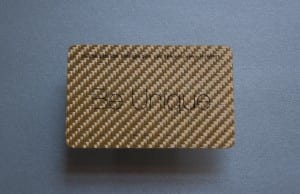 Finally, if you want something a little bit different, consider a glass fiber gold card. Similar to carbon fiber cards, our glass fiber cards are available in a selection of colors.
Not Just Metal Business Cards
In addition to gold cards used as business cards, we can also create these cards as member cards. Our gold member cards are typically made from 0.0118" (0.3mm) card thickness and can include your logo or lettering cut thru, individual names or numbers, barcode, signature strip, magnetic strip, signature strip, QR code or even a full color photo. We can make member cards in any finish or thickness you require, from paper-thin 0.008" (0.2mm) to heavyweight 0.0312" (0.8mm), which is the same thickness as a credit card. We can also create gift or reward cards, event invitations, loyalty cards, club cards and ID cards in metal. We also offer the card finishes shown above in stainless steel or copper.
A metal gold card is a great way to make a generally normal marketing communications tool very exciting and different. Pure Metal Cards can help you to design and create truly individualized gold cards. Be unique.