As a business professional, you understand the importance of making a lasting impression. What better way to do that than with a metal business card? Metal business cards offer a unique and sophisticated touch that sets you apart from the competition. Order a Pure Metal Cards sample pack of metal cards today so you can touch and feel our premium range of metals and card finishes for yourself. Elevate your networking game with metal business cards!
The Benefits of Using Metal Business Cards
Metal business cards are not just visually appealing; they also offer several practical advantages. One of the key benefits is their durability. Unlike traditional paper business cards that can easily get damaged or torn, metal business cards are built to last. They can withstand the wear and tear of everyday use, ensuring that your contact information remains intact and professional-looking.
Another advantage of metal business cards is their uniqueness. When you hand out a metal business card, you instantly make a statement. The recipient will be impressed by the sleekness and elegance of the card, making it more likely that they will remember you and your business. Metal business cards also stand out in a stack of paper cards, ensuring that you don't get lost in the shuffle.
In addition to durability and uniqueness, metal business cards also offer a sense of prestige. They create a perception of professionalism and success, which can enhance your credibility and leave a positive impression on potential clients or business partners. By investing in metal business cards, you are investing in your personal brand and showcasing your commitment to quality.
Our Metal Sample Cards
When you request our metal sampler kit, we will send you some of our most popular metal card finishes and thicknesses all in a convenient package.
Our sample packs typically contain these metal sampler cards:-
0.3mm stainless steel sampler (4 card finishes)
0.4mm standard stainless steel – membership card
0.4mm copper sampler (4 card finishes)
0.6mm brass sampler (4 finishes)
0.8mm matt black stainless-steel sampler (3 finishes)
Card packaging options
As a guide to which card thickness to choose, 0.3mm/0.02" is great as a metal business card, while 0.8mm/0.03" is credit card thickness and our most popular membership card thickness. For business cards, please remember that carrying around a lot of thicker cards can be quite heavy!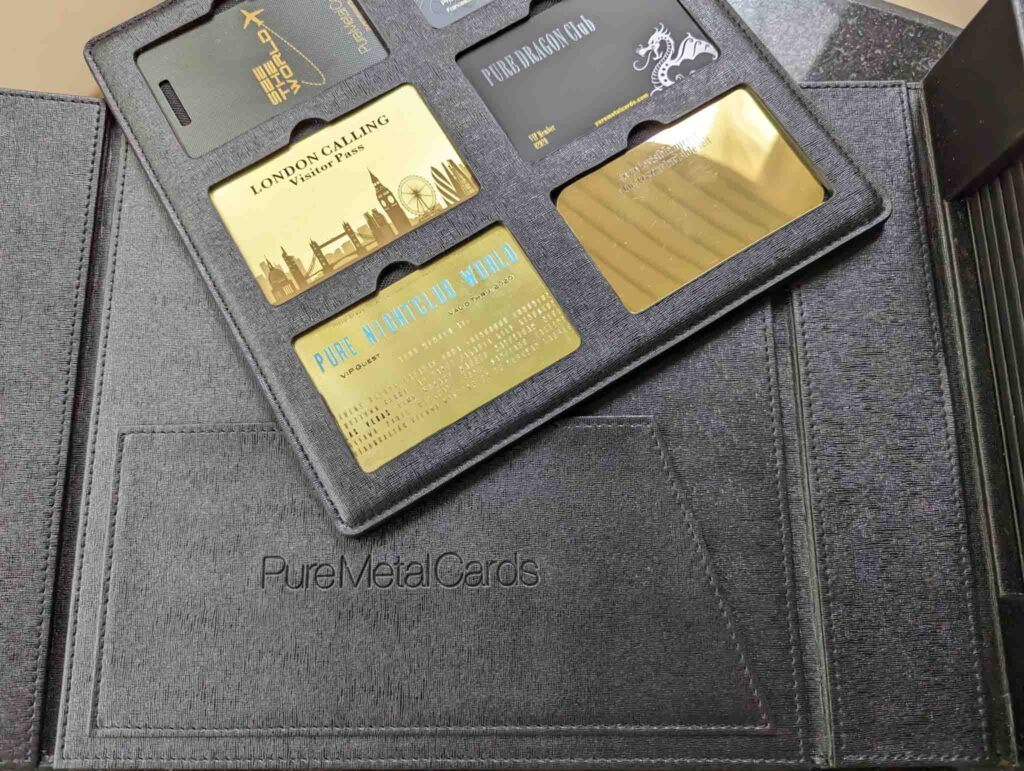 Different Types of Metal Used for Business Cards
There are several types of metals commonly used for business cards, each with its own unique characteristics. One popular option is stainless steel, known for its strength and resistance to corrosion. Stainless steel business cards exude a modern and sleek aesthetic, making them ideal for professionals in industries such as technology, engineering, or design.
Another metal option is brass, which offers a more traditional and elegant look. Brass business cards can be customized with various finishes, such as mirror/polished, brushed, or antique, allowing you to create a card that reflects your personal style and brand image. Brass is also known for its durability and ability to withstand extreme temperatures, making it a popular choice for professionals in rugged environments.
For a more luxurious and upscale feel, you may consider opting for gold or silver plated business cards. Gold and silver business cards are often associated with exclusivity and opulence, making them perfect for high-end brands or luxury service providers. These cards can be engraved or etched with intricate designs, adding a touch of sophistication to your networking efforts.
Other metals and finishes are available upon request. Our sampler cards are usually credit card sized but we can create your design in any card shape or size you require.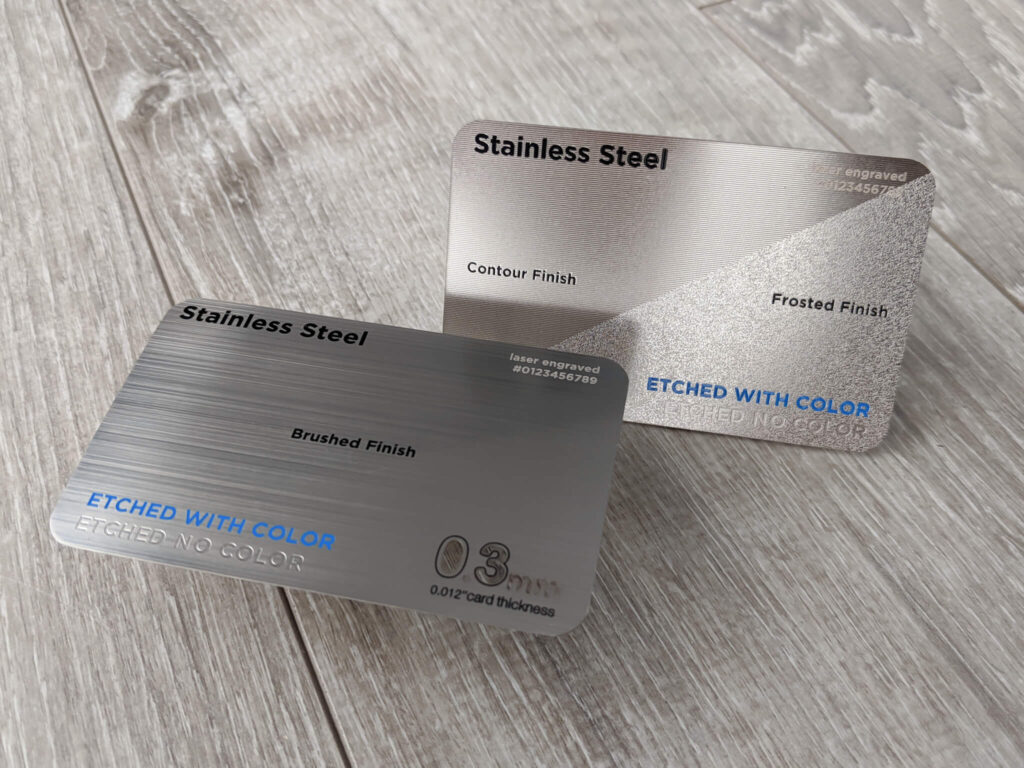 Many of our clients love our standard matte finishes, but we offer a wide variety of specialty finishes including:-
Standard
Mirror
Brushed
Frosted
Prism
Contour
Matt black pixel
Matt black velvet
We offer 12 stainless steel card finishes,  7 matt black steel finishes, 8 brass (gold) finishes and 7 copper finishes. We can also combine two finishes on one card to make your designs even more unique.
We can also personalize each metal card if required.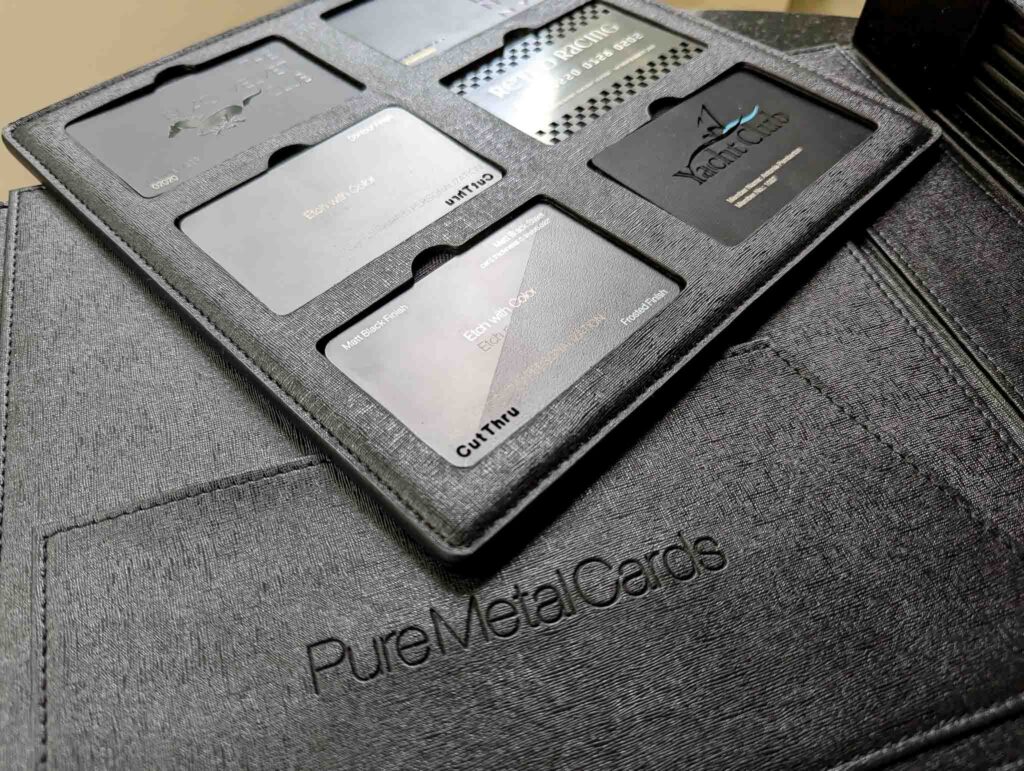 How to Request Our Samples of Metal Business Cards
If you're intrigued by the idea of metal business cards and would like to see and feel the quality first hand, please click on this link to request samples.
Our sample cards offer a great way to evaluate the different types of metal, finishes, and designs available before making a purchase.
Our metal cards sampler pack includes a selection of  all our metals, card thickness and card finishes. The sample pack costs US$14.99 to cover postage and admin. We continually redesign and change our sample cards from time to time so not all card designs shown on our website may be included in your sampler pack. The cards sent are only our own designs, not customer cards as samples. We differentiate ourselves by only providing our unique card designs.
Within a few days, you should receive your free samples in the mail, allowing you to make an informed decision about your metal business cards.
If you are trying to imagine what our products are like and feel like when you actually get your hands on them, now, you don't have to. We can deliver a variety of samples right to your door.
Conclusion: Elevate Your Networking with Metal Business Cards
Metal business cards are more than just a means of sharing contact information; they are a powerful tool for making a lasting impression. The durability, uniqueness, and prestige associated with metal business cards make them a valuable investment for any business professional. With various types of metals, finishes, and customization options available, you can create a card that truly reflects your personal brand and sets you apart from the competition.
So why wait? Request your free samples of metal business cards today and experience the artistry and elegance that they bring to your networking efforts. Uncover the endless possibilities of metal business card design and elevate your professional image. Remember, first impressions matter, and with metal business cards, you are sure to leave a lasting impression.
Why Choose Pure Metal Cards?
Satisfaction Guaranteed – We want you to be completely amazed with your purchase. We replace cards if they do not meet your satisfaction.
Speed – Pure Metal Cards offers the faster turnaround time in the market today for custom-made metal business cards. Cards typically take 9-11 business days to produce and 2++ days to ship to you.
Pricing – We lead the industry by offering simple, all-inclusive pricing. The price quoted on our website is the price you pay.
Range of Card Finishes – We offer the widest range of metals and card finishes available anywhere. For example, we have 19 different finishes for our stainless steel metal cards.
Switch to Metal Today
With over 2 million metal cards shipped to over 70 countries around the world to date, we lead the industry in card innovation and options to make your name or brand stand out from the rest. Pure Metal Cards can help you develop your existing business card or membership card to become an unforgettable metal card your clients or members will enjoy receiving.
For more information please contact us today.
"Our cards have been a huge hit on day one of our convention. I cannot thank you enough for all of your hard work and patience while we decided the best route and design. I also am so appreciative of them getting shipped in a timely manner in order for the warehouse to receive them on my behalf. Thank you again and I will reach out in the future when we require more."
Kathleen Gallagher
Stability Healthcare, USA