Everything you need to know about NFC chips or tags but were afraid to ask!
Pure Metal Cards leads the industry in developing innovate and unique metal cards. Our metal NFC cards enable you to add functionality to your business or member cards. Pure Metal Cards offers a range of NFC chips to create simply stunning metal contactless cards.
If you need to add functionality to your metal cards then NFC chips or tags that are compatible with all smartphones and tablets equipped with NFC, then you have to choose the NTAG chip. These are developed by NXP Semiconductors. There are a variety of different types of NTAG chips. The current range of chips include NTAG213, NTAG215 and NTAG216. Each has slightly more memory and thus are slightly more costly.
NTAG213 Chip
NTAG213 is the new generation of the NTAG203 offering better performance in terms of reading speed and range. It has a slightly bigger memory, equal to 144 bytes. It's quite cheap and it's a very good NFC Chip.
NTAG215 Chip
NTAG215 has an available memory of 504 bytes, so it's suitable to be encoded with V-Cards or more data. As all the NTAG21x, it has some more features, such as password-protection.
NTAG216 Chip
NTAG216 has the advantage of higher capacity than the other NFC Tags, thanks to an available memory of 888 bytes. This makes it a great chip for business cards with very complete V-Card data. They are very fast but are also more expensive.
How much NFC tag memory do you need ?
The table below summaries how much memory (bytes) you typically require for the tag to perform tasks:-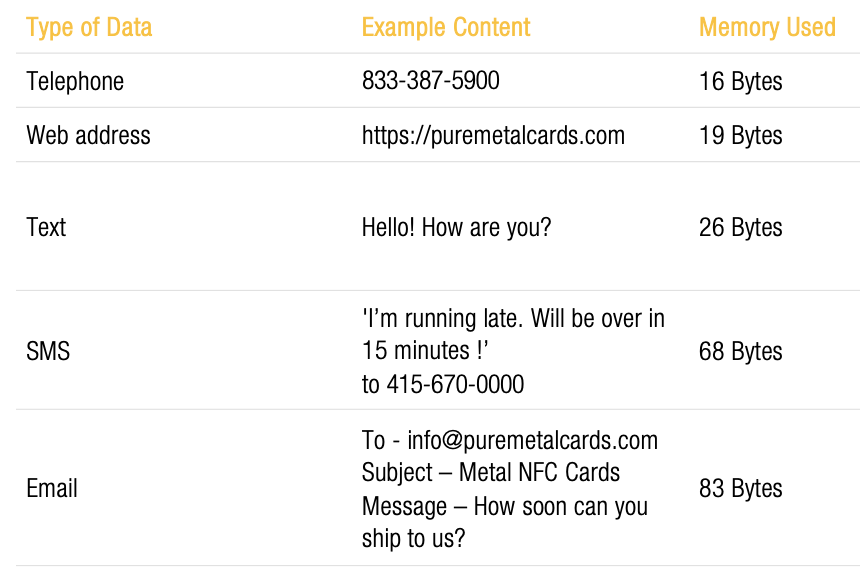 For a comprehensive and accurate list of all the NFC compatible mobile phone handsets that are available around the world visit NFC World's NFC phones list.
If you do not have a need for maximum compatibility, you can also choose other types of chips, such as the Mifare Classic 1K or Ultralight.
Mifare Classic 1K Chip
NFC Tags with Mifare Classic chip have a rather capacious memory, equal to 716 bytes available. They are recommended if you are already using a system based on Mifare protocol (as some access control systems), or if your Tags are not going to be read by the general public. They are compatible only with more recent Apple and Android smartphones. The NFC Tag Mifare Classic also supports encryption. If you do not have the need for maximum compatibility, Mifare Tags are excellent, available in various sizes, shapes, and dimensions.
Mifare Ultralight Chip
The Ultralight NFC chips are more advanced than the Mifare Classic and are compatible with Apple and Android devices. They are quite cheap but have very limited memory, amounting to only 46 bytes, which makes them useful only for short links or for short text strings.
Mifare Ultralight Hospitality
The Mifare Hospitality NFC chip is designed specifically for the hospitality industry. They allow for quick integration into Radio Frequency Identification (RFID) key cards, MIFARE Hospitality offers enhanced security with seamless guest interactions, so hotel owners and hotel brands can issue basic guest cards that support secure hotel room access while enabling high-demanded mobile features.
The MIFARE Hospitality chip gives guests secure access to hotel rooms and other hotel facilities, including parking garages, spas, gyms, while also letting them take advantage of mobile interactions, such as Wi-Fi pairing, adding customized guest information, and easy sign-ups to the hotel's brand loyalty program for discounts and additional offers.
There are other versions of these chips including  MiFare Plus and DESFire chips.
Metal NFC Card Construction
We offer three types of metal NFC card construction:-
Sticker metal NFC chip cards
Sandwich hybrid metal NFC cards
Full metal NFC cards
Sticker Metal NFC Cards
For these cards, we offer an NFC chip within a sticker with is attached to the card surface. The card thickness is 0.8mm/0.03", which is equivalent to a credit card. The card has a debossed area to allow the chip to sit flush with the card surface.  The chip can only be read from the one side of the card it is located on (front or rear side, as required).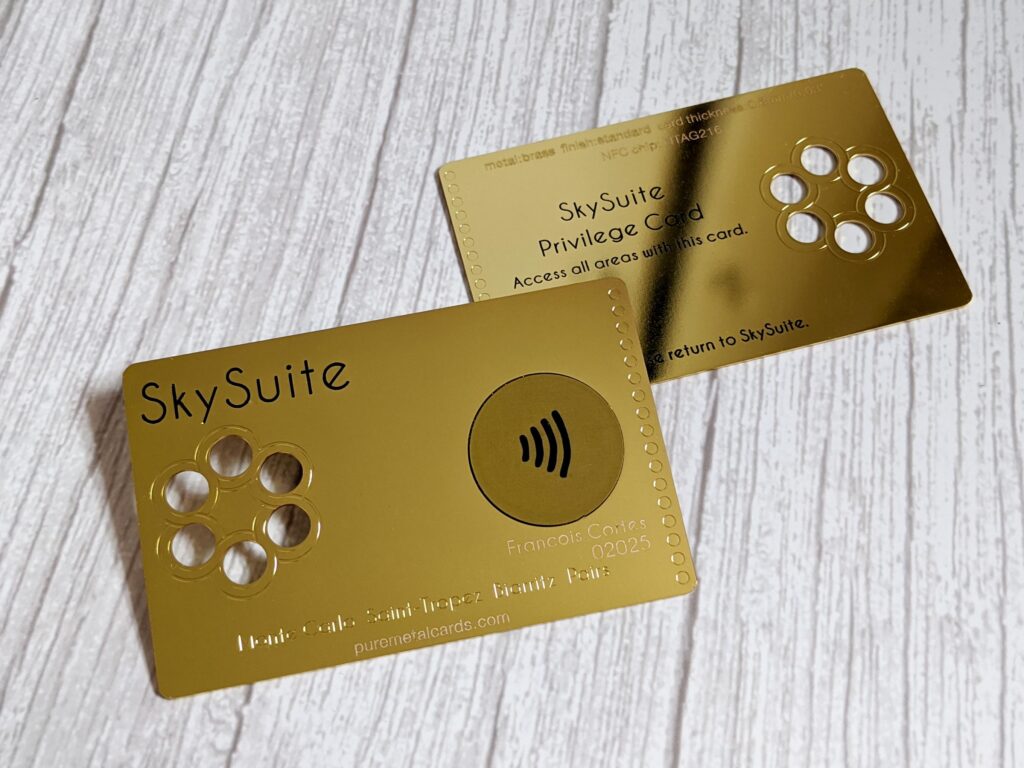 Sandwich/Hybrid Metal NFC cards
The second option is a 'sandwich' or layered card as shown below:-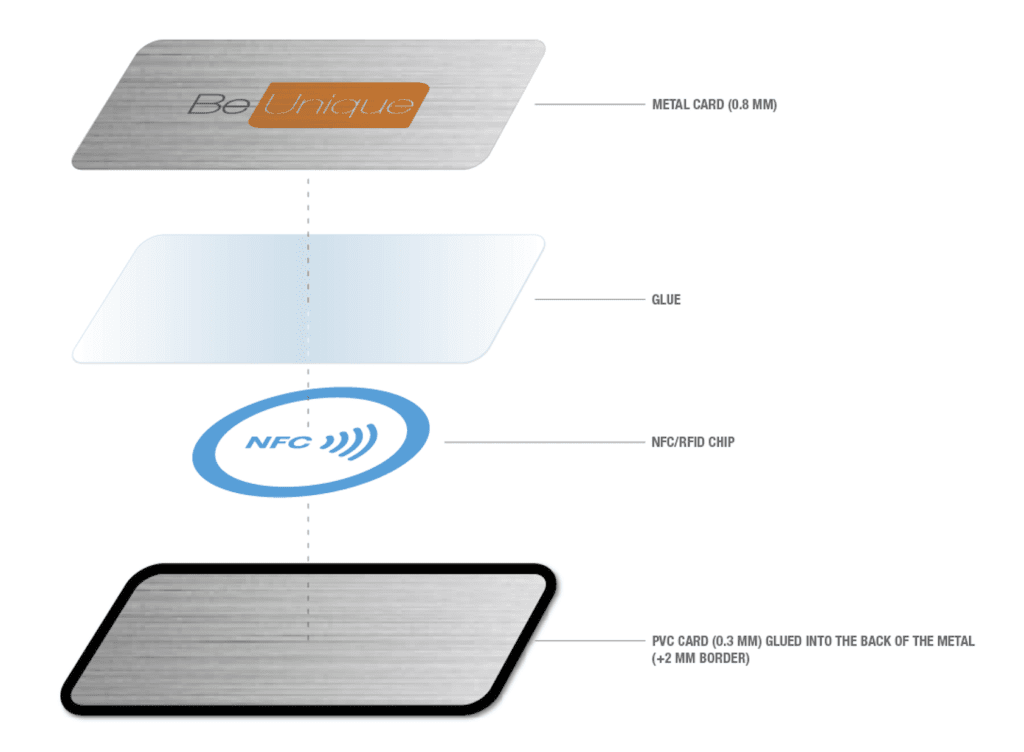 The edge of the card will reveal the three layers:
Front metal card
NFC chip
Rear PVC card
These cards are 0.88mm/0.35" card thickness due to the glue between the metal and PVC layers. The chip can only be read from the rear (PVC) side. The typical plastic card today is made from polyvinyl chloride (PVC), polyester, or polycarbonate. Pure Metal Cards provides premium quality PVC cards available in either a gloss or matt finish.  We can also add textures to the rear PVC card. The antenna and the chip are shown below on the rear side of the PVC insert: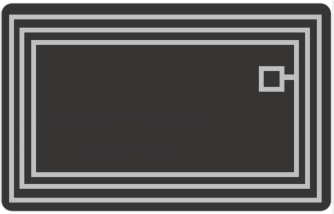 Full Metal NFC Cards
With our full metal NFC cards, we encode the NFC chip within the card body and then cover this with the PVC backing. The rear side of the card is flush with the metal body. The edge of the card is also metal. The chip itself is hidden within the PVC card. The chip can only be read from the rear side, so the top metal card acts like a shield.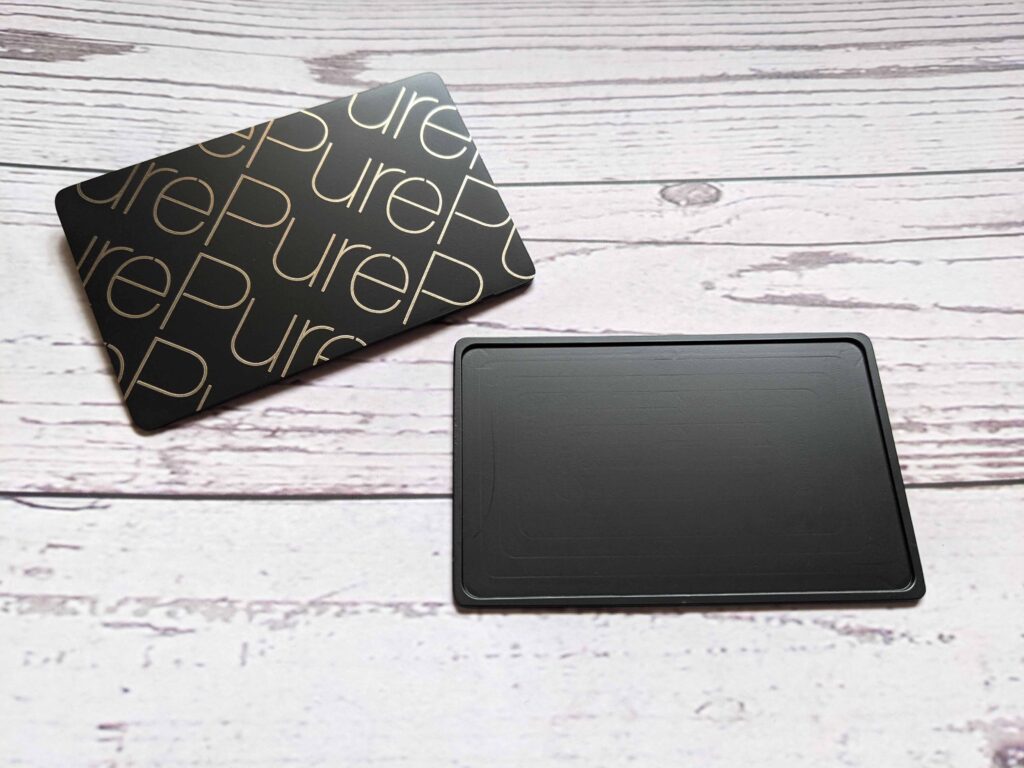 By adding an NFC chip to your metal cards you can set up digital trigger actions when the card is in near contact with other NFC-enabled devices. You can program the card to link to contact information like your website or for other promotional activities. Most current models of smartphones are now NFC enabled.
NFC vs RFID
NFC and RFID both use similar communication styles. However, they have different types of applications. For this reason, neither can be deemed more useful than the other unless you narrow their usage down to specific applications.
NFC is great for peer-to-peer (P2P) applications such as transferring data between smartphones. They are most often used in contactless payment methods but are not truly considered contactless.
RFID is great for asset tracking, so you can know where your inventory is. Ultra-High Frequency (UHF) options also can control and grant access, among other extraordinary things.
While the two versions are quite similar, their usage is almost entirely different.
Help Starting Out
To help you start out we offer a metal cards sampler pack that includes a selection of all our metals, card thickness, and card finishes. The sample pack* costs US$14.99 to cover postage and admin. We only send our own card designs, not customer cards as samples.
Upgrade to contactless metal business cards, digital business cards, or membership cards. At Pure Metal Cards, we have the resources required to help launch and improve your customer retention programs. We are excited to help you create custom metal business card designs that will help your business stand out in the crowd. Taking advantage of this amazing tool is as easy as clicking the link below.