Loyalty programs are an important part of the customer experience and can be enhanced with the addition of a metal gift card. Pure Metal Cards has experience producing a wide range of metal gift cards and metal loyalty cards for a variety of global brands. We can help you create distinctive metal gift cards to complement your existing loyalty card program.
Gift cards make the ideal enticement both for the giftor (gift card purchaser) and the giftee (recipient of the gift card). Cards typically fall into one of four types, store branded, birthday, thank you or congratulations cards. The success of gift cards is based on their convenience as they remove the challenge of deciding exactly what to buy for the recipient. Whether it's a food or drink offer or promotion at a restaurant or bar, discounts at department stores, shopping malls or online retailers or a free cinema or event tickets, they can be used for just about any opportunity. Raise the bar by offering our unique and treasured metal gift card to your audience.
To customize metal gift cards we offer a range of options to make each card traceable. Typically, we either laser etch or print a unique number on each gift card as well as store or retail store/branch identifier. We also can include a magnetic strip, barcode or qr code to each card. A signature strip adds a personal touch to the card as well. We can also use our signature strip panels so that a personal message can be added to the metal gift card. This helps personalization and increases the closeness the gift card. For more details how to personalize your gift card please click here.
An example of our metal gift cards is the Nike metal gift card. Over 20,000 cards were dispatched to over 170 U.S stores nationwide in the run-up to the Thanksgiving holidays in 2016. Each store had a card and cardboard packaging in the shape of a Nike shoebox for promotional purposes as well as a stock of the metal gift cards. Further details can be seen on this award winning Nike gift card.
Our design team can also assist you to create your unique metal gift cards. We do not charge for this service. Whatever your requirements we are here to help you create unforgettable metal cards. We can also develop packaging options to enhance your metal gift card.
Pure Metal Cards offers one of the fastest production times available anywhere. Card orders typically take 7-9 working days to produce and 2 days to ship by express courier.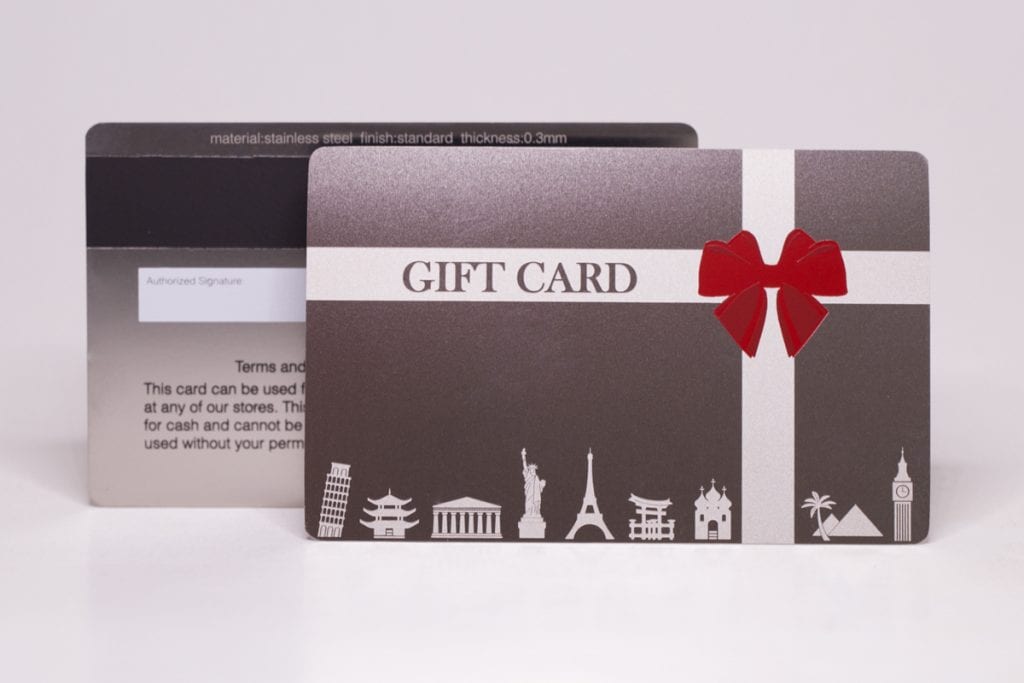 Pure Metal Cards metal gift cards can be produced in any metal, card finish or card thickness you require. Give your business the gift of new sales and new customers with a metal gift card program. Gift cards continue to help brands acquire new customers, increase the frequency of customer visits and help improve and grow your sales.
By maximizing your gift card fulfillment, merchants and retailers can expand their brand awareness, build closer customer relationships and improve the overall gift ability experience. Today, giving the perfect present is easy! With your gift cards redeemable online, in-store or by phone, they are should help drive sales. Your loyalty program keeps you in touch with your customers and keeps them coming back for repeat business. Reward them with truly distinctive metal gift cards from Pure Metal Cards. For more information, please contact us or visit our website for more details of the metal cards available.