The Certificate of Authenticity is an official document that proves your item or purchase is genuine and authentic. It's a way of authenticating specific luxury goods, works of art, fine wines and other high-value items. It usually is shown as a seal to demonstrate that the item is authentic. If your brand is looking to raise its standards with something special and unique try Pure Metal Cards certificates with the use of metal authenticity cards.
The Certificate of Authenticity (COA) is an official document that proves your item or purchase is genuine and authentic. It is a helpful tool in proving a work's provenance, quality, and ensures the buyer that it is produced by you and no one else. In the event of a sale, a certificate of authenticity is typically one of the first documents provided to the buyer. Metal authenticity cards offer a new way to ensure authenticity.
Why Do You Need a Certificate of Authenticity?
First and foremost, providing a physical document to a potential buyer or collector eases the transaction process because it assures the buyer that the work is owned by you or your organization. In a similar vein, because we live in a digital world where forgery is unfortunately rather commonplace, this document aids in the prevention of counterfeit.
A COA also acts as a sales receipt, ensuring a successful and smooth sale of your product or work between you and the buyer. Furthermore, in the event that your work increases in value over time, a COA acts as a physical document that tracks the provenance of your item or works, thus proving an increase in value.
Pure Metal Cards can create premium quality metal certificate of authenticity cards or guarantee cards in a wide range of metals including stainless steel, brass, copper, titanium, sterling silver (925) or gold (9kt to 22kt).  These cards are available in 0.3mm (0.012") to 0.8mm (0.03") card thicknesses. Carbon fiber is also available.
We can create your metal authenticity cards in any shape side or metal you prefer as well as a wide range of metal finishes.
We offer a range of ways to personalize the content of the certificate including:-
Unique name, number, date, store, item # or code etc.
Signature strip or panel
QR Code
Barcode
Magnetic stripe
Smartchip
RFID/NFC chip
Hologram
You could also use a qr code to link directly to your online information. A mobile phone can be used to scan this qr code. We can personalize individual cards as required.
Typically, a certificate of authenticity for luxury goods is provided as a plastic (PVC) card. Having spent a significant amount of money acquiring the item, why not include something more complimentary like our metal cards customized with your client's purchase and contact details?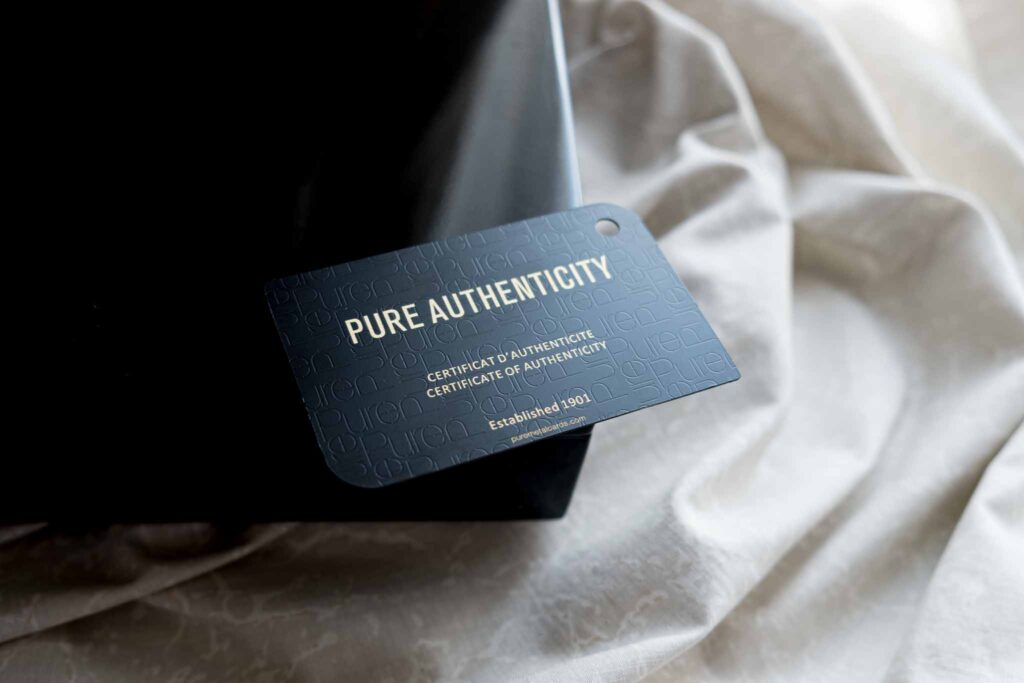 For further information about certificates of authenticity can be found here.
Why Pure Metal Cards is the best place to buy
Satisfaction Guaranteed – We want you to be completely amazed by your purchase. We replace cards if they do not meet your satisfaction.
Speed – Pure Metal Cards offers the fastest turnaround time in the market today for custom-made metal business cards. Cards typically take 7-9 business days to produce and 1-2 days to ship to you.
Pricing – We lead the industry by offering simple, all-inclusive pricing. The price quoted on our website is the price you pay.
Range of Card Finishes – We offer the widest range of metals and card finishes available anywhere. For example, we have 12 different finishes for our matt black metal cards.
Free Delivery – We offer free delivery on everything. And once your order ships, we'll email a tracking number so you can follow your order.
Switch to Pure Metal Cards Today
With over 2 million metal cards shipped to over 70 countries around the world to date, we lead the industry in card innovation and options to make your name or brand stand out from the rest. Pure Metal Cards can help you develop your existing business card or membership card to become an unforgettable metal card your clients or members will enjoy receiving.