When you're designing a new business card for your brand, it can be tempting to stick with the safe and familiar. After all, since business cards are such an important part of any professional network, it's easy to assume that there aren't many options left for personalizing them – and that buying pre-made cards is your only sensible option. Whether you have a set budget or simply want to stretch your creative muscles; there are a number of ways to make your metal business cards stand out from the crowd. One of the most effective ways to do this is by using cut-thru (or die-cut) printing techniques. This article will explain what cut-thru printing techniques are, how they can be used on metal business cards, and why they are such an effective way of upping your business card game with Pure Metal Cards.
What is Cut-Thru Printing?
Cut-thru printing (also called die-cut) is one of the most popular printing techniques to leverage with metal business card printing. It works by removing part or all of the metal from the card body by either chemical etching or laser etching techniques.
By using this printing technique, you can create some really striking designs on your metal business cards – which is why it's such an effective way to stand out from the crowd.
Why use Cut-Thru printing on Metal Cards?
As discussed, there are a number of different printing techniques that you can use to add personality and flair to your business cards. However, cut-thru printing is one of the most effective and versatile options available to you as a designer.
Cut-thru printing is also a really effective way of creating a visually striking card design that really stands out from the crowd. This is because the contrasting non-metal body details and visual effects created by the printing process really make your card designs pop.
3 Tips for Using Cut-Thru Printing on Your Cards
With so many creative possibilities available with cut-thru printing, it can be easy to go a little overboard with the design. To make sure that you get the most effective and eye-catching design, follow these 3 tips when designing your cards: –
Keep it simple – When designing your cut-thru card design, it can be tempting to pack it full of bold colors and complex designs. However, it's important to remember that you want to show off the metal, not use multiple colors so your design needs to be clear and legible.
Use contrasting colors – As with all printing, the effect that cut-thru printing has on your card design is largely determined by the colors you use. Make sure that you choose contrasting colors that match the metal or card finish you prefer. For example, on brass (gold) cards a red or green color work well to create a traditional or timeless design image.
Leave room for branding – While a cut-thru card design is all about creating an eye-catching design, it's important to still leave room or space for your branding and contact details on the card.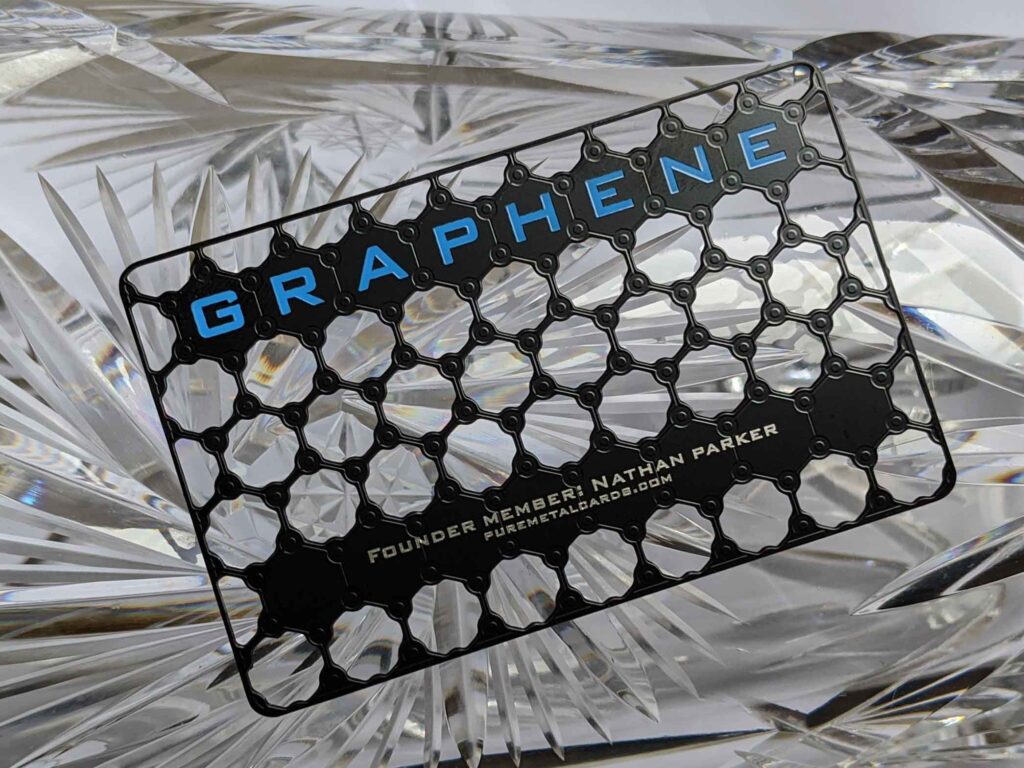 Are there limitations with this printing technique?
While cut thru can make for stunning print pieces, this technique does have its limitations. One common limitation of this technique is the size of the die. Most of the time, cut thru cutting is reserved for small areas.
We can cut thru most designs or logo's but may need to make some minor modifications. For example, with our Pure logo we added a support strut to the 'P' and 'e' as shown in this metal card design (please refer to the photo at the top of this article).
Please remember that when we cut thru the card the detail on the rear side will be reversed.
We can cut-thru (die cut) any detail on your cards. There is no additional charge for this feature. The minimum cut out size is 0.12mm (0.005″). The distance between the two cut out places should be more than 0.5mm (0.02″). Cutting thru (die cut) the metal is another way to make your card truly distinctive. We can help with changing your existing design work on metal. We can deboss lettering into the card but cannot emboss to make raised characters or numbers.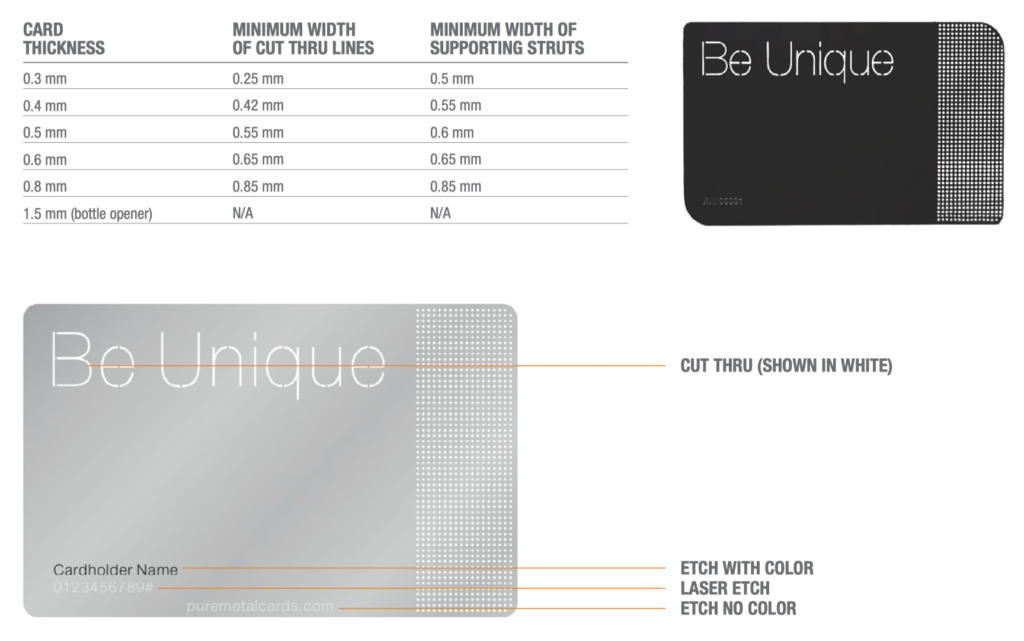 Font Sizing & Color
While a small font may look great it is sometimes difficult to read.Try to keep your font size legible and use a point size of six or above. We can print and etch below 6pt but it can be hard to read.
Etching without any color looks great but in dim light or at night time cards may be harder to read. This is especially the case for our matt black cards and mirror cards. Please provide the Pantone or CMYK color code if you have one. We try to match colors as closely as possible but some colors tend to be slightly darker on metal cards. Please ensure to remove all gradients, drop shadows or transparencies.
Printing on Both Sides of the Card
We do not charge extra to print on both sides. In fact we encourage putting content on both sides to make the card stand out. If you would like to laser cut through your card, bear in mind that any letters or logo will appear reversed on the back of the card.
Support Struts
We can cut thru most designs or logo's but may need to make some minor modifications.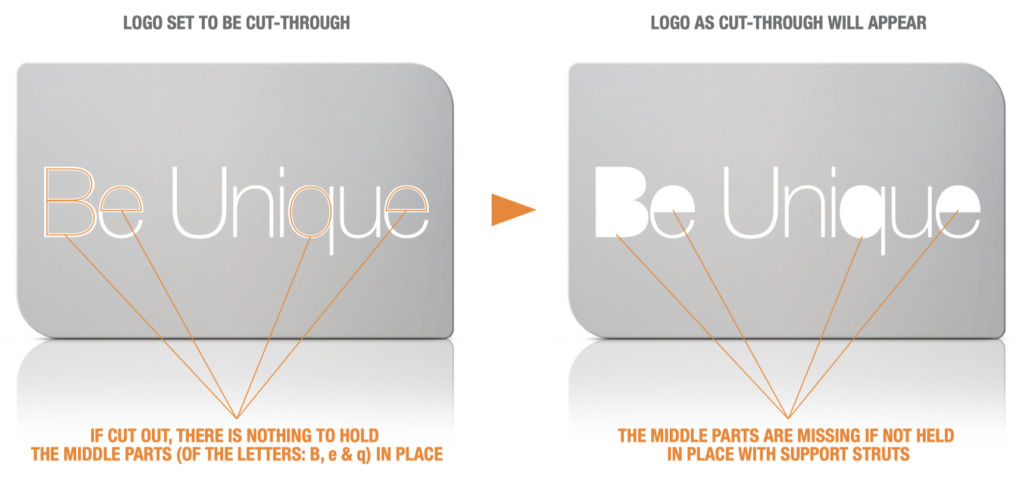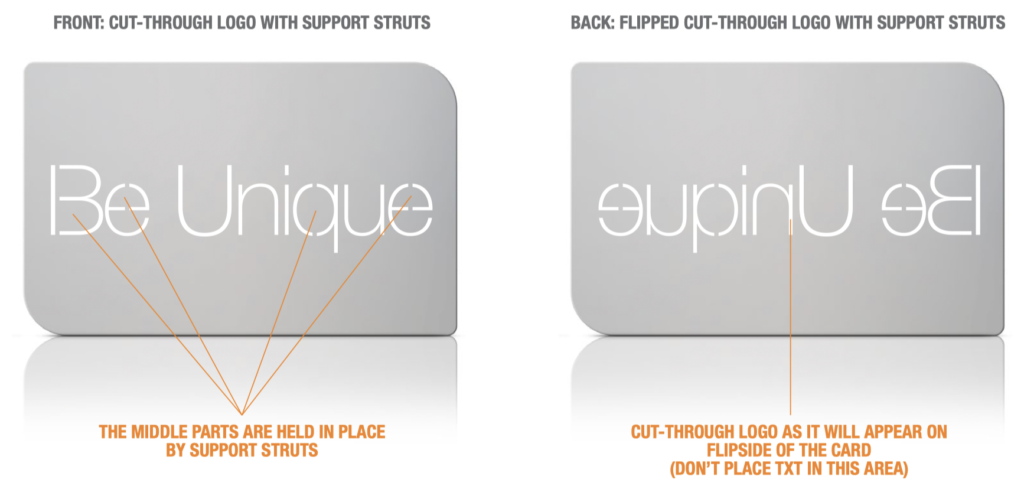 This article explains about our different metal card thickness options we offer.
Cut-thru printing is one of the most effective ways to stand out from the crowd with your metal business cards. By choosing a unique design or pattern, you can create stunning visual effects that really make your cards pop. This printing process also makes your cards stand out as especially personalized and custom designed. All in all, cut-thru printing is a really fun and creative way to boost your business card game, and a perfect way to show off your brand's personality.
Help Starting Out
To help you start out we offer a metal cards sampler pack that includes a selection of all our metals, card thickness, and card finishes. The sample pack* costs US$14.99 to cover postage and admin. We only send our own card designs, not customer cards as samples.
Upgrade to metal business cards, digital NFC business cards, or membership cards. At Pure Metal Cards, we have the resources required to help launch and improve your customer retention programs. We are excited to help you create custom metal card designs that will help your business stand out in the crowd. Taking advantage of this amazing tool is as easy as clicking the link below.