Choosing your metal card thickness is as important as your choice of metal, card finish and the actual card design itself. Handing out metal business cards is a conversation starter. Handing out a heavy metal business card will make you the focus of attention. Don't let your card let you down. With the help of Pure Metal Cards we can create a metal card that will make you unforgettable!
Handing out a business card is often the very first impression someone will get of you or your business, so you need to get it right. We have a range of metal card thicknesses available to meet your needs. Our standard metal card thickness is 0.3mm (0.012″). We offer a wide range of card thicknesses from paper-thin 0.2mm to credit card thickness 0.8mm as shown below: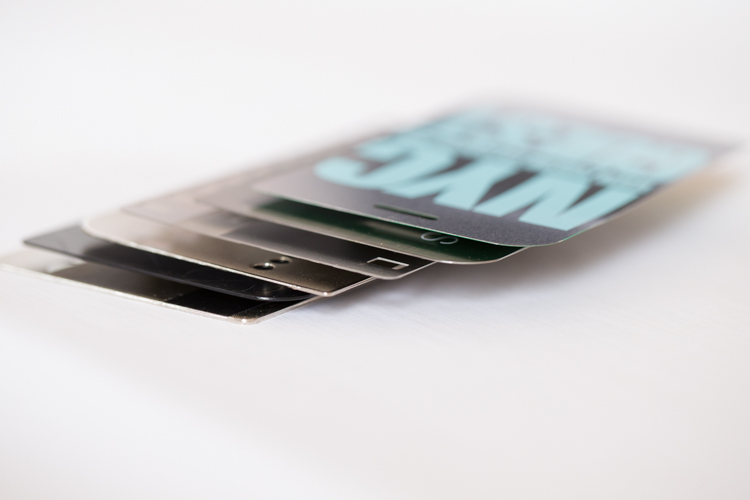 Cards shown above are 0.8mm on the bottom to 0.2mm on the top.
We also offer a range of thicker cards that are more suitable for unique cards such as a bottle opener, launch event invitation card or for a custom designed engineered design item. We are able to offer all our metal card finishes in stainless steel, brass (gold) and copper in these card thicknesses.  Metal card thickness offered include:-
1.0mm – 0.039″
1.5mm – 0.059″
2.0mm – 0.079″
Our metal business cards and metal membership cards can be made into any size you require. The standard metal card sizes are:
85mm x 54mm (3.3" x 2.2") – credit card size
89mm × 51mm (3.5" x 2.0")
- USA and Canada size
Our 0.3mm (or 0.5mm) card thicknesses are the recommended metal card thickness to use for business cards. It is distinctive and unique, yet light. If you choose a thicker card please bear in mind the additional weight you will endure to carry these cards around with you. Cards of 0.5mm (0.020″) or thicker are quite heavy and bulky, especially if you have ten or more in your wallet or purse. Card weights are shown below:-
0.2mm – 6.8 grams/0.24 ounces
0.3mm – 10.8 grams/0.38 ounces
0.4mm – 11.9 grams/0.42 ounces
0.5mm – 17.2 grams/0/61 ounces
0.6mm – 17.7 grams/0.62 ounces
0.8mm – 1.03 grams/0.94 ounces
Note: weights are approximate as card design and cut thru elements can change the actual weight of the metal card.
We offer simplified pricing which gives one cost for cards of 0.2mm to 0.3mm metal card thicknesses and a slightly higher cost for 0.4mm thru to 0.8mm card thicknesses. Our prices are inclusive of shipping by DHL or FedEx.
In addition to business cards we can create truly amazing metal member cards, loyalty cards, club cards, gift cards and invitation cards. Please contact us for more information. We can also personalized metal membership cards for you.
Our metal business cards are available in a range of card thicknesses from paper-thin 0.2mm to credit card thickness 0.8mm. We can also create thicker cards if required. Thicker cards are naturally heavier, something to consider when your carrying many for an event or a function! Cards can be printed on both sided at no extra cost. Metal card thickness is down to personal taste and the brand or establishing you represent. For member cards, thicker is often perceived as premium. Whatever card thickness you require, Pure Metal Cards can create a card you will be proud to hand out.