Customer loyalty programs are an important part of the customer experience and can be enhanced with the addition of metal gift cards and reward cards. Pure Metal Cards has experience producing a range of metal gift cards, loyalty cards and membership cards for a variety of global brands. We can help you create distinctive metal gift cards or reward cards to enhance your existing customer retention and acquisition programs. Our metal gift cards are available in stainless steel, brass, or copper and a wide variety of finishes.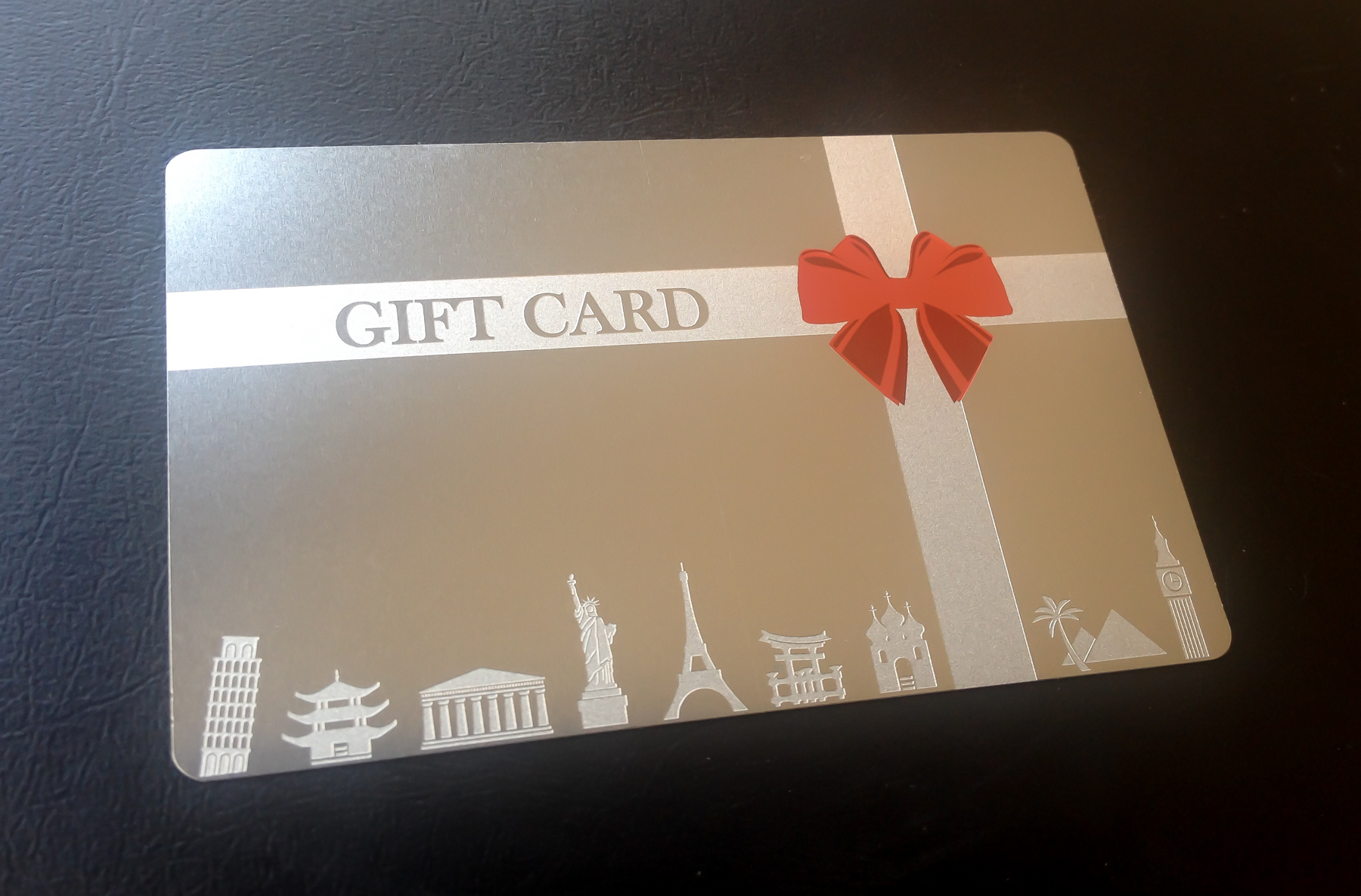 The benefits of offering gift cards are clear to see:-
72% of customers will spend MORE than the value of their card
On average the recipient will spend 20% MORE than their gift card value
90% of gift cards are used within the first 60 days  source
Personalizing Metal Cards
To customize metal reward cards and gift cards we offer a range of options to make each card traceable. Typically, we laser etch a unique member number on each gift card. We also can include on our metal gift cards:-
magnetic strip
qr code
barcode code
signature strip
individual name, number or date
For VIP cards we can also embed a smart chip or NFC /RFID chip into the card. For more details how to personalize your metal card please click here.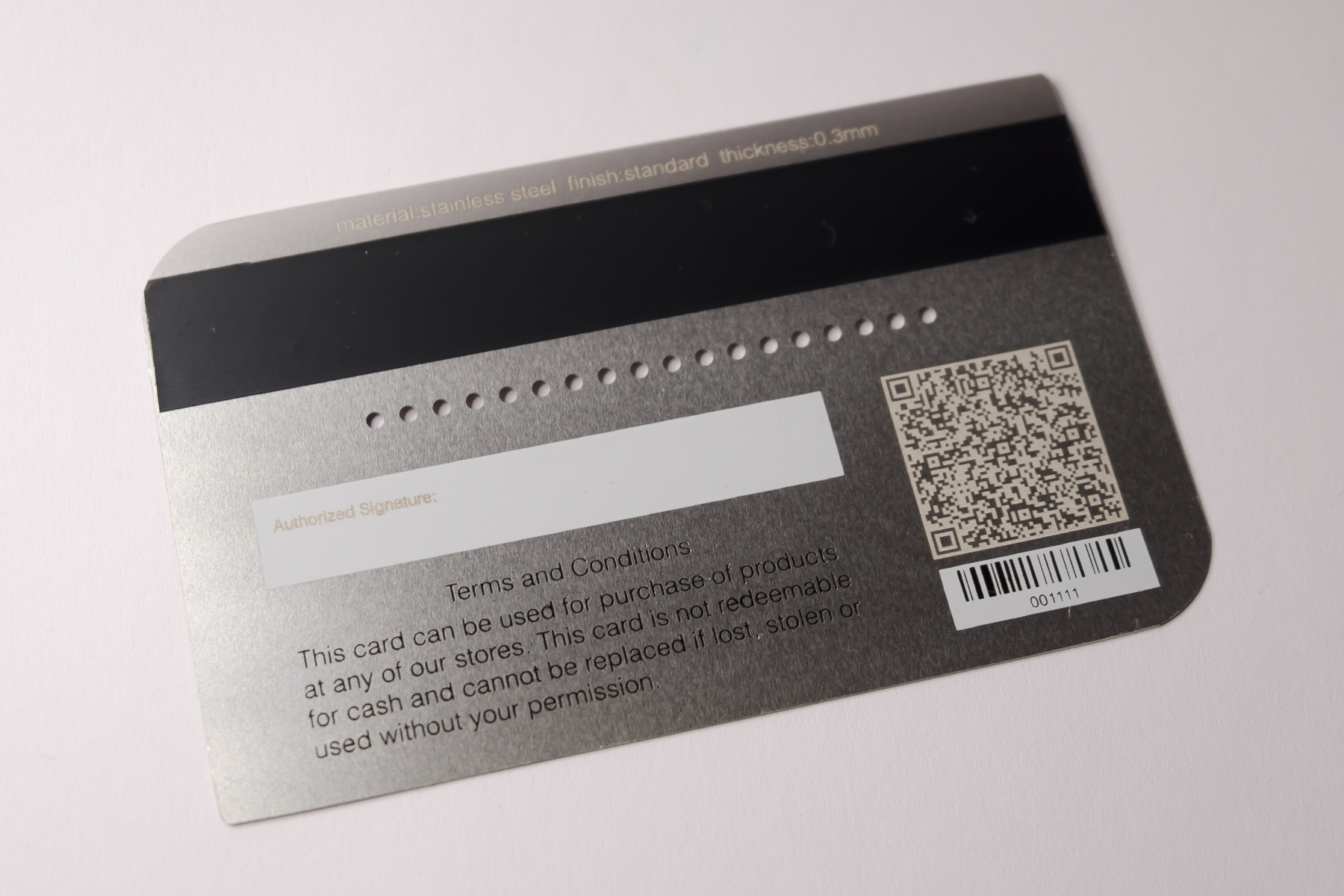 Scratch Off Panels
If you need to include sensitive information in a secure and discreet manner, then our scratch off panel is the ideal solution. We laser etch each unique number or code to the card then apply a silkscreen printed ink to hide the information. This method is often used to carry secure pins or variable data, and also for scratch card games. It can allow your customers to interact with your product and also offers opportunities for complex marketing data collection systems when linked with websites.
The scratch of panel can be easily removed from the metal card using a fingernail, coin or sharp object. Once removed the laser etch number will enhance the uniqueness of the recipients card.
Why Use Pure Metal Cards?
Whether you are managing a loyalty, bonus and reward or discount program Pure Metal Cards metal gift cards can be produced in a wide variety of metals, card finishes and card thicknesses. Give your business the gift of new sales and new customers with a metal gift card program. Gift cards continue to helped retailers and e-tailers acquire new customers, increase the frequency of customer visits or purchases and help improve and grow your sales.
Our design team can also assist you to create your unique metal reward cards, gift cards or loyalty cards. We do not charge for this service. Whatever your requirements we are here to help you create unforgettable metal cards. We can also create packaging to compliment your metal gift card. Our packaging options can you seen in more detail here.
Production Timing
We offer one of the fastest production times available anywhere. After approving a digital PDF proof of your design, your card order would typically take 7-9 working days to produce and 2 days to ship with DHL or FedEx.
With your gift cards redeemable online, in store or by phone, they are should help drive sales. Your loyalty programs keep you in touch with your customers and keeps them coming back for repeat business. Reward them with truly distinctive metal gift cards or loyalty cards from Pure Metal Cards. For more information, please contact us or visit our website for more details of the metal cards available.
Need Help?
If you would like some more information or advice when setting up your metal gift cards or reward Cards, please get in touch at info@puremetalcards.com or call us on (+1) 415 670 9200 or (+31) 20 893 2244 / (+31) 62 608 8592 in Europe.