Quick Response Codes (more commonly known as QR codes) are two-dimensional barcodes that can point you to an online destination such as a website or a download link. They are essentially hyperlinks in an image form – you may have seen them inside newspapers and magazines or at the top of business cards. Pure Metal Cards can add a qr code to your metal business cards or member cards to add additional functionality to your cards.
QR codes, first invented in 1994, are a type of square barcode that contains information such as a web address or a person's contact information. They store information using black and white squares which can be "read" by smartphones. The technology was developed in Japan for use in the automotive industry. Often, using QR codes is quicker than manually typing in something like a long web address into a smartphone. The reason why they are more useful than a standard barcode is that they can store (and digitally present) much more data, including URL links, geo coordinates, and text. The other key feature of QR Codes is that instead of requiring a chunky hand-held scanner to scan them, many modern cell phones can scan them.
To interact with a QR code, you point your phone camera at the shape so your device can act as a scanner. A message with a clickable link will pop up on your mobile. Anybody can create and share a QR code using a mobile app or website. For example, scan this QR code above and your smartphone or tablet will point you towards our homepage.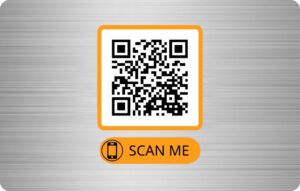 How can I scan a QR code?
On an iPhone, support for scanning QR codes is built into the default camera app. Once you open the Camera app, select the rear-facing camera, and hold your device in front of a QR code. Your smartphone will automatically recognize what it's staring at and generate a notification. Tapping that alert will send you to the website the QR code is linked to.
Most modern Android smartphones will have a QR scanner built into the operating system. If not, you can easily download a QR scanner from the Google Play Store – there are thousands of options to choose from. But crucially, if you're downloading a QR app, make sure it's backed by positive user reviews. It's also a good idea to try and pick an app from a brand or developer you recognize. See the bottom of this article for more examples.
The best free apps to scan QR codes
There are numerous QR code scanning apps on the app stores of Apple and Android devices. Most are free, but many contain ads, and sometimes this can make it difficult to choose the correct link from results after you scan a code. Here are two options from reputable antivirus companies that shouldn't disappoint.
Trend Micro QR Scanner
Available on Android
Kaspersky QR Scanner
This QR scanner app works for both iOS and Android devices. If you scan a QR code within the app that looks harmful, a message appears that says: 'We've protected you against a dangerous link. This QR code contains a phishing link or malicious link'.
If you scan a QR code on a business card, the app will let you store contact details straight to your smartphone with the 'create contact' option.
How do you generate a code?
You can easily generate a QR code using sites like:-
How could you benefit from using a QR code?
Your business, no matter how small or large, could use QR codes in a variety of ways. You might auto generate one next to every product on your website containing all the product details, a phone or cell number to call, and the URL link to a specific page. You could add one to your metal business card containing your contact details so it's even easier for someone to add you to their contacts on their cell phone. We can either laser etch or silkscreen print the qr codes to your metal cards.
Add them to any print advertising, flyers, posters, invites, TV ads, etc containing:
Product details
Contact details
Offer details
Event details
Competition details
A coupon
Twitter, Facebook, Instagram, or Snap ID's
A link to your YouTube video
You can also watch this BBC Click interview on YouTube.
If you would like help or more information about adding a variable QR code to your metal business cards, please contact us today
How to scan QR codes (in more detail)
Some smartphones can automatically "read" a QR code when it appears in your smartphone camera.
iPhones
On iPhones with iOS 11 or onwards:
Open the Camera app, this is used for taking photos.
Point the camera of your phone at the QR code so you can see it on the screen.
You should see yellow lines appear around the code and a notification will appear.
Tap on the notification to open the link in your web browser.
Android
If your Android phone runs on Android 9 or later, you should be able to read QR codes natively in the camera app. Simply open your camera app and point it at the QR code. White lines should appear and a banner will pop up with a web address.
Samsung 
On some Samsung phones, you can simply use your Camera app, similar to on an iPhone. On some older models, you need to enable Bixby Vision to make this work. Here are some ways you can enable QR codes on Samsung phones
For Bixby Vision:
Launch the camera app and tap Bixby Vision in the top left corner.
Confirm the Bixby Vision terms.
Allow pop-ups.
Then scan the code.
Alternatively:
On the home screen, swipe down to find your quick settings.
Within your settings, you should see a QR code logo. Tap on it.
Tap OK to confirm.
You can also turn on QR scanning from inside some versions of the Camera app by tapping the wheel icon in the top left corner.
On Huawei phones
Open the HiVision app by swiping up from the bottom of the phone's lock screen.
Once the HiVision app is open, tap the QR code icon and point your smartphone camera at the QR Code.
A banner should appear at the bottom of the screen.
Tap "Allow" to be taken to the web page inside the QR code.
Note: relying on QR codes means you need an internet connection to access the web pages they link to. If you attempt to scan a QR code when you have a poor phone signal or an intermittent WiFi connection, then your phone may not display the web page.