Metal cards offer a number of ways to make you and your brand truly stand out. Using a metal card as either a business card or a member card will ensure you will always be remembered. Reward your audience or membership with a card that is truly distinctive with the help of Pure Metal Cards.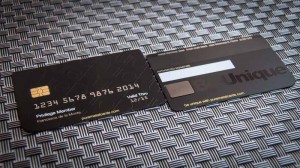 Metal cards offer a variety of ways to make a unique card even more special for your customers, clients or members. In addition to making cards thicker, and heavier to feel, customizing metal membership cards can including:-
Unique name, number, date etc.
Signature strip
QR Code
Barcode
Magnetic stripe
Smart chip
Hologram
Swarovski crystal
Photo
Magnet
Custom shapes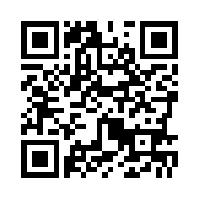 To personalize your membership card we recommend laser etching the details to your cards. This will result in the metal of the card showing thru as part of the design detail. On stainless steel cards lettering will appear in silver and on brass cards as gold colored. We are not able to add color to this type of personalization.
Using a unique membership number, code number, qr code or barcode is a method to overcome situations where you don't know or want to include member names on your cards. We can create a unique qr code for each card which can show a member number, website address or personal information. We can also laser etch the qr code into your card without needed to print the black code details on a white background. This example is a qr code linking to our testimonials page.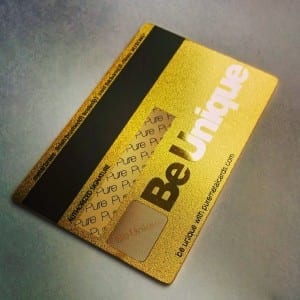 A magnetic strip can be included on the card as either HiCo or LoCo. We do suggest moving away from magnetic strips as these are being replaced by chip and PIN technologies as credit cards move away from this old fashioned technology. A smart chip can be added to our cards if you need to hold more detail of each member or customer.
To make a very unique card we can incorporate a hologram of your design onto our cards. On our frosted and prism finishes the hologram is built into the card in stainless steel, brass and copper. The hologram will change, as the angle of the metal card is moved, just like those found on credit cards.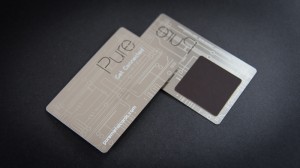 If you want to add some extra sparkle we can embed a Swarovski crystal to the card. These are available in a range of colors, finishes and diameters and are very unique. For very exclusive clients we can also embed a diamond or other precious jewel into our cards.
We offer full color offset printing that means we can print a color photograph of you or your members onto our cards. Photographs are required in jpeg format at 300 dpi or higher resolution. All photos are required at time of production.
For advertising or marketing your brand or club we can attached a magnet to the rear side of our metal cards. These can then be attached to any metal object to make you stand out.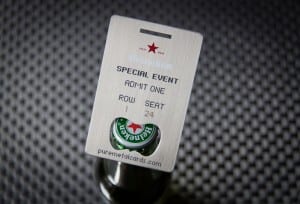 Cards can be customized to any size or shape, or use such as a beer bottle opener or as a VIP access pass for an event or show.
Handing out a metal card will always bring a smile to the receiver of the card. Metal member cards are very unique and are becoming an important part of the overall branding experience for many luxury and high-end organizations. Pure Metal Cards metal member cards will help strengthen your customer or client's loyalty.