Increasingly today little black patterns in a white square are appearing on advertising and packaging.  These pixilated images are quick response codes or QR codes. A QR code can store a website address (or URL), phone numbers, email addresses, contact information and plain text.  They are great new way to make your metal business card stand out from the crowd and help customers get in contact with you quickly.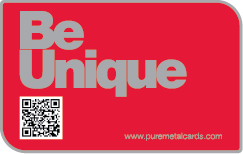 Originally invested for the automotive industry by Denso Wave, a subsidiary of Toyota in 1994, their purpose was to quickly track items at high speed during production. QR codes are quickly read by a barcode scanner and have a large storage capacity compared to standard barcodes.  They can store almost 4,300 characters of data and are internationally recognized with an ISO standard.  Use of a QR code is free of any license.
Thanks to the popularity of smart phones and their barcode reader applications, advertisers now use QR codes as a quick way for consumers to find more information about the product or service being promoted. Its uses are broad from online and mobile app discount coupons, in-store product labeling, to providing map or location directions to entertainment ticketing.
You can include a QR code on your metal business card to direct customer or prospects to information about you or your company via the Internet.  Creating a code is very easy and a list of sources is provided at the bottom of this article.
If you have a barcode scanner on your smart phone, by scanning the QR code you will be immediately taken to the specific page an advertiser wants you to visit.  It's much simpler and more direct that pointing you to a generic website in a print or outdoor advertisement.
Recently companies have gone a step further using QR codes.  Facebook for example, recently added at 42-foot square QR code to the roof of their HQ.  Guinness added a QR code on a beer glass. It's literally activated by the product—you pour a Guinness into the glass, and the beer's black color fills out the code. The Economist reported that according to comScore, more than two-thirds of Americans and Europeans who scan QR codes do so in order to obtain information about a product. Japanese smartphone-owners, by contrast, are most likely to download a discount coupon or a special offer.
Adding a QR code to your metal business card is a simple process.  Simply send your card design and QR code file to us when you order your cards at:
http://puremetalcards.com/usa/order-cards
Using a QR code in your advertising or on your business card to share information with your customers in an increasingly popular format.  With the replacement of PC's with smart phones and tablet devices as the way to connect with the internet its important to keep abreast of this trend.  Pure Metal Cards can add your QR code to your business card to make you stand out and be found quickly.
For examples of how these codes for marketing your brand or site watch this YouTube QR Code video.
Suggested links to QR Code generator sites include:
QR Stuff  http://www.qrstuff.com/
Kaywa QR Code Generator  http://qrcode.kaywa.com/
QR Me  http://goqr.me/
Optiscan for Apple iPhone  http://bit.ly/HzHYL2
QR Pal for Android  http://bit.ly/HzI1Xo
Nokia Barcode Reader  http://bit.ly/HzI6KG
Blackberry Messenger  http://bit.ly/HzIjgV