If you're reading this, it means you've probably heard about the benefits of titanium business cards or member cards and are wondering if they would be suitable for you. We read so many articles as business owners, but often struggle to find the nuggets of information that we need. This article should answer all your questions about titanium business cards so you can make an informed decision.
While stainless steel may be the most common material used in business card manufacturing, titanium has a number of properties that make it an excellent alternative for businesses or brands with specific needs. Let's take a look at what makes these cards such a smart choice for certain industries, who might benefit from them the most, and some potential alternatives in case this isn't the right fit for you.
What is a Titanium Business Card?
Titanium is a lightweight, corrosion-resistant metal that is used in the construction of everything from airplanes to golf clubs. It's also used to create business cards! Because titanium is one of the strongest metals on earth, it can withstand the most extreme conditions and can last several years in everyday use. Unlike stainless steel cards, titanium cards are also non-magnetic, which is ideal for industries that rely on magnetic readers or electronic systems.
A titanium business card is a printed card that is made with a thin sheet of titanium metal The card thickness we used is 0.8mm (0.03") which is exactly the same as a credit card. This makes them incredibly durable and suitable for almost any occasion where cards will be handled and passed around. Titanium is very light. A card will typically weigh 17.2 grammes or 0.61 ounces. For comparison, a stainless steel card weights 26.1 grammes or 0.92 ounces.
Pure Metal Cards offers three card finishes: matt black titanium cards, brushed titanium cards and white titanium cards.
Like all metal cards though, they They are not suitable to being run through a printer. These cards need a laser printer to add additional personalization to them.
Their durability and longevity make them the obvious choice for industries that require long-lasting materials. A healthcare professional may want a card that can survive being used in an autoclave or a card that can withstand sterilization.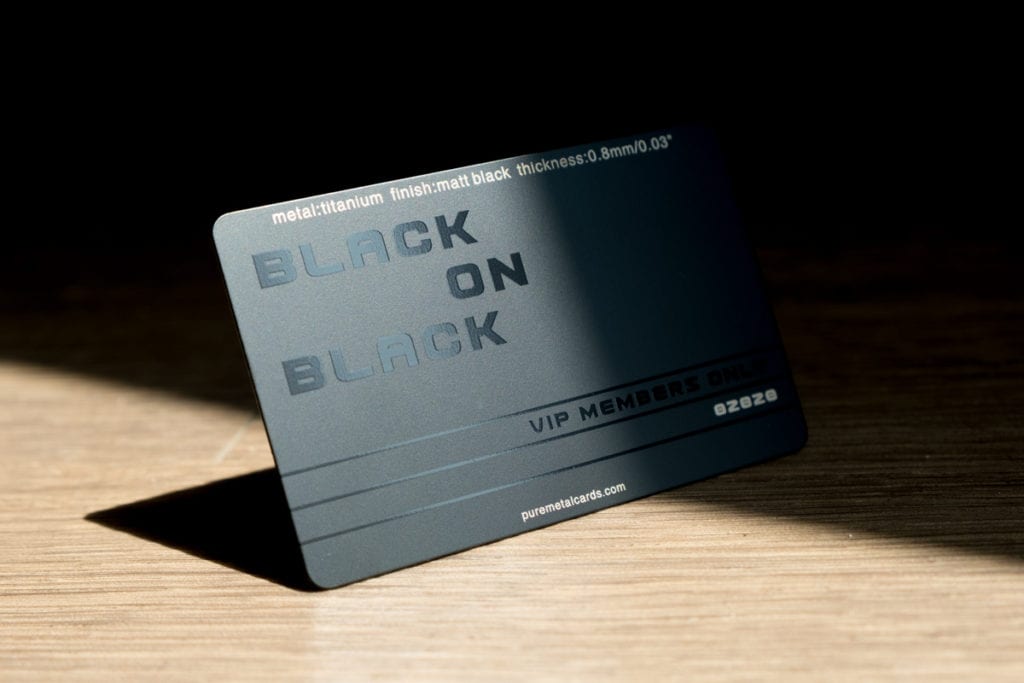 Who Should Use Titanium Cards?
We've established that titanium business cards are fantastic for industries in which the cards will be handled and passed around a lot. This includes healthcare, entertainment, hospitality, legal, and more. If you're in one of these fields, titanium cards will be the perfect fit for you. If you're looking for a card that will last a long time, titanium is a great choice. These cards can survive in harsh conditions, such as extreme temperatures, extreme temperatures, and autoclave conditions. While they're not completely indestructible, they will last a long time in most conditions.
Why Use Titanium Cards?
Titanium cards are extremely durable, don't bend or warp, and are lightweight so you can carry them in your wallet without feeling weighed down. They also offer a few other significant benefits, including:
– Long Shelf Life – While other materials are susceptible to wear and tear over time, titanium doesn't scratch or scuff, so your card will look almost brand new even after years of use. This is especially important if you're in a field that requires you to carry your contact information.
– Durability – When you choose titanium cards, you can rest assured that your business cards are built with the durable materials that will stand the test of time.
– Heat and Chemicals Resistant – You don't want your business cards to fall apart after running through the wash or falling into a coffee cup. Titanium is heat and chemicals resistant, making it perfect for healthcare professionals who deal with sterilization.
– Long Lasting – Your business cards will last a long time when you choose titanium.
– Intimidating – A card that looks and feels more like a credit card than a card may be what you need to intimidate competitors. The American Express Centurion card (aka the 'black card') is also made from matt black titanium.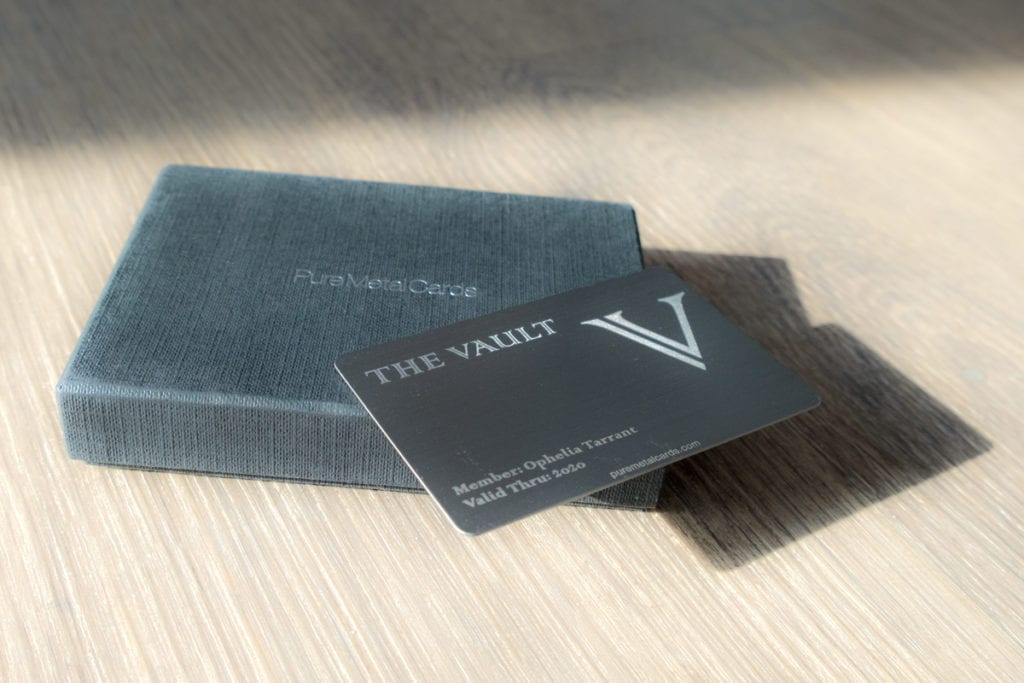 In Conclusion
While stainless steel may be the most common material used in business card manufacturing, titanium has a number of properties that make it an excellent alternative for businesses with specific needs. Titanium is an excellent choice for metal business cards (or metal member cards). It's lightweight and extremely durable, which makes it perfect for cards that will be used constantly and that are printed with detailed information. It also won't interfere with electronic devices, so it's suitable for professions that rely on electronics. No matter what business you're in, having a card that stands out and conveys your professionalism will help you make a strong first impression and is a key part of networking and building your network. If you're trying to decide between aluminum (which feels like a plastic/PVC card), stainless steel, and titanium cards, be sure to consider your business type and what your cards need to do for you.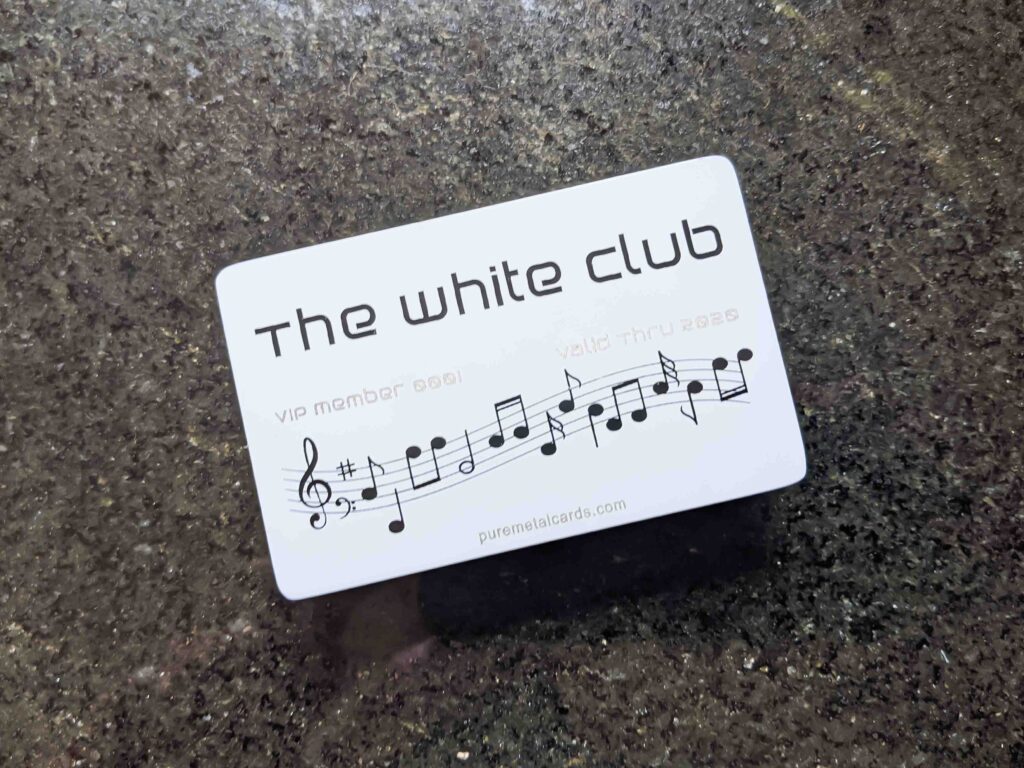 And finally, don't be afraid to ask for help!
As with all aspects of your business, you may find that you are not particularly good at creating metal cards. In this instance, you should ask for help. Pure Metal Cards can help you in designing metal cards.
Why Choose Pure Metal Cards?
Satisfaction Guaranteed – We want you to be completely amazed by your purchase. We replace cards if they do not meet your satisfaction.
Speed – Pure Metal Cards continues to offer the faster turnaround time in the market today for custom-made metal business cards. Cards typically take 7-9 business days to produce and 5++ days to ship to you.
Pricing – We lead the industry by offering simple, all-inclusive pricing. The price quoted on our website is the price you pay.
The Range of Card Finishes – We offer the widest range of metals and card finishes available anywhere. For example, we have 12 different finishes for our matt black metal cards and 3 titanium card finishes. 
Switch to Metal Today
With over 2 million metal cards shipped to date, we lead the industry in card innovation and options to make your name or brand stand out from the rest. Pure Metal Cards can help you develop your existing cards business cards or membership cards to become an unforgettable metal card your recipients will enjoy receiving. For more information please contact us today.