A gift or reward card is a useful tool to extend customer loyalty and expand your presence through shopper recommendation.  Pure Metal Cards can make a gift card become truly memorable by creating your design in metal.
If you are looking to a great way to make an impact, consider switching to metal gift cards from Pure Metal Cards.  Our designers can create a truly unique and distinctive card design for you.  Whether it's moving your existing design to metal, a design refresh or a completely new creation, our graphic designers can help.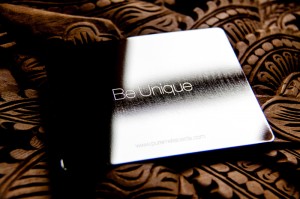 We can also help create other marketing tools made from metal including:
Invitation cards
Launch party invite cards
Luggage tags
Thank you cards
Rewards and incentives cards
Bookmarks
Hang tags and price tags
Loyalty cards
Guarantee cards
Club cards
Conference and event ID cards
For more details of the features we can include on your gift or reward card see our membership card review.
Metal gift cards can be made out of stainless steel, brass or carbon fiber.  To review different finishes have a look at our product range.
A gift card made from metal is a great way to make a general sales tool very exciting and different.  It has numerous applications for businesses and marketers in addition to being a unique.  Pure Metal Cards can help you to design and create your next metal gift card.  Be unique.