The invitation card gives a foretaste of all the happenings that are in store in at your event. Whether it's a corporate event, a cocktail party or a wedding, the invite should reflect the importance of your event by making a statement.  What better way to impress and excite your guests than by sending them an invitation card made from stainless steel?  Pure Metal Cards can create invitation cards made from high quality rolled stainless steel.  Our cards are literally paper thin and flexible with a thickness of only 0.0039" (0.1mm).  Be unique and create the must attend event!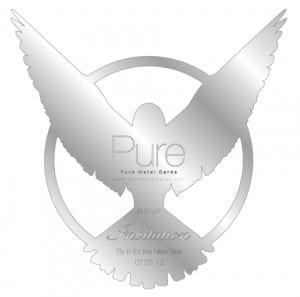 There are many occasions when our metal invitation cards can be used including:
– Grand opening
– Fundraiser
– Product launch or party
– Dinner/cocktail party
– Luncheon
– Fashion show
– Sporting event
– Trade show
– New office location
– Retirement
– Wine tasting
Traditionally, it is advised to send out invitations eight weeks before your event.  This is usually a good idea with formal events, weddings and corporate events. Obviously, the sooner you can notify your guests, the better.
Once you have an invitation prepared, you send us the design (ideally as an EPS file) and we create a proof for your approval.  Here we have shown three examples for our invite card but you can create any design you would like!
We can also create a custom design for you based on your brief.  If you would like individual guest names added to each card we can include these for that extra special personalization and wow factor.  We require 6-8 days to manufacture your metal invitation cards and then 3-4 days to ship to you by express shipping.
You are unique, so make a great impression on your friends, clients and prospects with invitation cards that show your true originality.  Make your event even more memorable with a stainless steel invitation card from Pure Metal Cards.
For further information please contact us for more information.
Pure Metal Cards  Be unique.
Note:
In addition to creating an amazing looking invitation card from stainless steel, ensure the content of the invite makes a strong impression.  Here are two of articles that may help you create amazing content and attendance for your event:
A List of Invitation Advice and Do's and Don'ts: http://bit.ly/yMLbnv
How to Get Guests to RSVP to Your Wedding: http://bit.ly/AwOvTn