If you're looking for an innovative business card for yourself, now is the time to switch to metal business cards. Despite the digital age the business card reins supreme as the de-facto way to meet and share information. Be sure to leave a lasting impression with the help of Pure Metal Cards.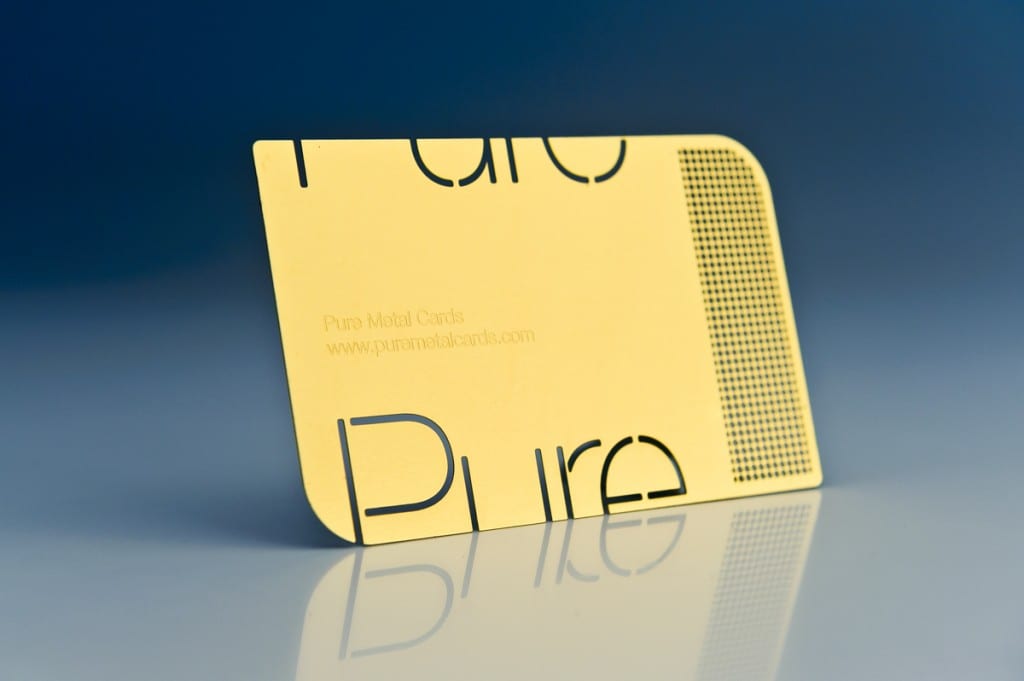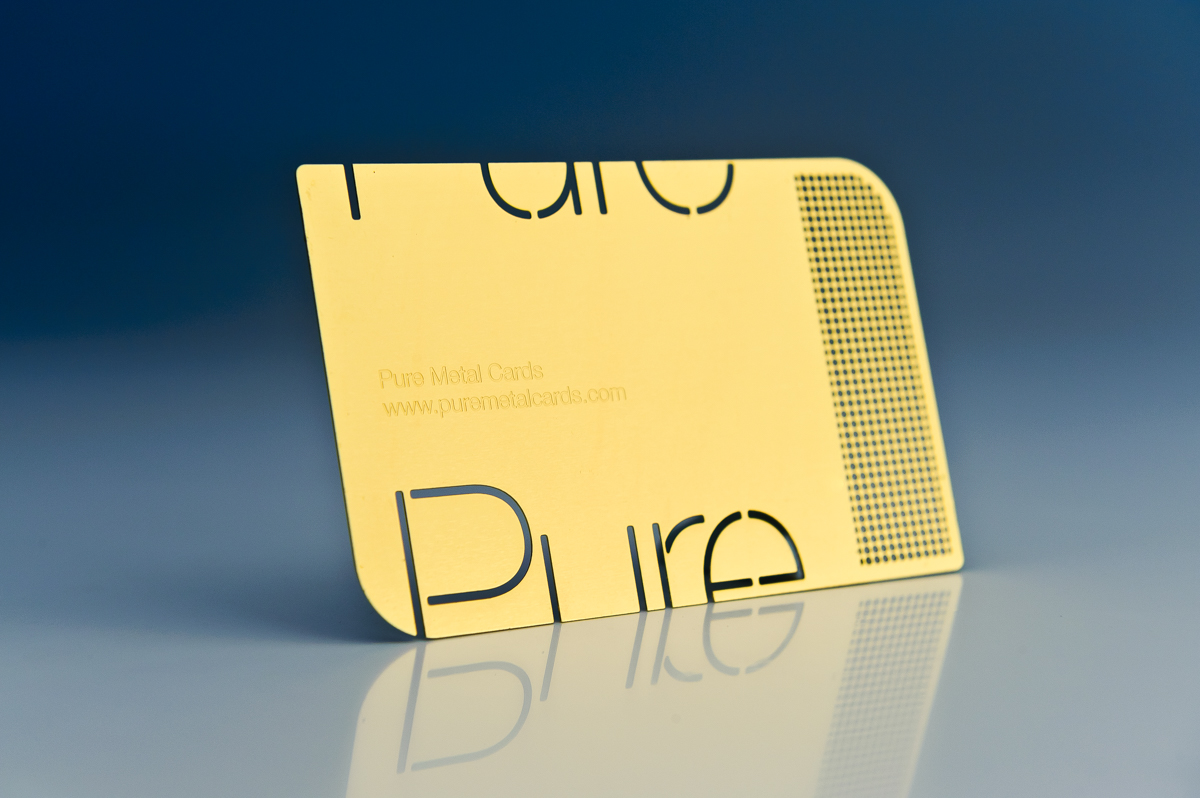 Whether at a networking event, conference or chance meeting, a well designed business card remains the best way to share information about yourself or your organization. To be unforgettable though you really need to stand out and a metal business card will ensure you make your mark! If you need inspiration for a truly unique metal business card, check out these aspects to consider to make your card.
Type of Metal
Pure Metal Cards offer the widest range of metals and card finishes available anywhere. We offer twelve different finishes for our stainless steel cards, six in brass and our five copper card finishes are made from 99.99% copper.
Card thickness
Thicker cards are very impressive but if you carry a 0.5mm to 0.8mm (credit card thickness) cards carrying five or more in your wallet or purse will really weight you down. You may need a personal assistant to carry a lot of cards for you at a networking event or trade show! Try our 0.3mm card or 0.4mm card thicknesses to start with as these are both light and will make you unforgettable too.
Be Visual
Don't just stick to your logo and text. Be visual and adventurous with your metal business card. We can print any number of colors to your business card and can even print your photo in full color.
Corner Radius
On a paper card the card corners are usually square. On metal this can make the card potentially sharp and therefore dangerous. We do not offer square corners for this reason. We can make the corner radius any size you require. Please contact us for our artwork guidelines brochure.
Fingerprint Masking
One issue you may not be aware of is that fingerprints may be noticeable on your metal card. They are particularly noticeable on our standard stainless steel; standard brass and matt black stainless steel card finishes. On a metal business card this is not really an issue because cards are usually handed out just once to the recipient. However, for metal member cards, loyalty cards and reward cards this may be more of an issue. To address this specific problem we developed a range of card finishes to help mask fingerprints on cards. These are called brushed, prism and frosted finishes.
Links to your business
In addition to including your business address and contact details we suggest including a qr code so recipients can scan your card for a fast link to your website, phone numbers or other information. QR Codes are the black and white squares you see on ads, posters and product labels. If you want your QR code to have a more customized and unique look, you can add some color and include an image to the QR code. For more details visit Visualead.  You don't need to always link to your home page. Try using specific landing pages or blog articles to make a lasting impression.
Card samples
We appreciate that metal cards, card finishes and the choice of card thicknesses available may be a new experience for many buyers. We have developed a range of sampler cards in various card thicknesses to give you a hands-on experience of the quality and feel of our metal cards. We can send these to you to evaluate without charge. We can also make a sample of your card design before purchasing your order. Samples cost US$125 for 0.3mm card thickness and US$150 for 0.4mm to 0.8mm card thicknesses. Samples take 7-9 days and 2 days to ship by express courier.
Envy
One factor we cannot control will be the envy of your work colleagues, other club members or recipients of your Pure Metal Cards.
Switch to metal today
With over 1.5 million metal cards shipped to date we lead the industry in innovation and options to make your name and brand stand out from the rest. Pure Metal Cards can help you develop your existing business card (or membership card) to become an unforgettable metal card your clients will enjoy receiving. Our design team can also assist you to develop a metal business card for you. For more information please contact us today.