VIP's expect to be taken care of at events.  A metal VIP event pass cards or backstage pass is a unique tool to identify special guests and make them stand out from the crowd. Pure Metal Cards can make a VIP event access card become truly memorable by creating your event ticket design in metal.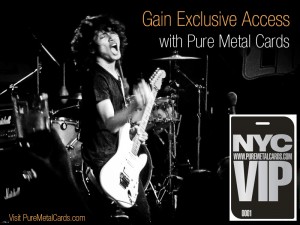 Whether it's a rock concert, ballet, opera or a special event show, its owner often treasures a ticket from the event.  For the best seats in the house, replace your paper tickets with something more memorable. Consider switching to metal VIP event pass or backstage cards from Pure Metal Cards. Not only will these metal tickets stand out but they are likely to be the talk of the town.
Our designers can create a truly unique and distinctive design for you.  We can include unique ticket numbers on each card. We can also help create other marketing tools made from metal including:
VIP pass
Backstage pass
Tour VIP ticket
Event ticket or pass
Concert ticket or pass
Bar Mitzvah ticket
Birthday party invite
Baby shower invite
Wedding invitation
Gift card
For more details of the features we can include on your card see our membership card review.
Metal VIP event cards can be made out of stainless steel, brass or carbon fiber.  To review different finishes have a look at our product range.
In the age of paperless tickets what better way is there to make your event stand out from the crowd than with a metal VIP pass or backstage pass? 
Pure Metal Cards can help you to make your next event unforgettable. Be unique.