Carbon fiber is an amazingly strong yet light material. If you are looking for an alternative material for your business card, consider switching to a card made from carbon fiber. Pure Metal Cards offers the widest range of carbon fiber and glass fiber business cards and member cards available. Be unique and race ahead of your competition with carbon fiber business cards.
Carbon fiber is exactly what the name suggests, extremely thin strong fibers. Our cards are made from genuine carbon or glass fiber with a premium 3K twill weave. Carbon fiber is most notably used to reinforce composite materials, particularly the class of materials known as carbon fiber or graphite-reinforced polymers. The material consists of extremely thin fibers ranging from 0.005mm-0.010mm (0.0002"-0.0004") in diameter. To form the yarn thousands of carbon fibers are twisted together, like how a rope is formed. It's kind of is an engineer's dream come true. A material that's lighter than aluminum and is pound for pound stronger than steel.
Pure Metal Cards provides premium quality carbon fiber and glass fiber business cards and membership cards in either a matt or gloss finish. Our images only show part of the unique qualities these cards possess.   As you move the card in the light, the fibers in the fiber yarn show a unique 3D depth, which is only present with genuine carbon fiber. Our cards are constructed from real carbon fiber not imitation printed graphics or impressions in plastic. Being carbon fiber, these cards take a lot of labor to manufacture. Cards are cut to size and shape using CNC machining.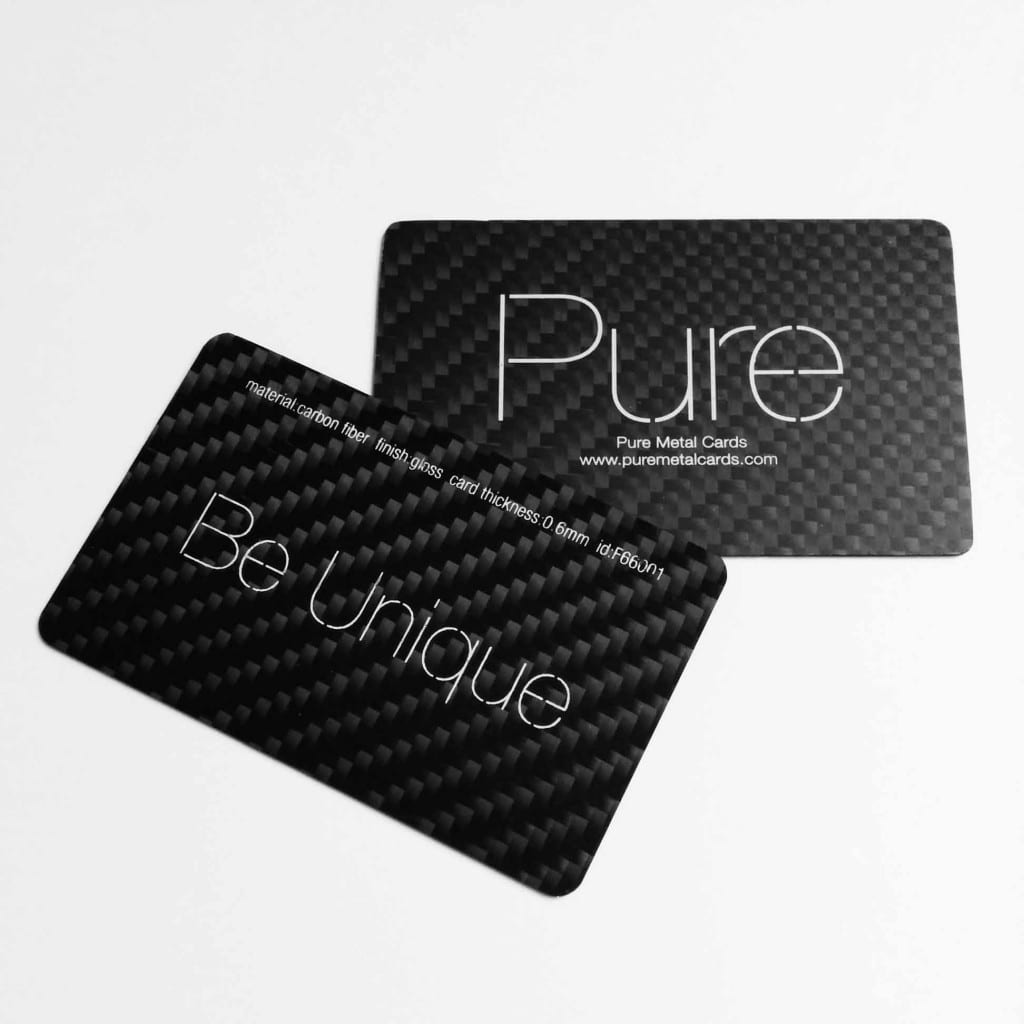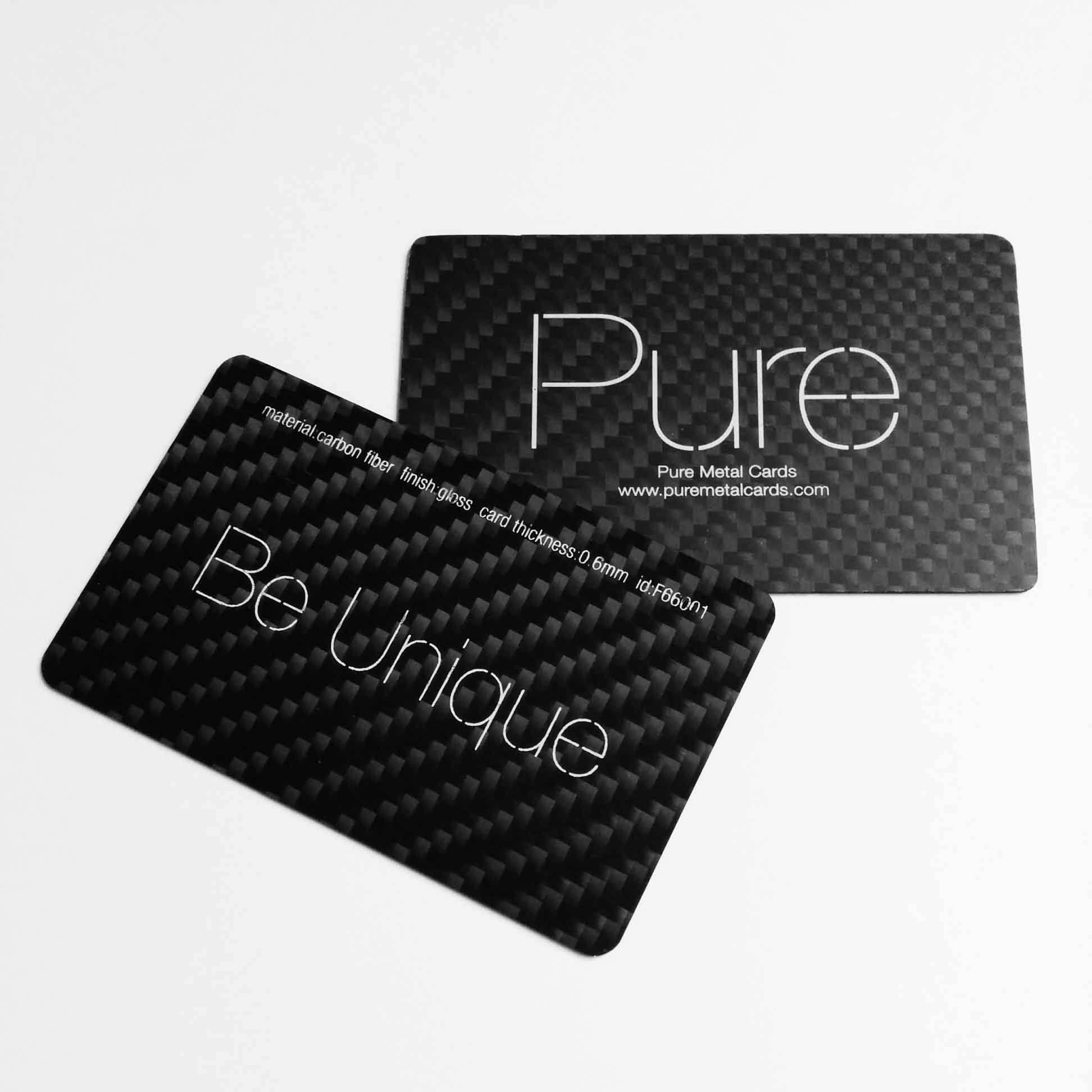 In addition, we apply individual layers of lacquer in a matte or gloss finish to seal each card for durability.   The materials used and time taken to make each card is the reasons why these cards are more expensive.   For truly unique business cards or membership cards, we believe there is nothing better than high quality carbon or glass fiber.
Each card is ultra light at approximately 0.01 ounce (4.5 grams). Our 0.6mm (0.024") thickness card is rigid while our 0.3mm (0.012") is slightly flexible.
We recommend using a single color for printing to allow the weave of the fibers to show thru. We can print on both sides of the card.
We can produce our cards in any size you require. Our standard size is 85mm x 54mm (3.34" x 2.13") credit card sized.
In addition to carbon (black) fiber cards we also have a wide range of optional colors we can add to the card. We can add a thread to the card. This example shows green, silver, red and gold threads to the carbon fiber business card:-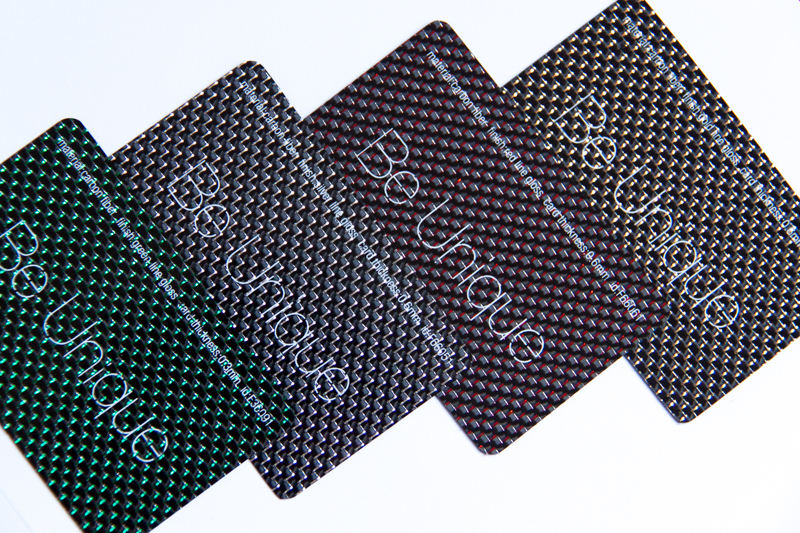 In addition to our carbon fiber card range we offer glass fiber business cards (often called by its more familiar name of  Kevlar® by DuPont™). Shown here is our gold, blue, silver and red glass fiber business cards.

We continue to develop new products using this unique material. If you require a product you do not see on our website, please contact us and we can advise if we can create what you are looking for. Pure Metal Cards offers a wide range of carbon fiber business cards with unique colored weaves. Your sure to race ahead of the pack with our cards!