When you think of business cards, you probably think of an image or logo, contact details, and maybe even a QR code. It's unlikely that you consider the colors used on your business card as an opportunity to subtly showcase your brand identity. After all, they're just tiny cards; no one is going to notice what color they are, right? Wrong! Think again. In this article we explore how to work with Pantone colors on your metal business cards or to match your brand and what tools and resources are available to help make it easier.
What are Pantone colors?
Pantone is a company that has been creating and matching color standards since the 1950s. They've become the go-to company when it comes to matching colors – both in the printed paper industry and in design software too. There are more than 10,000 standardized Pantone colors available to choose from. This means that regardless of whether you're designing printed materials, creating a website, or even coloring in a coloring book, you can choose the exact color that you want.
The standardization of these colors ensures that they can be selected and replicated easily and accurately. This ensures consistency across all materials and makes it easier to create a recognizable brand identity across all materials. They event create a 'color of the year'. You can see all the colors here.
Why use Pantone Colors on Business Cards?
Business cards are often the first impression that people get of you and your business. They're the first thing that people pull out of their wallets at networking events or meet-ups, and the first glimpse that potential clients have of your brand. Due to the fact that they're one of the first things that people see, it makes sense that you would want to use them to showcase your brand and identity. This is why using Pantone colors on your business cards is such a smart move. By using the same color that is featured in your logo, you can help to reinforce your brand identity. By selecting the correct Pantone color and then making sure it is correctly matched on your business cards, you can add an extra subtle layer of professionalism to your cards and help to ensure that your brand identity is on display even more.
Our New Anodized Pantone Color printing
We match Pantone color codes to ensure color accuracy when matching your specific brand design or style.
This example shows how IWC watches used Pantone color code Mojave Desert: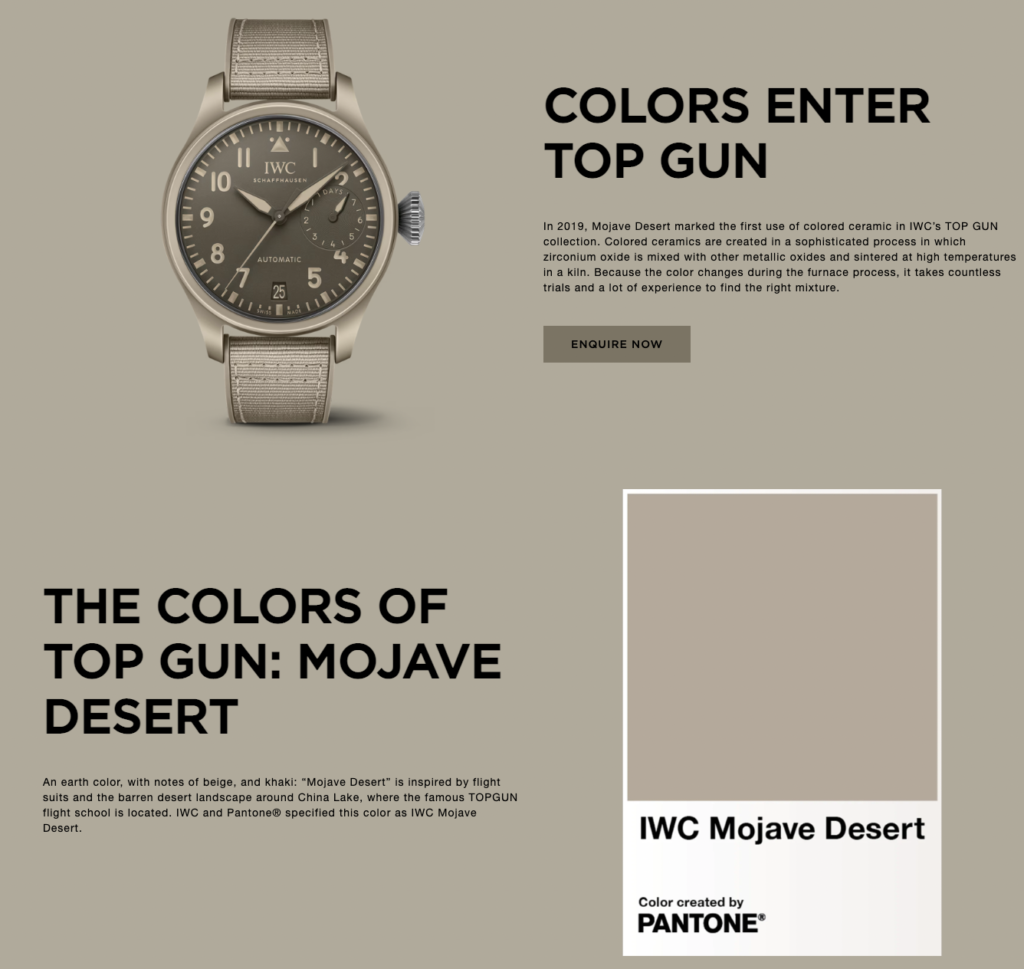 We have traditionally silkscreen printed colors to each side of the card. If you had wanted a card to be a whole color, for example red, the edges of the card would reveal the metal (stainless steel, brass, copper or titanium). Now, by anodizing the card to match your Pantone color, all edges of the card are now matching.
We can also print full color photos and color images onto our metal cards. This is a service we have been offering for over a decade now! It's particularly useful for metal membership cards or metal ID cards which require a color photo of the cardholder.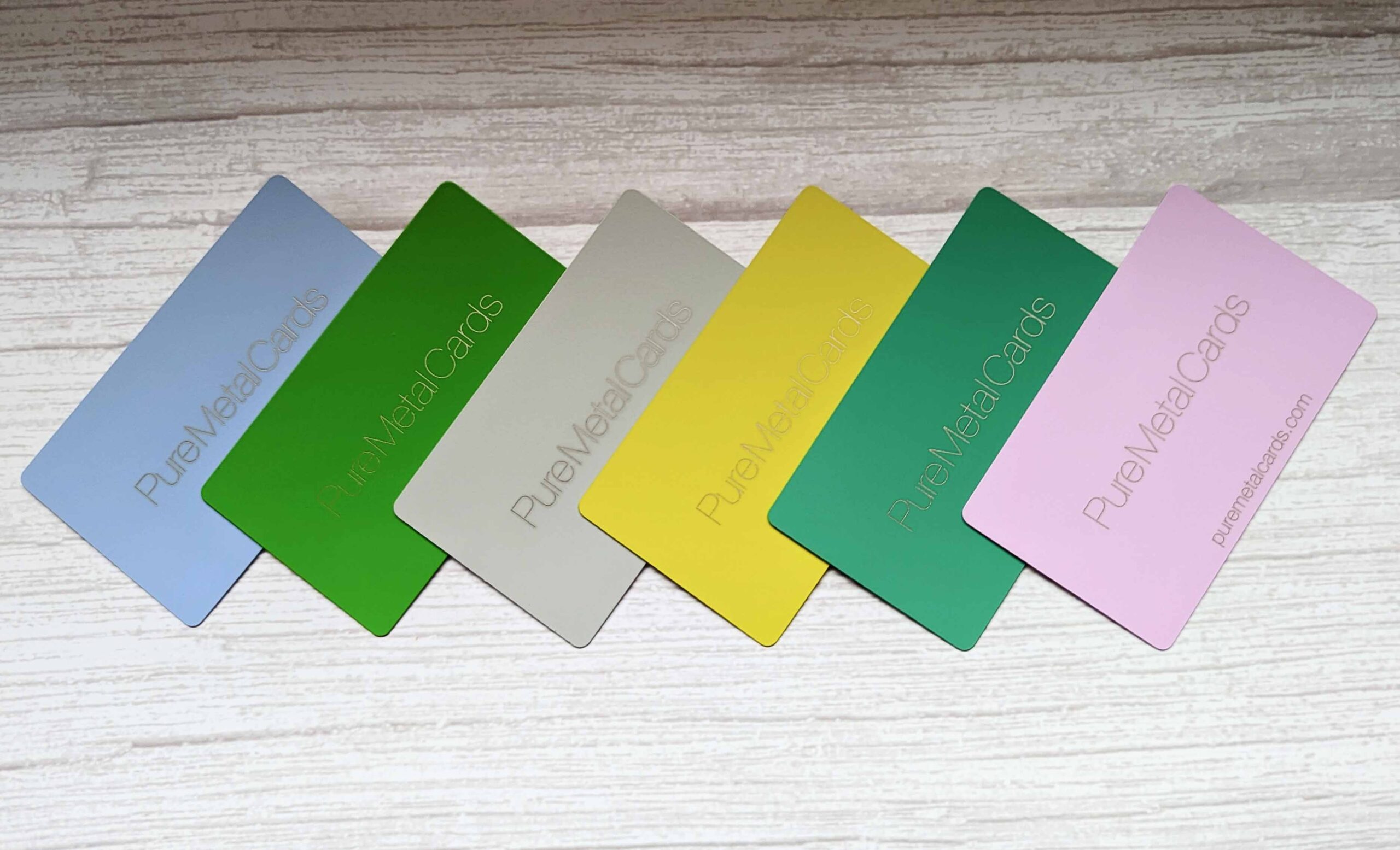 Tools to help match Pantone colors
The Pantone Matching System (PMS), a proprietary numbering system for colors used in graphic design. This system helps accurately create the exact color(s) you require.
As you have read, there are many benefits to using Pantone colors on your business cards. Not only can they be used to help match the colors in your logo, but they can also be used to subtly showcase your brand identity by using a color that represents your company or product. There are a number of ways to go about this including purchasing pre-made cards with the correct Pantone color or designing your own cards and manually matching the Pantone colors. No matter which option you choose, be sure to use the opportunity to showcase your brand in a subtle but effective way. You could also try the Pantone color of the year. Pantone's color of the year for 2024 is PANTONE 13-1023 Peach Fuzz, a gentle and nurturing peach shade that serves as a reminder to slow down and care for ourselves and one another. In 2023 the color was PANTONE 18-1750 Viva Magenta, a vibrant and nuanced shade of crimson red.
Help Starting Out
To help you start out we offer a metal cards sampler pack that includes a selection of all our metals, card thickness, and card finishes. The sample pack* costs US$14.99 to cover postage and admin. We only send our own card designs, not customer cards as samples.
Upgrade to metal business cards, digital NFC business cards, or membership cards. At Pure Metal Cards, we have the resources required to help launch and improve your customer retention programs. We are excited to help you create custom metal card designs that will help your business stand out in the crowd. Taking advantage of this amazing tool is as easy as clicking the link below.