In today's competitive marketplace sellers need new ways to stand out to attract customers. Using your own set of distinctive hang tags can help speak about your brand or product line.  Hang tags add a perception of value and image to a product.  What better way to demonstrate the quality of your brand than with a Pure Metal Cards metal hang tags or metal price tags?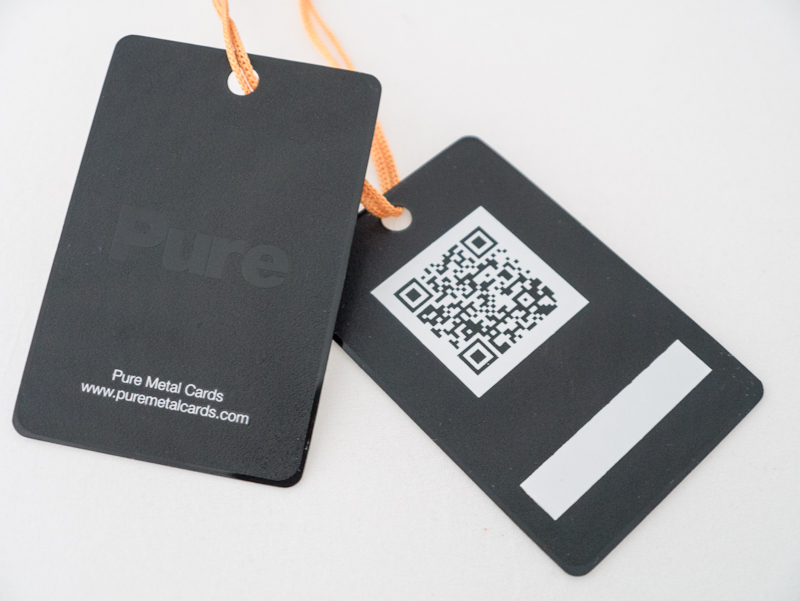 These small, curious, usually disposable items have limitless potential to convert customers to buy. Hang tags and price tags are also known as swing tickets, suspended ticket, suspended label, hanging tag, hanging label, swing tag, swinging tag, swinging label or a swinging ticket.  Hang tags and swing tickets have evolved into playing the role of introducing the product to buyers. By including detail on to a metal hang tags and swing tickets with vital product information you will be able to increase the likelihood of shoppers to buy your product. We provide cutting edge hang tags custom made to speak to your buyer.
Product hang tags or price tags can be vital for sell through.  Several brands and retails have found that consumer's use hang tags to validate the product price as more information and features listed on a tag can help justify a higher price.  The effectiveness of a tag in sell through depends on the price of the product. With products that have a higher price point consumers are more likely to look at the tag to see what features account for the price. They want validation for spending more on a product.
By using creative tags attached to the labels of your product can give information about a brand. Most shoppers would look for these tags to determine if they should try and buy the product or not. Consumers are more likely to buy a product if they recognize what's on the tag.  For technical clothing like ski wear and waterproof mountaineering gear for example, brands know printing specific information on the tags helps act as a selling tool.  This makes your hang tags important for business.
You need to be distinctive with an attractive design to entice customers into buying your product as well have relevant content and information. Product hang tags create an immediate call to action right at the point of sale. They are used to attract a consumer's attention to your product and promote your brand.  Examples of ways to use hang tags including instant coupon savings, QR codes, provide additional product information, contests, website promotion, giveaways, event promotions and entry forms. We can also create metal name badges.
Hang tags are the silent sales man or woman for a product. A well designed hand tag or swing ticket serves a vital role as it provides information of brand name, manufacturer details, product maintenance guidelines and image. Now you can use Pure Metal Cards to create one of a kind metal hang tags and metal swing tickets.   Whether you manufacture garments, bags, jewelry, watches, optical products, cosmetics, foodstuffs or drinks, our tags can enhance your brand.
For more information contact us for details and pricing of metal hang tags.