Does your membership card really reflect you and your brand? For organizations and clubs targeting higher net worth individuals the days of a paper or plastic membership card are over. Pure Metal Cards can make your metal VIP cards, metal loyalty cards or a metal membership cards tailored to make your member card as distinctive as you and your brand.

The image of your organization or business is presented to the public in a variety of ways not the least of which is your membership card. Not only does a VIP card need to be durable but also, it needs to represent the quality and vision of your organization.  Since any membership card program needs to work alongside existing marketing and branding efforts, the look and feel of the card is vital. The card must reflect the proper image and capture the essence of your brand.   For high-end goods and services companies, using a plastic card is no longer the best option and can detract from your brand image.  The way forward is with a metal membership card by Pure Metal Cards made in stainless steel, brass (gold) or copper.
We can create membership cards for:
Privilege and Loyalty Programs
Hotels and resorts
Golf Clubs
Fitness and Leisure Centers
Private Member Clubs
Night Clubs
Societies
Restaurants
Casino's
Organizations
Social Clubs
Complimentary (Comp) programs
Our membership cards are custom made based on your existing design or we offer a free design service to create that distinctive metal card members will cherish and be proud to show off. We can include member names and member numbers on each individual card.  We can also punch membership numbers to create the same look as with a typical credit card.  Pure Metal Cards can tailor your member card to meet your specific needs including:
Individual names (etched, embossed, punched or printed)
Sequential numbering (etched, embossed, punched or printed)
Magnetic stripe (high-coercivity or low-coercivity)
Bar code stripe
Signature panel
Swarovski crystal or jewel
QR code
Scratch off panel
Unique metal hologram
Photo
Smart chip (FM4442, FM4428, SLE4442, SLE4428, SLE5542, LSE5528 , Atmel etc.)
To work with your existing CRM software we can include a barcode, QR code, magnetic stripe or a smart chip.
Individual Member Names on Cards
If you require individualized cards, we do require all member names and the card number sequence at time of production. If you do not have all the names we do suggest you source a local jewelry store or sports trophy store to engrave names onto the metal membership card. We are not able to add names in small batches.
Magnetic Stripe
The magnetic stripe is capable of storing data by modifying by magnetism tiny iron-based magnetic particles on a band of magnetic material on the card. The magnetic stripe, sometimes called a swipe card or magstripe, is read by physical contact and swiping past a magnetic reading head on the card reader.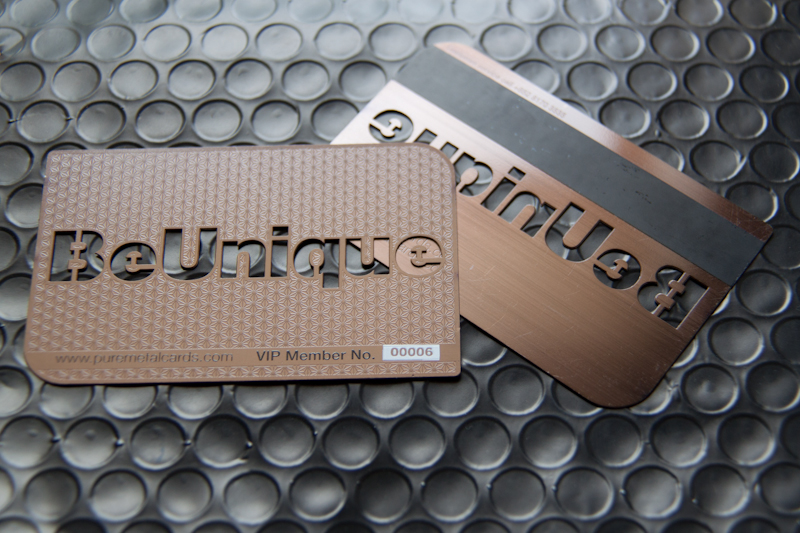 The magnetic stripe is located on a specific position on the rear of the card.  The magnetic stripe contains three tracks, each 0.110 inches (2.8 mm) wide. Tracks one and three are typically recorded at 210 bits per inch (8.3 bits per mm), while track two typically has a recording density of 75 bits per inch (3.0 bits per mm). Each track can contain either 7-bit alphanumeric characters or 5-bit numeric characters.
Magnetic stripes are available as high-coercivity (HiCo) and low-coercivity (LoCo). Coercivity is a technical term used to designate how strong a magnetic field must be to affect data encoded on a magnetic stripe. Coercivity is measured in Oersteds (Oe). Coercivity is the measure of how difficult it is to encode information in a magnetic stripe.  High-coercivity magnetic stripes are harder to erase, and therefore are appropriate for cards that are frequently used or that need to have a long life. Low-coercivity magnetic stripes require a lower amount of magnetic energy to record, and hence the card writers are much cheaper than those that are capable of recording high-coercivity magnetic stripes.
A card reader can read either type of magnetic stripe.  A high-coercivity card writer may write both high and low-coercivity cards and most have two settings, but writing a LoCo card in HiCo may sometimes work.  However, a low-coercivity card writer can only write low-coercivity cards.
In terms of identification, low coercivity magnetic stripes are usually a light brown color, and high coercivity stripes are nearly black.  High coercivity stripes are resistant to damage from most magnets likely to be owned by consumers. Low coercivity stripes are easily damaged by even a brief contact with a magnetic purse strap or fastener.  As a result of this, virtually all banking related cards today are encoded on high coercivity stripes despite a slightly higher per-unit cost.
Magnetic stripes following universal specifications can typically be read by most point-of-sale hardware, which are simply general-purpose computers that can be programmed to perform specific tasks. Examples of cards adhering to these standards include ATM cards, bank cards, credit and debit cards, loyalty cards and driver's licenses.
Smart Chips
A smart chip is a small plastic integrated circuit card (ICC) used on most pocket-sized smart cards.  Smart cards can provide identification, authentication, data storage and application processing.   They hold more data than a magnetic stripe.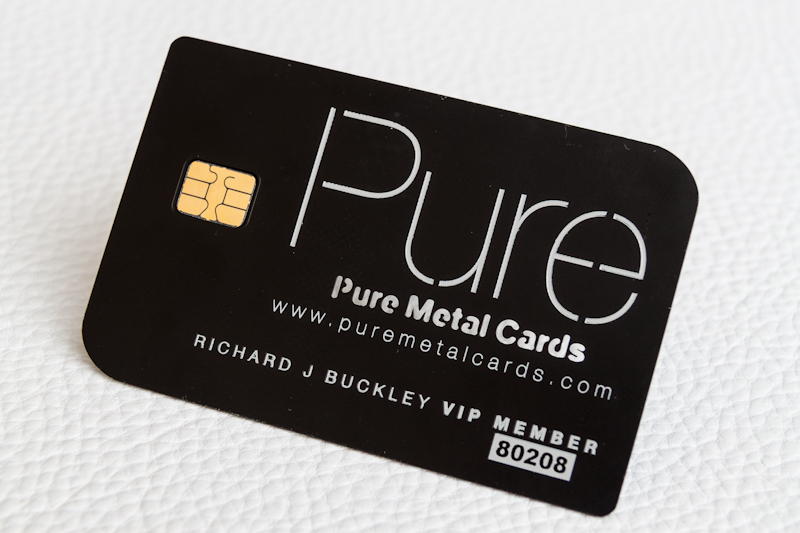 Most credit and debit card payments as standardized with this smart chip (VISA, MasterCard, JCB and American Express use this system).  A few countries like the USA are not compliant with this system. In Europe the standard is now 'Chip-and-PIN' credit cards.  These cards contain a tiny smart chip that is activated by a personal identification number (PIN). If you don't know the PIN, you can't use the smart portion of the card.  It replaces the need for a signature from the cardholder and reduces the risk of theft or card misuse.
The benefit of a smart chip on a card relates to the amount of information and applications that are programmed for use on a card. Smart chips can be programmed with membership details and transactions, banking credentials, patient medical history, driver's license or loyalty programs to name just a few.
NFC
The latest smart card technology uses near field communication (NFC) frequency to transmit payment data between a smart reader and NFC-equipped smart phones such as the Google Nexus 5, Samsung Galaxy S5 and Google Nexus 7 tablet, but not the Apple iPhone 5s. The NFC frequency allows data transmission within a range of less than 8 inches (20cm), limiting the risk exposure.  This is technology we cannot yet apply to our metal cards though!
Pure Metal Cards metal membership cards and loyalty cards sets us apart from our competition and it can also set you apart from yours.  Please contact us for more information about your specific membership card requirements.
For more details on understanding NFC read this article by Lifehacker.