To compliment your metal business or membership card Pure Metal Cards offers a range of high quality card sleeves. Typically we ship our cards with a transparent plastic sleeve but for a more luxurious choice we offer a range of black contour card sleeves. Make your metal cards even more unique with our luxury card sleeves.
When you hand out the finest quality metal business cards or membership cards your packaging must reflect the importance of the recipient. We help you make an impact. To complement our metal cards we offer arrange of luxurious packaging card sleeves and oak wood cases to enhance your customer experience.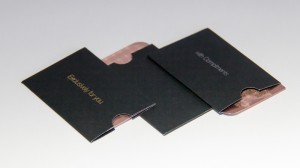 The luxury card sleeve has a thumb cut out to enable easy removal of the metal card from the packaging. There are three versions of the card sleeve in stock as shown below with different lettering options. Use them to protect and preserve all your cards.
Our card sleeve size is 3.5" x 2.2" (89mm x 56mm) and designed to hold a credit card sized card. These card sleeves are made from a special contoured black 300 gsm weight paper. Customized card sleeves with your own logo can be offered with a minimum order quantity of 1,000 sleeves.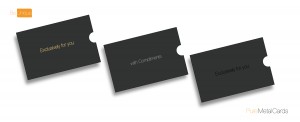 Single Card Wood Presentation Case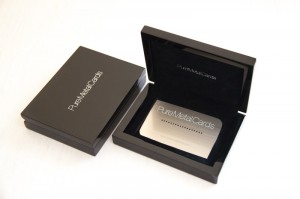 If you need packaging even more luxurious and unique for your metal cards we offer oak presentation cases. Our wooden presentation case is made from solid oak wood topped with protective layers of polyurethane coating. These beautiful pieces forever preserve the beauty of wood in something that will be treasured by you, your family or your customers for generations.
We offer two color choices, natural oak or piano black oak. Our black piano wood is a very dark solid black color. Skilled craftsmen have patiently handcrafted each case. Within the case is a removable inner tray that holds your card. The card itself and the inner tray are easily removable by a black ribbon release.
The case can be personalized with your company logo printed onto the top of the outer wood lid, inside lid and top of the inner tray (as required). The case is provided with an outer cardboard protective case with a woven black paper covering. The lid can also include you company logo.
Presentation case dimensions:
Wood Case
L:124mm x W:94mm H:25mm (L:4.9″ x W:3.7″ x H:0.9″)
Card inlay tray (with black ribbon for card release)
L:114mm W70mm H:10mm (L:4.5: x W:2.8" x H: 0.4")
Outer cardboard packaging
L:132mm x W:105mm H:32mm (L:5.2″ x W:4.1″ x H:5.2″)
Minimum order quantity: 200 cases
For larger orders Pure Metal Cards can also provide customized designs for your metal business cards or metal member cards. For both our metal card sleeve and oak wood cases we can provide different color options. The minimum orders are subject to our stock availability. For further details, please contact us.