Creating your own Certificate of Authenticity card is a great way to add value, and increase the desirability of your brand or products. This is particularly relevant when selling luxury items, such as designer goods, exclusive artwork or when you want to distinguish your brand from other manufacturers in your niche. Let Pure Metal Cards create your authenticity cards.
As with any branding strategy, it's important to get the details right the first time if you don't want to waste money on something that doesn't work for you. That said, many companies make mistakes when creating their own Certificate of Authenticity (COA) card. If you are thinking about creating your own COA card, here are a few things to avoid…
Don't use a generic template
If you want your COA card to reflect your brand, it's important not to use a generic, off-the-shelf template. The fact that you have created your own COA card is an important part of the branding strategy. Customers expect a great deal of thought to have gone into your design and branding, and a generic COA card will let you down. If you don't have an in-house designer, it can be tempting to just use an online COA template. However, it's better to have your COA created by Pure Metal Cards.
Don't put the wrong things on your COA card
You may be tempted to put anything and everything on your COA card. For example, you may want to put your company name, logo, contact details, barcode, and everything in between. Try to avoid this as it will make your COA card very cluttered and unnecessarily large. You need to consider what is important to your customers. One of the first things they will want to know is where the product was made. This is particularly important if you are selling luxury goods. As far as your logo goes, you should include it on your COA card, but keep it small. Your logo should be recognizable, but it shouldn't take up too much space on the COA card.
Don't make your own Certificate of Authenticity too big or small
The size of your COA card is important. You don't want it to be too big and take up too much space in the packaging, but it also needs to be big enough for your customer to read the details. If your product is small, such as a keychain, you can get away with a small COA card. However, if you are selling something larger, such as artwork, it may be better to go with a larger card as customers may need more space to write down the details. Even if you are selling online, for example an NFT (non-fungible token) on a blockchain, you may want to create a physical COA card for extra security and authenticity.
Don't use the wrong type of ink
It's important to use the right type of ink when creating your COA card. If you use the wrong type of ink, it may fade over time, which could lead to your customers believing that the product isn't authentic. It's best to check with your manufacturer about the type of ink they recommend you use. One of the benefits of metal cards is that we can laser etch the personalization details of each card. This makes the COA much harder to copy or replicate than a plastic (PVC) or paper card or stickers.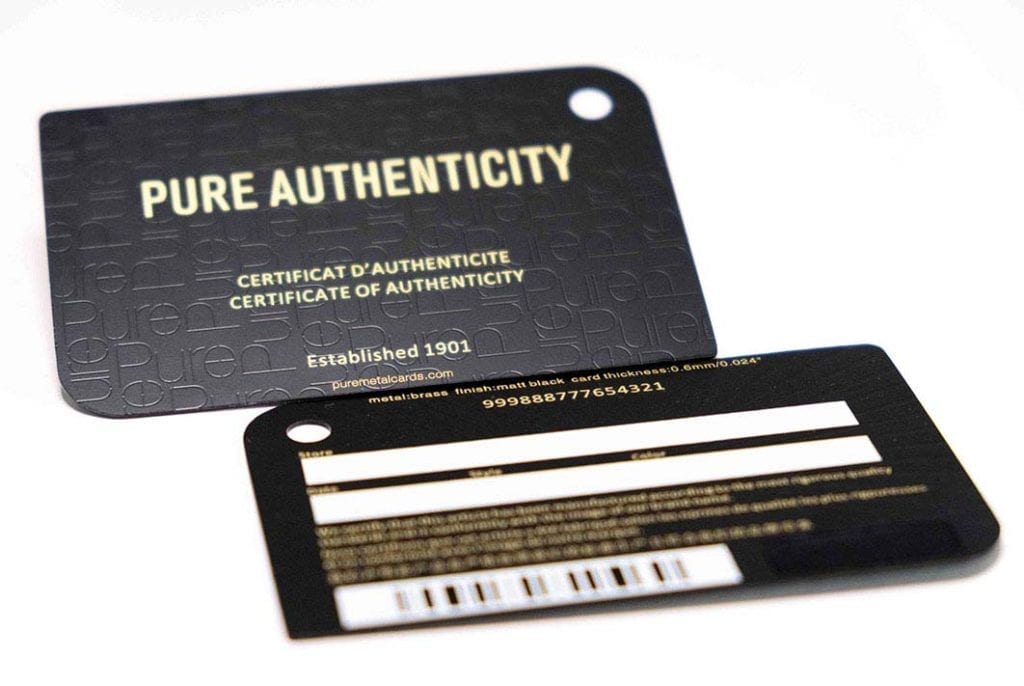 Don't forget to include the barcode or qr code and a serial number on your COA card
These pieces of information should be on every COA card. They allow you to track inventory and make sure your products are authentic. If a customer reports an issue with the product, you may be able to track it back to the serial number on the COA card. If you don't include the serial number on the COA card, you will have a lot of difficulty tracking down the product. It's also a good idea to put the date the products were manufactured on your COA card. This will allow you to track when a product was manufactured, and if it is still within the return window.
For unique artwork, you should also consider including a color photograph of your piece or design on the card too. At Pure metal cards we can color match Pantone color codes.
The current trend is to include an RFID or NFC chip for additional security.
And finally, don't be afraid to ask for help!
As with all aspects of your business, you may find that you are not particularly good at creating COA cards. In this instance, you should ask for help. Pure Metal Cards can help you in designing metal COA cards.
Why Choose Pure Metal Cards?
Satisfaction Guaranteed – We want you to be completely amazed by your purchase. We replace cards if they do not meet your satisfaction.
Speed – Pure Metal Cards continues to offer the faster turnaround time in the market today for custom-made metal business cards. Cards typically take 7-9 business days to produce and 5++ days to ship to you.
Pricing – We lead the industry by offering simple, all-inclusive pricing. The price quoted on our website is the price you pay.
The Range of Card Finishes – We offer the widest range of metals and card finishes available anywhere. For example, we have 12 different finishes for our matt black metal cards. 
Switch to Metal Today
With over 2 million metal cards shipped to date, we lead the industry in card innovation and options to make your name or brand stand out from the rest. Pure Metal Cards can help you develop your existing cards business cards or membership cards to become an unforgettable metal card your recipients will enjoy receiving. A Pure Metal Cards card will ensure your Certificate of Authenticity cards will be unforgettable. For more information please contact us today.