Today the discerning consumer expects highly personalized and tailored products and services. High-end clubs, hotels, airlines, retailers, casinos and other membership organizations that deliver meaningful one-to-one relationships are rewarded with higher revenues and stronger brand loyalty. Now more than ever, you need to stand apart from your competition and capitalize on the loyalty relationships you've built with your customers. Does your membership card really reflect you and your brand? The image of your organization or business is presented to the public in a variety of ways not the least of which is your membership card. Not only does a VIP card need to be durable but also, it needs to represent the quality and vision of your organization. Since any membership card program needs to work alongside existing marketing and branding efforts, the look and feel of the card is vital. The card must reflect the proper image and capture the essence of your brand. For high-end goods and services companies, using a plastic card is no longer the best option and can detract from your brand image. Using metal cards in stainless steel, brass or copper, even precious metals like titanium, silver and gold makes your cards stand out. By personalizing member cards you can further reflect your club and brand values. Cards can have individual etched members names and numbers as well as bar codes, smart card chips or magnetic stripes, as found on traditional plastic membership cards. The exclusive Starbucks metal member cards, which have a $400 face value, were recently launched in a limited edition of 5,000 cards. Available only on eBay they sold out in less than a minute! Effective membership card programs build strong, one-to-one relationships with members as well as capturing valuable activity information for marketing intelligence. By recognizing each member as a unique individual with their own tastes, desires and needs, organizations of all types are able to establish meaningful relationships and create longer term loyalty. By differentiating their proposition, organizations can use this information to tailor product and service offerings, promotions, investment and advertising to the needs of their customers, thereby indirectly enhancing loyalty. Member cards can also be a point of difference to gain a competitive advantage. For example, the American Express Centurion card is an exclusive invitation only black titanium credit card.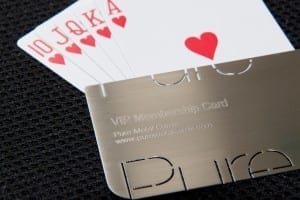 The desired aim for a membership program is for the long-term retention of your best and most profitable members. It should continually make them feel special. It should also attract new members with potential to develop long term relationships and reconnect lapsed members with your club. Customers or members expect special treatment and recognition. The membership card you hand out should reflect what you, your brand and you audience expects. Members have invested in you. Invest in a member card that truly reflects who you are. The actively loyal club member is the only (long term) profitable customer. Ensure your membership cards reflect who you are by using PureMetalCards.com. Pure Metal Cards can provide metal cards that can be used for a variety of purposes including membership card, VIP card, club card, loyalty card, reward card, gift card or ID card. Pure Metal Cards can tailor your member card to meet your specific needs including:
Individual names (etched, embossed or printed)
Sequential numbering (etched, embossed or printed)
Magnetic strip
Bar code strip
Signature panel
Scratch off panel
Hologram
Photo
Smart chip (FM4442, FM4428, SLE4442, SLE4428, SLE5542, LSE5528 , Atmel etc.)
Pure Metal Cards metal membership cards and loyalty cards sets us apart from our competition and it can also set you apart from yours.