In business, first impressions are everything. You've got the firm handshake, the confident smile, and the eloquent elevator pitch down to a science. It's time to set yourself or your organization apart even further. Introducing the Pure Metal Cards bronze metal cards.
Metal Cards are becoming increasing popular across all markets, as they will undoubtedly be not thrown away but rather remembered and shown off. Switch you membership from plastic or PVC cards to metal cards. We can now offer each membership tier you offer their own distinctive metal member card, whether as bronze card, silver card or a gold card. Whether as a business card or member card, using metal cards for your business cards of for your brand will ensure you will not be forgotten.
Our bronze stainless steel cards are ideal for luxury brands and can be used for membership cards, VIP cards and loyalty cards or as distinctive business cards. The metal card can be customized with your design and personalized if used as a member card. These custom metal cards give you and your business a highly polished and contemporary look.
Our design team can also assist you to create your unique business card, membership card, invitation card or VIP all access cards. We do not charge for this service. Whatever your requirements we are here to help you create unforgettable metal cards.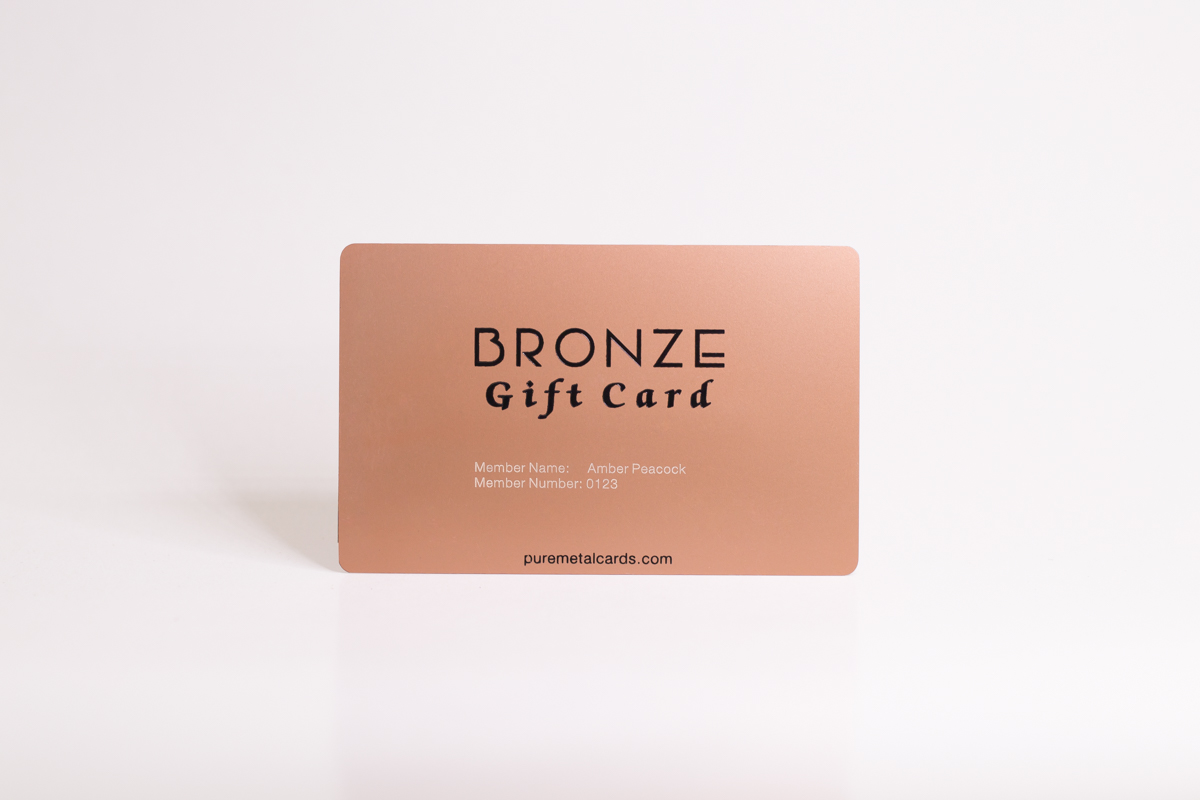 Why Choose Pure Metal Cards?
Speed – Pure Metal Cards offers the faster turnaround time in the market today for custom-made metal business cards. Cards typically take 7-9 business days to produce and 1-2 days to ship to you.
Pricing – We lead the industry in offering simple, all-inclusive pricing. The price quoted on our web site is the price you pay.
Range of Card Finishes – We offer the widest range of metals and card finishes available anywhere. We offer 19 different finishes for our stainless steel cards.
Customization and Personalization – To customize your metal cards we offer a range of options to make each card traceable.
Client List – Pure Metal Cards has working with a wide range of clients ranging from globally renowned brands to start-ups and fledgling businesses across all industries and continents.
Switch to Metal Today
With over 1.5 million metal cards shipped to date we lead the industry in card innovation and options to make your name and brand stand out from the rest. Pure Metal Cards can help you develop your existing business card or membership card to become an unforgettable metal card your clients or members will enjoy receiving. For more information please contact us today.