Most business cards are instantly ignored. Handing out business cards should be a conversation starter, something to interest the receiver and be acted on. Don't let your card let you down. With the help of Pure Metal Cards we can create a metal card that will make you unforgettable!
Handing out a business card is often the very first impression someone will get of you or your business, so you need to get it right. We have created an artwork guidelines brochure to help you create your ideal metal business cards. Please contact us for a copy.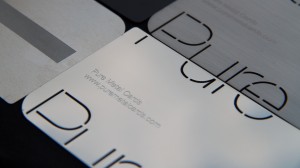 Our metal business cards and membership cards can be made into any size. The standard card sizes are: 85mm x 54mm (3.3" x 2.2") – credit card size 89mm × 51mm (3.5" x 2.0") 
- USA and Canada size     We suggest to make your card slightly smaller than a credit card 85.60mm × 53.98mm (3.37" × 2.13") to enable it to be easily inserted or removed from a wallet or purse. We can create a card in any shape or size. Do consider though, how the receiver of your card will be able to store or carry the card it if the card is not a standard size. Use a different size corner radius to stand out. We don't make cards with square corners, as they will be sharp and potentially harmful.
Our metal business cards are available in a range of card thicknesses from 0.1mm to 0.8mm. We can also create thicker cards if required. Thicker cards are naturally heavier, something to consider when your carrying many for an event or a function! Cards can be printed on both sided at no extra cost.
Our pricing is simplified to give one cost for business cards and one for membership cards. Prices are inclusive of shipping by DHL or FedEx. One issue that is more noticeable on metal cards is fingerprints, especially on our mirror finishes on stainless steel, brass and copper. We do offer brushed, frosted and prism finishes which are better at masking fingerprints. Cutting through (die cut) the metal is another way to make your card truly distinctive. We can help with changing your existing design work on metal. We can deboss lettering into the card but cannot emboss to make raised characters or numbers. We etch the design and details to each card and then add silkscreen printing if a color is required. We can also laser etch your details to give a more distinctive finish. We can add full color but we generally recommend using only one color and letting the metal finish stand out. We do require the Pantone color code for your colors. Do note that the actual color may appear slightly duller on metal compared to a paper business card. For an extra special card we can gold-plate or silver-plate your card. In addition to business cards we can create truly amazing metal member cards, gift cards, loyalty cards and invitation cards.
We have created helpful artwork guidelines document that provides all the information you might need to create your card. Please contact us for a copy of the guide.  More articles and information about metal business cards is available on our blog. Handing out a Pure Metal Card you will be the talk of the town!