With photo metal business cards you will be unforgettable. It only takes a second to make a first impression. Why only settle for one impression? Be creative. With Pure Metal Cards you have the chance to make a lasting impression.
Your business card is like a brochure. It's as much a marketing piece as your other marketing communications, website and social media presence. Adding your professional portrait will make you and your brand stand out. Your full color photo can be added to any of our metal business card finishes.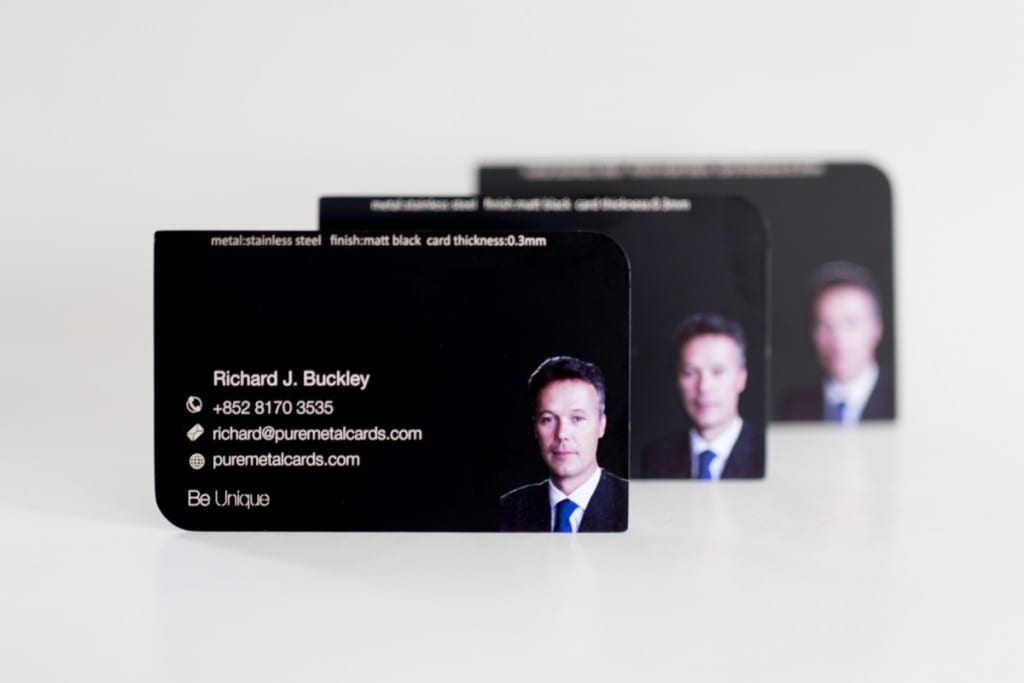 Why include a photo? Think back to the last event, convention or exhibition you attended. Of all the business cards you collected, which ones stood out, if any? Which people do you remember directly from their card? The business card with a photo is the contact you will remember.
It's not just your photo that will make you more memorable. Share your social media links on your business cards too. By adding your Facebook page, Instagram or Pinterest profile, Twitter handle or LinkedIn account to your personalized photo metal business cards, you are inviting existing and potential clients to be a part of your social circle. Use a qr code too so that your card recipient can scan and link quickly to your media links or website landing page. Be sure to check out Mashable's tips on how to use QR codes.
Why Choose Pure Metal Cards?
Speed
– We offer the faster turnaround time in the market today for custom-made metal business cards and member cards. Cards typically take 7-9 business days to produce and 1-2 days to ship to you.
– We will send you a proof of your card design to review within 24 hours of receiving your artwork.
Range of Finishes
– We offer the widest range of metals and card finishes available anywhere. Our metal business cards are available in a variety of card thicknesses from 0.2mm, 200 micron, (0.008") to 0.8mm, 800 micron (0.0315").
Client List
– See what our clients have to say about us. Please review our testimonials. https://www.puremetalcards.com/testimonials/
Switch to Metal Today
Although a picture might seem silly to some it will certainly jog a recipient's memory. This is why many realtors include their photos as a matter of course. Make sure the next time you pass out your business card; it doesn't end up buried in a desk drawer, or worse, tossed in the trash.
Pure Metal Cards can help you develop your existing business card to become an unforgettable photo metal business card anyone will enjoy receiving. Our design team can also assist you from scratch to develop your unique metal cards. For more information please contact us today.