Gift cards offer seamless convenience to the giver. Everyone seems to love gift cards, especially consumers. The recipient of gift cards is empowered with choice and armed with an easy payment method. Businesses like yours have even more reasons to love gift cards. Merchants everywhere use gift cards to raise awareness and grow sales. Adding a metal gift card from Pure Metal Cards to your marketing mix engages your customers and keeps them coming back.
Last year, Mercator Advisory Group reported that prepaid cards will see a five percent growth in open-loop loads in the United States, reaching total loads of $354 billion by 2020. Consumers say they will spend an average of $1,047.83 this holiday season according to the National Retail Federation. Gift card or voucher programs are easy to implement and affordable for businesses of all sizes and industries. The costs of attracting new customers are rising as consumers become increasingly informed in their shopping decisions. They can be used for inexpensive promotions like free trials to manage costs and attract customers. Leveraging popular forms of branded payments like prepaid cards, gift cards and e-gift rewards have been proven to encourage social media interactions, increase basket size and more.
Consider these nine ways that gift cards can benefit your business or brand
1 – Gift cards capture more holiday sales
All types of businesses can now participate in the holiday sales rushes. Gift cards allow any organization to catch the holiday spirit, not just the traditional ones. From coffee shop subscriptions, gym memberships, to beauty salon services, gift card loyalty programs make the holidays brighter for everyone. Restaurant gift cards are in high demand, according to research from the National Restaurant Association, which found that 72% of people wanted one this holiday season.
2 – Gift cards build brand awareness
Gift cards represent cost-effective advertising that helps keep your brand top-of-mind with your market. Gift cards offer wallet-sized advertisements to share your company's messaging, and they cost a lot less than a life-size billboard. Our metal gift cards also offer a premium impact on more upscale brands.
3 – Gift cards enable customer engagement
The costs of attracting new customers are rising as consumers become increasingly informed in their shopping decisions. Those giving the gift card are engaged as ambassadors of your brand. Gift recipients engage in feeling uplifted. A connection with a customer may start with a gift card, but hopefully, it doesn't end there. Gift card programs open doors to increased customer engagement and marketing opportunities. The costs of attracting new customers are rising as consumers become increasingly informed in their shopping decisions.
4 – Gift cards offer easy distribution
Gift cards are a cost-effective use of in-store space. Gift card "malls" in larger stores like grocery and stationery outlets expose your brand to even more potential customers.
5 – Gift cards generate useful data
Gift cards can help you collect vital data that can help you better understand your market. They can open doors that allow you to serve your customers more effectively. Gift cards can also be linked to online registrations, allowing your customers to communicate their preferences so you can better serve them.
6 – Higher revenue
A recent First Data survey has shown that not only does the average redemption-sale exceed the value of the gift card by an average of $23 dollars, but in many cases, the redemption is completed over two or more store visits, in order to fully deplete the gift-card. Customers who redeem gift vouchers are 11% more likely to buy premium or higher priced purchases than they normally would. Additionally, most gift voucher sellers gain the residual benefit of many cards that for one reason or another, are never redeemed against a purchase.
Gift card programs can improve cash flow, especially versus other marketing techniques. Traditional marketing strategies with strong demonstrated return on investment take time to result in sales. Selling gift cards allows you to generate revenue in advance of providing an actual product or service.
7 – Improved stock clearance
Since most gift cards are redeemed in the immediate post-holiday period, they enable vital stock reduction during the post-holiday period sales.
8 – Safety & Convenience
In-store gift cards provide customers with an alternative to carrying large amounts of cash while still being able to take advantage of loyalty program rewards and are less vulnerable to loss, theft, or fraud from duplication.
In addition to being beneficial payments tools, branded payments in the form of gift cards are lucrative products to sell online in digital or physical form. According to Mercator Advisory Group, gift card sales are projected to reach $171.5 billion in 2019.
9 – Low Maintenance
Once your gift card program has been integrated into the product offering, there is minimal maintenance required, and they have an infinite shelf-life. They can be purchased year-round for birthdays, and offer a promotional opportunity for other holidays such as Valentine's Day and Mother's Day.
Gift cards and vouchers allow retailers the opportunity to ensure that they maximize their share-of-wallet from existing customers while opening an avenue of new customer acquisition. From a branding perspective, strong bespoke packaging and card design offer a great platform to reinforce your brand to both parties involved in the exchange of gifts.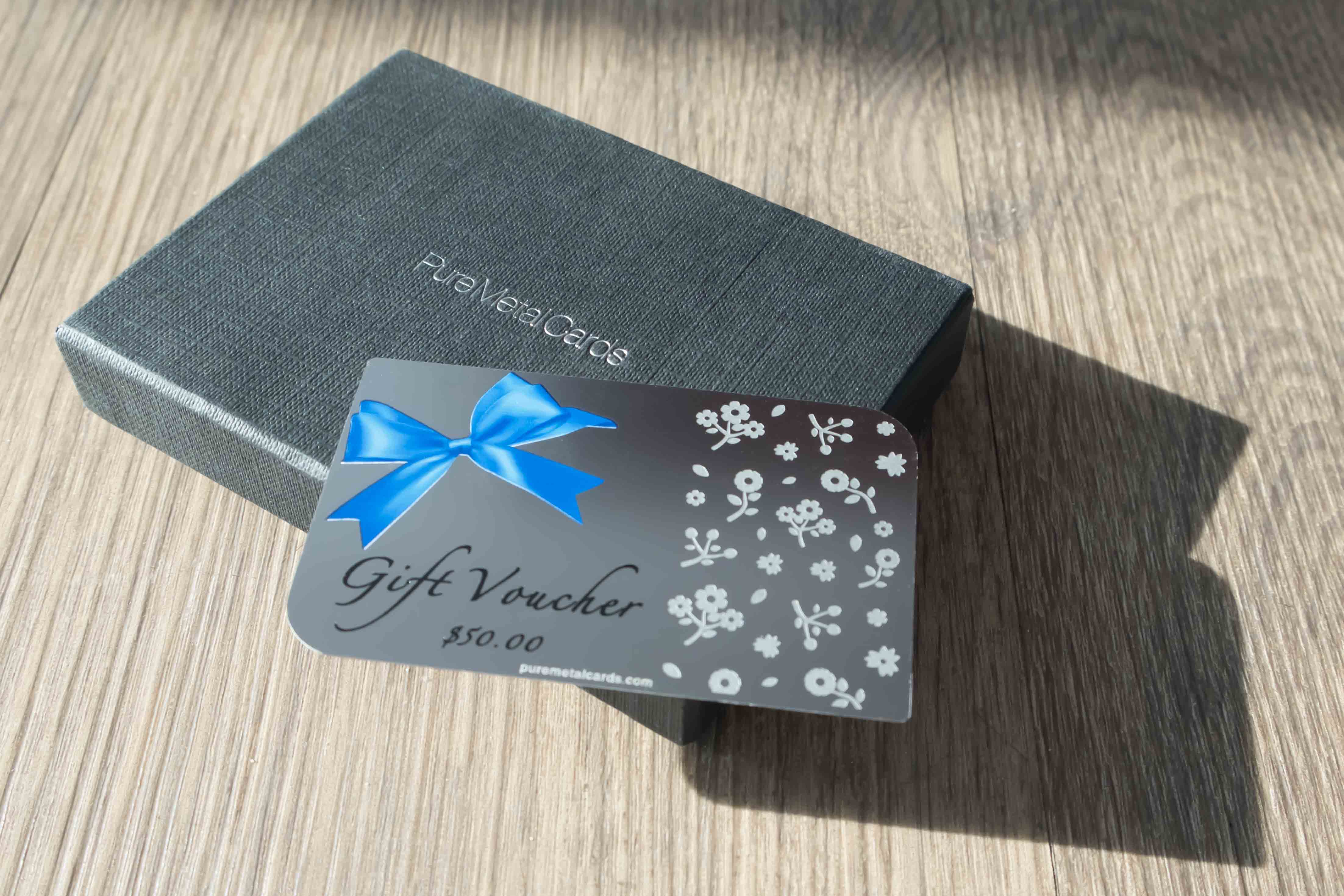 For more details on issuing these types of cards visit here.
Providing gift cards and especially metal gift cards is a great way to ensure you retain the customers you currently have while also offering an incentive to new customers. At Pure Metal Cards, we have the card choices required to help launch and improve your customer retention programs. We are excited to help you create custom designs that help your business stand out in the crowd.
Why Choose Pure Metal Cards?
100% Satisfaction Guaranteed – We want you to be completely amazed by your purchase. We replace cards if they do not meet your satisfaction.
Speed – Pure Metal Cards offers the fastest turnaround time in the market today for custom-made metal business cards. Cards typically take 7-9 business days to produce and 1-2 days to ship to you.
Pricing – We lead the industry by offering simple, all-inclusive pricing. The price quoted on our website is the price you pay.
Range of Card Finishes – We offer the widest range of metals and card finishes available anywhere. For example, we have 12 different finishes for our matt black metal cards.
Switch to Pure Metal Cards Today
With over 2 million metal cards shipped to over 70 countries around the world to date, we lead the industry in card innovation and options to make your name or brand stand out from the rest. Pure Metal Cards can help you develop your existing gift card or gift voucher card to become an unforgettable metal card your customers or members will enjoy receiving.
For more information please contact us today.