Brushed Stainless Steel Bottle Opener Cards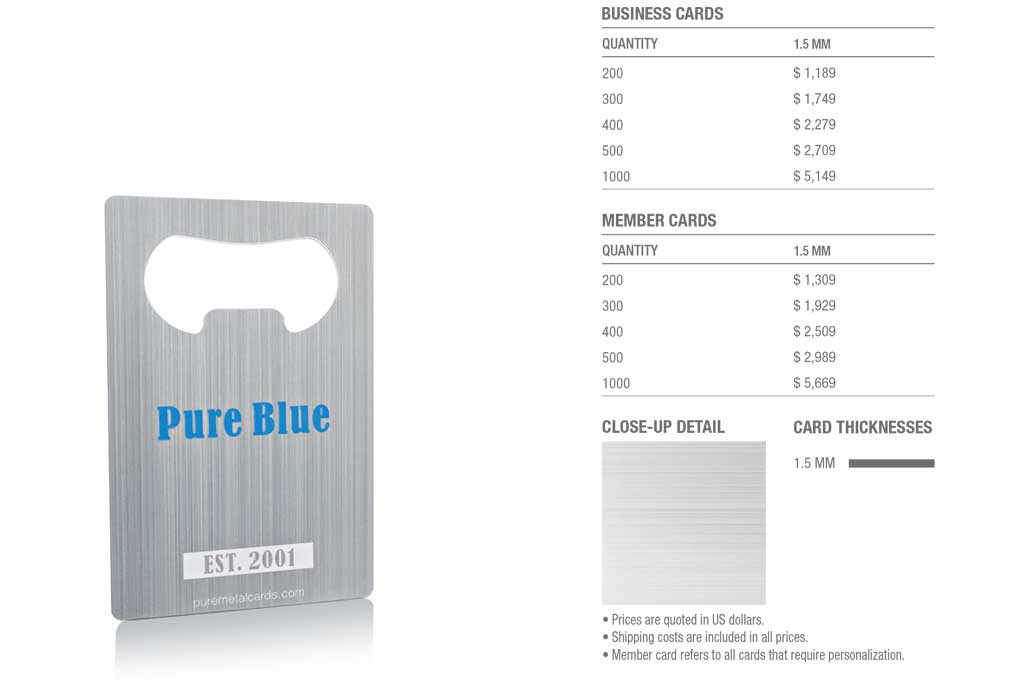 Using Pure Metal Cards metal bottle opener business cards is a great way to make an impact and keep your brand top of mind with your audience. Whether you are promoting your business, needing an original gift for your wedding, or just want the ultimate business card, Pure Metal Cards brushed stainless steel metal bottle opener business cards are perfect for everyone.
Our metal bottle opener business cards are available in brushed stainless steel or matt black stainless steel. You can also customize your bottle opener cards with any full-color design you require on both sides of the card. Cards can be made any size but if you use a credit card size, these will also easily fit into a wallet or purse. These durable 1.5mm card thickness metal openers are also available with a key-ring attachment if required.
For brewers and beer makers we can also custom shapes of our metal bottle opener business cards to match your branding. Cards can also be personalized with a venue location, address or other contact information.
Each metal card is also individually wrapped in a transparent plastic sleeve.
Overview
Metal: Stainless steel
Finish: brushed
Business card dimensions: 85.0mm x 54.0mm (3.35" x 2.13"), 89.0mm × 51.0mm (3.5″ x 2.0″) or customizable
Thickness:
1.5mm, 1,500 micron (0.06")
Effects
1 to 4 colors for text
1 color (full side)
Full color (offset printing)
Laser etch (no color)
Etch only (no color)
Etch with 1 color
Debossed text
Cut thru
Corner radius: customizable
Personalization
Unique name, number, date etc.
Signature strip
QR Code
Barcode
Packaging
Each card is individually wrapped in a transparent plastic sleeve
An optional matt black contoured card sleeve in 300 gsm paper is also available.
Design tips
Designs can be cut through the metal and/or etched into the card with laser accuracy that accommodates the most complex and evolved designs. The best designs are usually those that rely on the unique look, feel and properties of the metal to add further value. We can add a lanyard loop to the metal bottle opener if required.